In the wake of Claude Giroux's golf injury, Philadelphia Flyers' fans suddenly have felt a sense of panic and for good reason potentially.
Any team is weaker with the possibility of its captain missing the season's beginning. For the Flyers, losing Giroux could have a substantial ripple effect.
Granted, Giroux is slated to miss 5-6 weeks, which even at the worst-case end of that range brings him back into the Flyers' lineup by early to mid-October.
Nevertheless, it does throw some wrenches into Peter Laviolette's line combinations for training camp.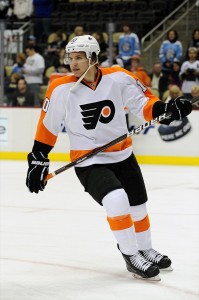 Fortunately for the coach, the Flyers are known for their depth in the middle. Vincent Lecavalier in essence replaces Danny Briere as a second-line center, while Max Talbot remains a reliable checking line centerman, along with wild-card Sean Couturier, whose second season left a lot to be desired following a memorable rookie campaign.
However, the most intriguing and perhaps most pivotal piece to the Flyers' plans is a player who may very well be playing for his chance to remain in Philadelphia: Brayden Schenn.
Not A Schenn-Sational Beginning
Schenn enters the 2013-2014 season in the final year of an entry-level deal where he will only be making $810,000 before bonuses. However, he does remain a $3.1 million cap hit, so his play may well determine his future in orange and black.
The former fifth overall draft pick by Los Angeles in 2009 has not had the smoothest leap to the NHL. He barely had a chance to prove himself as a King before he was a main component of the deal that sent then-Flyers captain Mike Richards to Hollywood in exchange for Schenn, Wayne Simmonds and a pick.
Upon arrival in Philadelphia, the injury bug plagued the youngster, as a broken foot and concussion issues caused him to miss 28 games in his first full NHL season as a Flyer.
In flashes, though, the talent that drew comparisons to the very man he was traded for, Mike Richards, came to the forefront. Take his first NHL goal for example:
In true Richards-esque fashion, Schenn won the faceoff, made a beeline for the front of the net and slammed home a juicy rebound to get Citizens Bank Park up to a fever pitch in a game the Flyers wound up losing. The tally marked Schenn's first NHL goal in his 18th game.
As the celebration may have indicated, the goal seemed to take a weight off Schenn's shoulders. He would score eight goals in the next six weeks of hockey while finding himself a home on a line with Simmonds and Danny Briere. The line combined to give the Pittsburgh Penguins fits in the Flyers' six-game series victory in the quarterfinals.
On that particular line, Schenn showed his versatility by playing the left wing. In the event of Giroux being absent at the season's start, it is very possible Schenn could jump into the middle. His wingers could range in talent from a Jakub Voracek to perhaps a more checking-oriented forward like Zac Rinaldo. Schenn's ability to play either forward position does allow Laviolette to fiddle with combinations as September's training camp approaches.
It is worth noting also that if Schenn truly is a Richards comparable, do not expect goal and point numbers to be through the roof. Instead, look to the physical game, something that Brayden has not shied away from, as it was probably the byproduct of growing up with menacing brother Luke.
Hits like this slobber-knocker on Steven Kampfer will surely continue to "woo" the Flyers' faithful.
Despite his seemingly forgotten youth (he is just 21 years of age), it seems as if the clock is ticking rather quickly on the junior Schenn. After all, fellow baby-face Couturier recently received a two-year extension from the Flyers in light of swirling trade rumors involving his name.
Schenn has been no stranger to these rumors either. After all, he was dealt once and it would seem logical that for a team as desperate for defense and goaltending as Philadelphia, he could be a commodity on the market.
If he is able to parlay his stellar playoff play from 2012 and steady regular season contributions in 2013 together in a full 82-game season, Brayden Schenn may very well become an integral part of the Flyers' young core beyond 2014.
But as has always been the case with young prospects in Philadelphia, no future can be etched in stone.
The NHL regular season schedule was released on Friday. Check out our partners at TiqIQ for the best deals on Philadelphia Flyers tickets for all 2013-14 games.