It is official, Joe Sakic, Josh Kroenke and Patrick Roy mean serious business. It hasn't even been three full months since the new regime took over and the franchise can barely be recognized. The openness that has been shown with this team is crazy and now the team is showing that it is committed to locking up their best players to long-term contracts and won't wait until their contracts run out to do it.
Having already inked star forward, Matt Duchene, to a five year extension just a few weeks ago, today the Colorado Avalanche announced that they have signed captain Gabriel Landeskog to a seven year extension which will keep Landeskog as a member of the Avalanche through the 2021-2022 NHL season.
What Are the Numbers
The contract is for seven years and $39 million according to Puck Daddy, which is a fantastic number. This makes Landeskog's cap hit just over $5.5 million each year, which is less than Matt Duchene's $6 million.
All things considered, this is an unbelievably reasonable contract number. The number was easily the thing that made me think the Avalanche would wait for most of the season before signing him to an extension because he has only played two seasons, and one of them was shortened by a lockout. He also had to deal with injuries during the past season, which seriously affected his production, making it more difficult to determine what his market worth would be.
This contract leaves room for Landeskog to grow, doesn't pay him an absurd amount of money without the results to go with it, rewards him for the strides he has made and recognizes the fact that he has earned the captaincy of this team as a young player.
Avalanche Sending the Right Signals
Both the fans and the players are getting the right messages sent to them right now. At last we are seeing some consistency in the way that management is treating the players. Just as I said when Matt Duchene signed his extension, the Avalanche have set a new precedent where if you earn a new contract, they aren't going to waste time in locking you up. As a player, you get the stress and uncertainty out of the way and now can focus on playing hockey.
This makes the fans more comfortable as well because they don't have to worry about the team going through a situation like the one they went through with Ryan O'Reilly a season ago. If it's clear that the player should be re-signed, then why not just get the deal done and move on?
Who Will Be Next?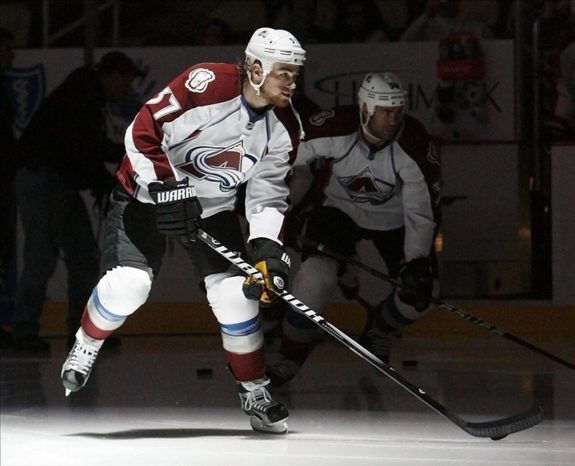 It makes the most sense for the Avalanche to go after two players next; Ryan O'Reilly or Paul Stastny. Since the organization totally botched O'Reilly's negotiations the last time around, it would make a lot more sense for Sakic and company to make an effort to repair that bridge quickly, and if the Avalanche were able to come up with a decent number for Landeskog's contract, they should be able to figure something out for O'Reilly as well.
The Avalanche could also choose to sign Paul Stastny to a new contract as he will be an unrestricted free agent at the end of this season. If the Avalanche still want to keep Stastny around, even if they might have plans to trade him, then a new contract for Stastny would not be a bad idea. Still, since his next contract will likely be a great deal less than the current $6.6 million a year he makes, it might make it more difficult to negotiate until the end of the year.
Once again, the Avalanche have given fans a reason to believe this franchise is moving in the right direction.
I'm a Denver native who has been a fan of the Avalanche since they came to town and a fan of the game before that. I started writing my own blog a couple years ago before moving to Bleacher Report and becoming a Featured Columnist there. You can also find me the Burgundy Brigade Podcast