It can be difficult to find meaningful takeaways from the NHL season this early on, but there are certain players that catch your eye, team performances that provide fans with hope and excitement or glaring deficiencies that give you pause.
A lot of the analysis comes from the eye test, as the stats can be misleading or quite simply represent a fluke. Obviously, the more games the Nashville Predators get under their belt this season, the better we'll be able to tell who this team is, what they're capable of, and possibly more importantly if they'll be able to seriously compete?
However, it doesn't help when the pandemic rears its ugly head and disrupts the season. The Predators were gearing up to complete their back-to-back set against the Carolina Hurricanes on Jan. 19, but received word in the morning that the game would be postponed out of an "abundance of caution to ensure the health and safety of players, coaches and game day personnel and in consultation with medical experts."
So, the Predators' 2020-21 campaign is now a week old. We should have one more game to add to the sample of this young season, but we don't. This year will be about adapting on the fly, preparing for the worst, and hoping for the best. With that said, let's look at some observations from the Predators' first three games.
New Year, New Work Ethic
For the past few seasons, the Predators' work ethic has been in question. They were rarely the hardest working team on the ice. Casual viewers could see it was a problem and even the players inside the locker room knew it was an issue too. Defenseman Ryan Ellis admitted during camp that they had drifted away from that blue-collar style of play.
"In years past we've always been the team that outworks," the Predators' alternate captain said. "The last couple of years we've been the outworked team." (from 'How new kids already helped Nashville Predators show they are tougher in opener,' The Tennessean, 01/15/2021).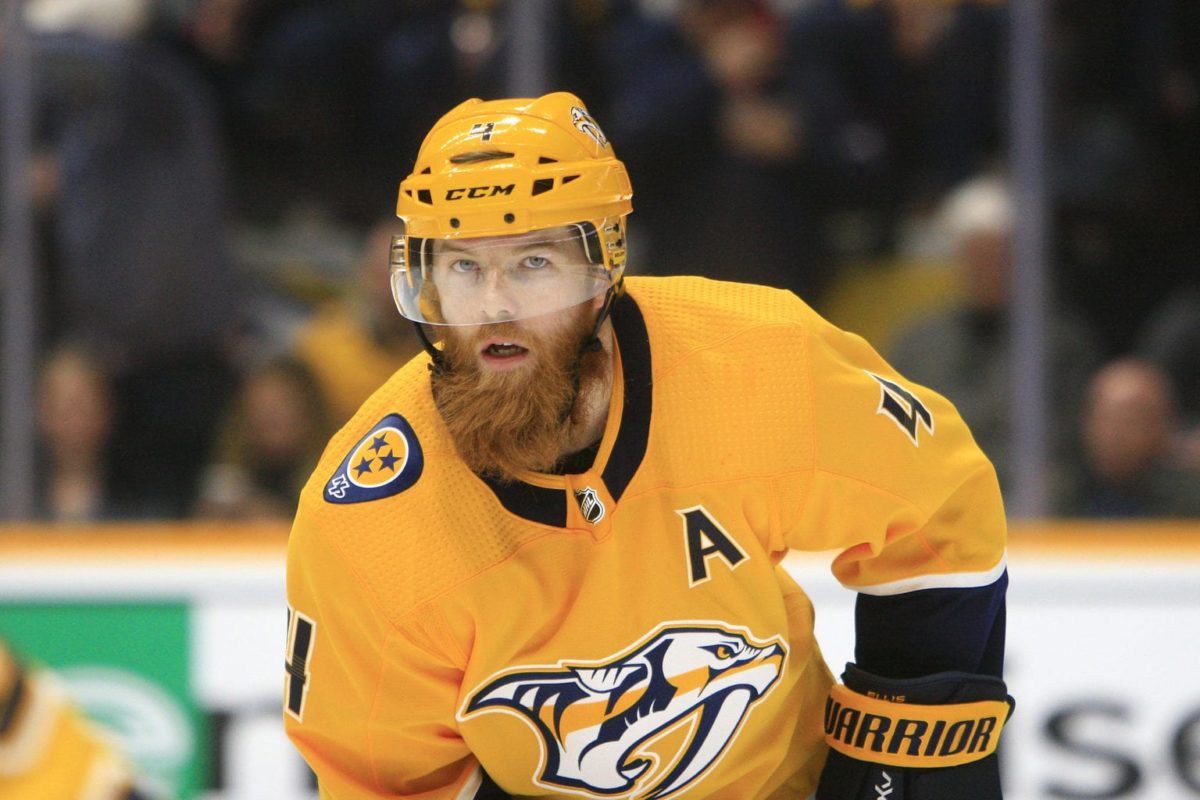 Well early on it looks like they've renewed a commitment to be a difficult team to play against, which is something that head coach John Hynes has preached since he arrived in Nashville.
Just watching the Predators in their first three games, they're less reluctant to battle in the corners and they're going to the front of the net significantly more, something that has been infuriatingly lacking in the past. That new attitude and play may have a lot to do with the personnel that they've brought in. Nick Cousins, Brad Richardson, and even in his limited playing time, Mathieu Olivier have all crashed the net and paid the price to try and cash in on rebounds, tip shots from the outside and simply screen opposing goalies.
The Predators are also sacrificing in the form of blocked shots. Through their first three games, they have 47 blocks, or 15.66 per 60 minutes, which is the sixth most league wide.
One of the worst insults in professional sports is accusing a team of not wanting to win. Even with a subpar work ethic, the Predators always wanted to win. But this season, despite the small sample size, the hunger to win already seems far greater.
A Strong and Reliable Third Defensive Pairing
There were a lot of acquisitions this offseason and they're sprinkled in on virtually every line. On defense, there is one pairing that is completely new, made up of two fresh faces. Mark Borowiecki and Matt Benning have rounded out the Predators defensive corps and they appear to offer more security than bottom pairings have in the past.
Both defensemen are logging more than 14 minutes of ice time per game, but don't be surprised to see their averages rise. Borowiecki was just four seconds shy of hitting 18 minutes per game last season and Benning is no stranger to averaging more than 16 minutes of ice time, passing that mark twice in his previous four seasons. So, they're capable of handling more minutes and it looks like they'll earn them too.
It's no secret that the Predators' defensive scoring is provided primarily by the top-four: Roman Josi, Ellis, Mattias Ekholm and Dante Fabbro. In 2019-20 Dan Hamhuis led the third pairing regulars – those consisting of Yannick Weber, Jarred Tinordi, Korbinian Holzer and Matt Irwin – with eight points. Obviously, the Predators aren't crying out for more scoring from the back end, but when the blueliners, who aren't the top-four chip in, it's not only a bonus, but an added element opponents have to worry about, which makes the Predators a more complete team.
Related: Predators' Forward Depth Leading to Wins
Borowiecki and Benning already seem like they can make the team's defensive group more offensively dangerous. So far, they have the one point between them, courtesy of Borowiecki's assist, but as mentioned at the start, a lot of these observations come from the eye test.
Just watching the two newcomers, the third pairing seems a lot steadier. This isn't a knock against any former Predators who've played similar roles recently, but you could always tell when the third pairing was on the ice without hearing the announcers call their names or looking at their jersey numbers.
As soon as they hopped over the boards it seemed the Predators were playing not to concede a goal and nothing more while the other pairings caught their breath. However, this season – although early on – the fifth and sixth defensemen seem more like a continuation of the top-four, albeit a slightly lower skill level.
Borowiecki and Benning could legitimately play on many other team's second pairings. This can only help the Predators moving forward and so far, it's showing.
Constantly Playing From Behind
In all three games the Predators have played so far, they've conceded the game's first goal. Against the Columbus Blue Jackets, they rallied to win. However, against the Hurricanes, it was a different story.
Every coach is going to say they want a fast start and no good will come from chasing the game too often. In fact, a sentiment like that is probably in the hockey cliché handbook. But as they say, cliches are cliches because they're true, or maybe that's cliché too. Anyway, when it comes to the Predators it's especially relevant.
Last season, 27 of their 35 wins came when they opened the scoring. When they struck first, the Predators won 73 percent of the time, the fifth-best percentage in the Western Conference and tenth best leaguewide. However, when they failed to score the game's first goal, their record was 8-20-4, equaling a 25% success rate, which was the eighth-worst in the NHL.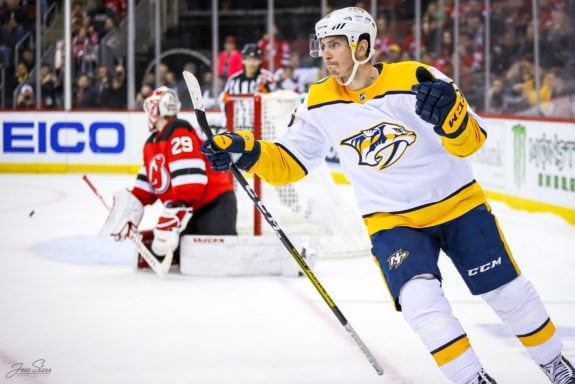 Since Hynes took over back in January 2020, the Predators are averaging 2.61 goals per game, the ninth fewest in the league. The offense could be better this season, but until we see otherwise, we must assume that the Predators' offense will still be middle of pack and average, which is fine if the defense can compensate.
Low scoring games are okay if you're landing on the right side of the results. Under their current coach, the Predators' defense is actually making up for the lack of offensive production. Again, using the same span from when Hynes was hired to now, the Predators are allowing 2.81 goals against, the NHL's 12th best mark.
You're not going to shut every team out and these stats are telling us that the Predators are far better when playing with the lead and preventing goals than they are relying on their offense to play catchup.
The Predators have a 2-1 record so far and that's after allowing the first goal every game. For all the current unknowns this early into the season, there is one thing that's certain; if the Predators keep falling behind to start the game, their record will quickly become lopsided and not in their favor.
Related: What We Must See From Certain Predators This Season
With any luck, this pandemic will become easier and easier to deal with and the postponement of games will be seldom. It's too early to know what this Predators team is capable of. They didn't play their best hockey against the Blue Jackets but still came away with a season-opening sweep. They played extremely well against the Hurricanes but lost. Like Filip Forsberg said after the Jan. 18 loss, "it's a funny game." But nevertheless, this 2020-21 team looks exciting and is showing signs of high potential, something that has been missing in Nashville for a few seasons now and that's no joke.
---
---