As the Nashville Predators' season begins this coming Thursday against the Columbus Blue Jackets, the team has been going through training camps and intrasquad games to get ready for the season. While the final opening day roster is not fully set yet, here are some players who are potentially going to have a bigger impact in Smashville.
Eeli Tolvanen
It's time to see this young man get more opportunities, and for him to seize those said opportunities. Eeli Tolvanen has been highly regarded since being drafted in the first round of the 2017 NHL Draft (30th overall), and he has been on the fringe of the roster, but after a couple of great showings in the scrimmages between Team Blue and Team Gold, he did score a goal in Sunday's scrimmage for Team Blue. He has not been in a Predators uniform since the 2018-19 season, where he only scored two points (one goal, one assist) in four games.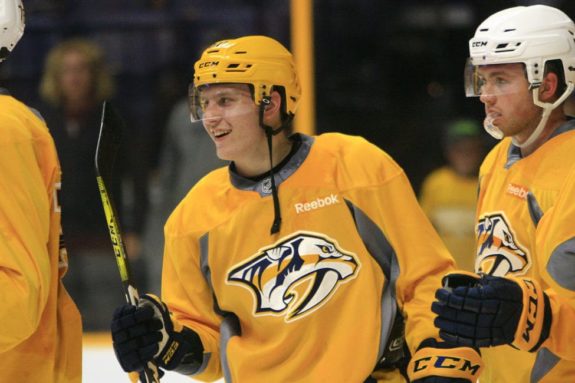 He spent all of the following season in Milwaukee, where he scored 21 goals and had 15 assists in 63 games before the season was shut down. He started the 2020-21 season going back to his old KHL club, Jokerit in Finland, and scored five goals and had eight assists in 25 games. Should he make the final roster, he should have a spot on the second or third line, most likely the third line, and if he can score at the rate he seems to have been going in his last few seasons, he can break out and breakthrough for the Preds.
Dante Fabbro
Dante Fabbro has played his way into the defensive rotation in 2019-20, playing in 64 games, and amassing five goals and six assists. During the scrimmages, he was paired with Mattias Ekholm, and that's a great partner to have and learn more from.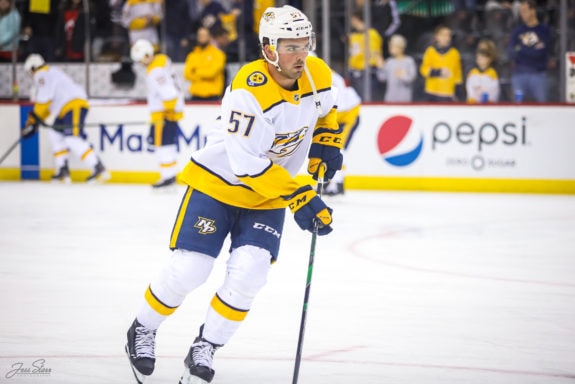 Fabbro will have a bit of competition in this camp, with Jarred Tinordi and Matt Benning arriving, but the 17th overall pick in the 2016 NHL Draft gave a great glimpse into what he can do and has made an overall good return on the investment of his entry-level contract, and should continue to do so in this upcoming season as well, as it should be expected that he makes that final roster as well.
Luke Kunin
Luke Kunin was acquired for fan-favorite Nick Bonino in the offseason. He finally signed his contract with the Predators this past week and already scored in both scrimmage games on Thursday and Sunday. He played in 63 games for the Minnesota Wild, the team that drafted him 15th overall in the 2016 NHL Draft, scoring 15 goals and dishing out 16 assists. He gives the Predators a nice balance of scoring and passing, and with the new contract he signed, he should be on that second line with Matt Duchene and Erik Haula.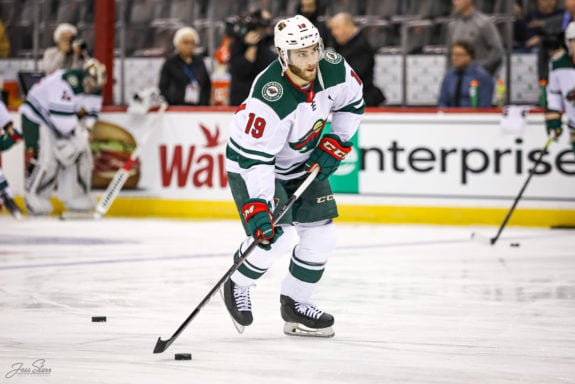 Getting a lot of dimes from Duchene should be the focus for Kunin going forward, should head coach John Hynes go that direction. This move came at a cost, losing a veteran like Bonino, but it strengthens the Preds young core and he could be a franchise player going forward, as Nashville now has two players from the top 20 of the 2017 draft (Tolvanen).
Juuse Saros
I know, I know. But I think this is the year.
Juuse Saros has been behind the legend and the pillar of the franchise, Pekka Rinne, for years, and he did get most of the starts last season, but with the way this season is going to be set up, I think that we will see the best Saros this season, along with the fact that he is going to be proving himself to not just the team that he is currently on, but to other teams as well.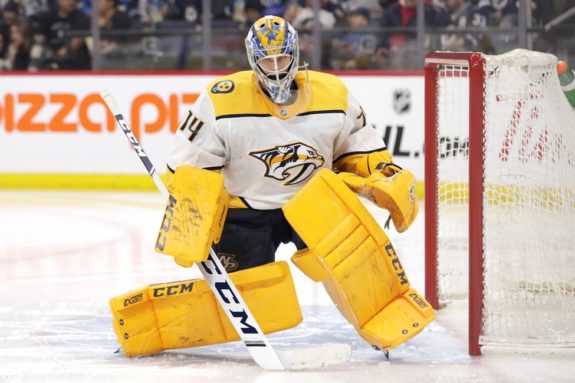 With Saros being a free agent at the end of the season (along with Rinne), it will be interesting to see what David Poile does here. And with Yaroslav Askarov waiting in the wings and expected to arrive in Nashville in a couple of years, does Nashville make that investment in Saros, or do they let him walk? Saros will have to really show that he's worth being the top guy, and worth more than just spot starts, and he probably would have been able to do that had it not been for this current pandemic, but he has a golden opportunity to do so now.
Obviously, depending on the roster, this could be replaced by anyone, but to see these four on the ice on a consistent basis, I could see this season being a season where they are more vital to this Predators team than ever before. It will be on them to seize the opportunity.
---
---