Remember that eleven game stretch from February 26 through March 17 in which the Nashville Predators had a record of 2-8-1? The disastrous meltdown could have been written in Revelations. With playoff time around the corner, it was easy to dismiss Nashville's Stanley Cup hopes.
After blowing a third period lead for the second consecutive game in a 3-2 overtime loss to the Minnesota Wild on March 17, the Predators' unforgiving schedule allowed them to have a three day rest. At one point during those three days, someone flipped a switch, and the Predators returned to form.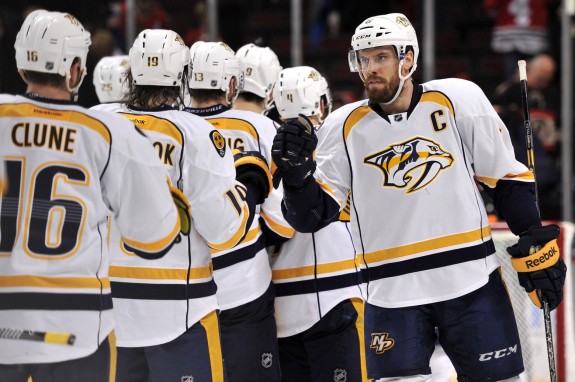 Since then, Nashville has won four straight games, two of which — the Montreal Canadiens and Tampa Bay Lightning — were among the NHL's best.
Nashville's leading scorer Filip Forsberg, who did not score a goal in those 11 games, has two during this win streak. Their second leading scorer Mike Ribeiro snapped a nine-game goal drought against Tampa Bay and is now on a two-game goal streak. Mike Santorelli, who only tallied an assist since joining the team on February 21, scored his first goal, a game-winner, against Tampa Bay.
Basically, the Predators win when their go-to guys score.
By defeating the Washington Capitals 4-3 on Saturday, the Predators became the second team to clinch a playoff spot.
Scoring First
To win games in the NHL, it is extremely important to be the first team on the scoreboard. In 14 games stretching from February 17 through March 13, the Predators gave up the first goal in 13 of those games. Coincidentally, Nashville had a losing record of 5-8-1.
During this four-game winning streak, the Predators have scored first in each game. When scoring first this season, they are 26-2-4.
The Healthier the Better
The injury bug has hit the Predators' locker room in an undesirable way. Captain Shea Weber missed Saturday's game due to a lower-body injury and is listed as day-to-day. James Neal, suffering an upper-body injury, has not seen game action since March 12. Penalty-killer Eric Nystrom has been out since March 3 with a lower-body injury. Lastly, Matt Cullen is day-to-day with a lower-body injury and has been out since March 21.
Weber's injury comes as a surprise because there was no apparent injury in the previous game against Tampa Bay. The good news, however, is Neal and Cullen have been skating, so their return should come soon.
The Home Stretch
Nashville will conclude the remaining six games of its regular schedule against Western Conference opponents, including a match against potential first round opponent Minnesota on April 9.
It will be interesting to see how head coach Peter Laviolette will handle the goaltending situation. Will he ride Pekka Rinne for most of the way or rest him? With home-ice advantage on the line and seeking a favorable playoff match-up (if there is such a thing), Laviolette should start Rinne in at least four of the next six games.
Subscribe to our Predators stories to get email updates every time a new story is published.
Colin Fitts is a Nashville Predators staff writer for The Hockey Writers. You can follow him on Twitter, @FittsTHW.
Colin Fitts is a Nashville Predators staff writer and is a credentialed media member of the Chicago Wolves. From Nashville, Tennessee, Colin majors in journalism and public relations at Columbia College Chicago. Follow him on Twitter, @FittsTHW. Email: 22fitts [at] gmail [dot] com.