The New York Rangers and Columbus Blue Jackets made two blockbuster deals in 2012 and 2013. The first deal took place in the summer of 2012 when the Rangers traded fan-favorite center Brandon Dubinsky, young Russian center Artem Anisimov, and defense prospect Tim Erixon to the Columbus Blue Jackets in exchange for their superstar wing and captain Rick Nash. Several months later during the following season the teams yet again made a major headline trade. The New York Rangers traded sniper Marian Gaborik to Columbus for center Derick Brassard, winger Derek Dorsett, and young lefty defenseman John Moore. Let's take a look on the winners and losers of these trades now that a few seasons have passed.
Summer 2012- New York Rangers trade Brandon Dubinsky, Artem Anisimov, and Tim Erixon to Columbus Blue Jackets for Rick Nash
Trade Worked Out For- New York Rangers and Columbus Blue Jackets
Glen Sather wanted to add a star forward and got just that in Rick Nash. While Nash has not performed offensively in the playoffs in his time in New York, he was still was a valuable forward for the team. In Nash's first season as a Ranger he was very consistent in the lockout shortened season of 2013. Nash had 21 goals and 21 assists for 42 points in the regular season. Last year an early season concussion led to Nash not finding his game and was quiet in the playoffs as well. This season he was performing at an astounding pace before a recent goal drought, but still has 40 goals on the season after scoring in the loss to Boston.
This trade worked out for Columbus as well because it was just time for Nash and Columbus to part ways. The Blue Jackets since the Nash trade have completely changed their identity.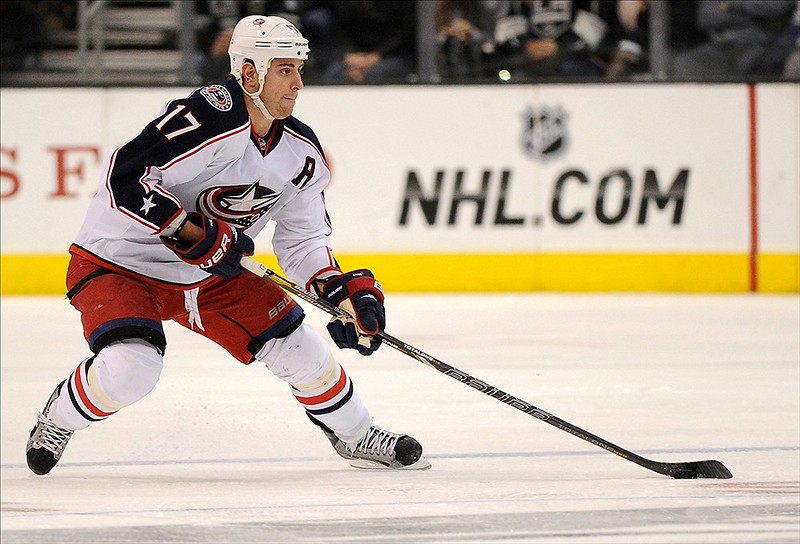 Columbus is a tough, physical, and hardworking club that is difficult to play against. Brandon Dubinsky has become a leader for Columbus and has improved his game into one of the best defensive centers in the league. Last season in 76 games Dubinsky had 16 goals, 34 assists, and 50 points. Dubinsky shadowed Crosby in the playoffs last season and did an incredible job of shutting down Crosby for the series, despite Pittsburgh advancing in 6 games. Artem Anismov has been a descent depth center for Columbus, but has not put up the offensive numbers expected as of yet. Tim Erixon has not lived up to the hype and has bounced around a few franchises since the trade, and is now a member of the Toronto Maple Leafs.
Spring 2013- New York Rangers Trade Marian Gaborik for Derick Brassard, Derek Dorsett, and John Moore
Trade Worked Out For- New York Rangers
This trade did not work out for the Columbus Blue Jackets. Marian Gaborik battled injuries in his brief time with Columbus and just did not fit in well to the team. Gaborik was traded at the 2014 trade deadline to the LA Kings where he ironically burned the Rangers in the 2014 Stanley Cup Finals with a few big goals. Gaborik was incredible all playoffs and it led to a big contract with LA this past offseason. Derek Dorsett and John Moore never found their way in New York. Dorsett who played on the 4th line with the Rangers is now a Vancouver Canuck and John Moore is a member of the Arizona Coyotes after being included in the Keith Yandle trade.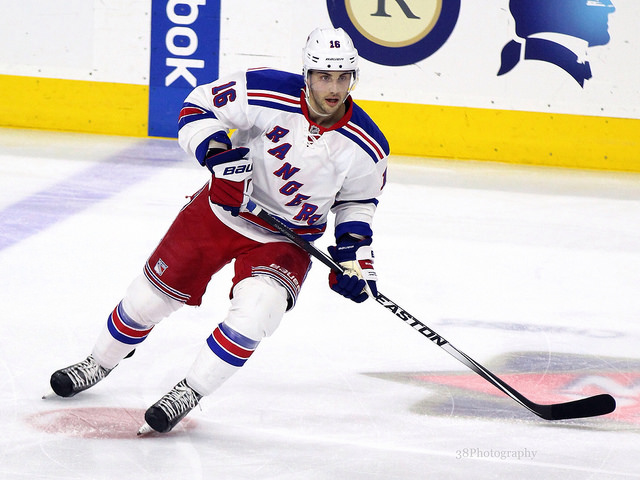 The big prize of this trade for the Rangers is Derek Brassard. Brassard has played hockey at a level that is much higher than he showed with the Blue Jackets. Brassard has turned into arguably the Rangers top center. Brassard centers the Rangers top line currently with Rick Nash and Mats Zuccarello. The 27-year-old Quebec native is having a career year this season with 15 goals, 39 assists, and 54 points in 71 games this year. Brassard is a very good skater and passer and has played excellent this year with Nash and Zuccarello.
The New Rivalry
These two Metropolitan teams have definitely become new rivals. Just take a look at Rick Nash's return to Columbus last season and it will tell you all you need to know about how these two teams feel about each other.
The Blue Jackets have a new superstar in town in 22-year-old center Ryan Johansen. The Blue Jackets returned to the playoffs last season led by the 30-goal-scorer Johansen, the leadership of Dubinsky up front, and Sergei Bobrovsky in net. This season injuries led to a .500 season for Columbus, but if healthy next year they will make a strong push for another playoff appearance. The Rangers body of work the last few seasons speaks for itself, and they are doing everything they can to win a Stanley Cup right now. I believe both teams are better today as a result of these trades. Nash and Brassard are thriving in the system of 2nd year head coach Alain Vigneault. Vigneault's teams play with more speed, more active defenseman, and with quicker transitions than the defensive style of John Tortorella. Dubinsky and Anisimov have been strong contributors to the franchise turn around and state of mind on the Columbus Blue Jackets. The two teams play one more time this season on Monday April 6th at Madison Square Garden.
I am a 2015 graduate of Montclair State University in New Jersey. I have coached ice hockey at the high school level for two seasons here in NJ. I will be covering the Toronto Maple Leafs moving forward for The Hockey Writers.