The Nashville Predators have a real fighting chance of winning the new Central Division in the 2020-21 season. As any championship team will say, however, there is always adversity to overcome and always challenges littering the road ahead. For the Predators, being placed in the new Central Division, while increasing their chances of making a run into the postseason, has also created a challenging schedule for them.
Featuring a combination of the old Central, Atlantic and Metropolitan Divisions, the re-aligned Central includes both teams which played in the Stanley Cup Final. The reigning champion Tampa Bay Lightning will be without Nikita Kucherov but are still favored to win the Central, thanks to several stars throughout the lineup.
On the other end, bottom-of-the-standings teams like the Chicago Blackhawks and Detroit Red Wings will supposedly be easy prey – but each team has new strengths and new flaws going into the coming season. The Predators, led by head coach John Hynes and general manager David Poile, in his 23rd season in the position, are no exception.
Carolina Hurricanes
The Hurricanes literally won a hockey game with a Zamboni driver last year. That is a real thing that happened. And in the playoffs, Carolina came within a double-overtime goal of taking a 2-0 series lead on the vaunted Boston Bruins. If Dougie Hamilton can stay healthy, the Hurricanes have an extremely stout defensive corps, bolstered by a solid 1A-1B goaltending tandem in Petr Mrazek and James Reimer.
Another impressive thing about the Hurricanes roster is the balanced scoring throughout their forward lineup. Sebastian Aho headlines a group that has an average age of 26 years old. Nine players scored more than 10 goals last season, and with another year's experience under their belts, Carolina should have the forward depth to do battle against Nashville's defensively thin blue line.
With players like Warren Foegle, Jordan Staal, and Brock McGinn in the bottom six, this is a roster that could easily go toe-to-toe with a Predators' potential third pairing of Dante Fabbro and Matthew Benning.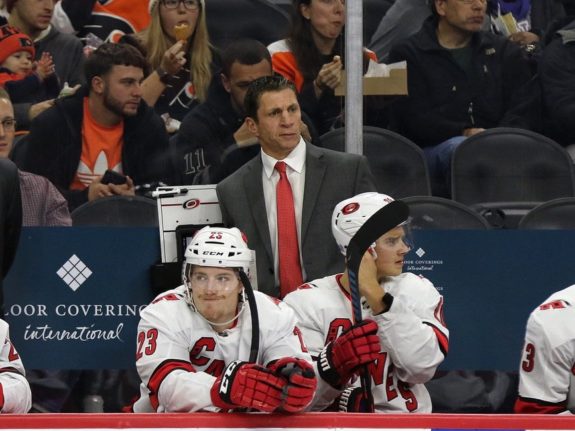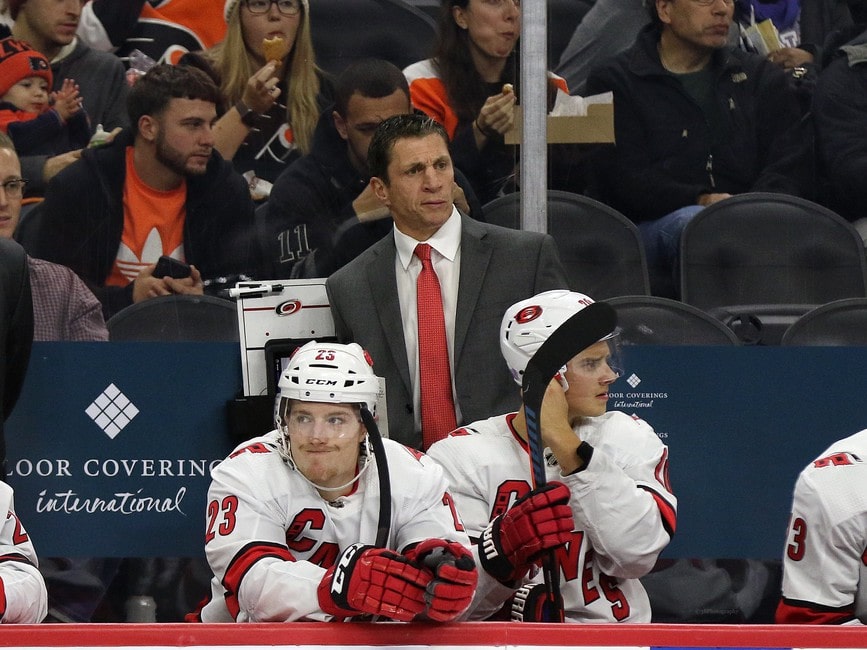 Not to be discounted is the attitude and toughness that head coach Rod Brind'Amour instills in his players each and every game. Each matchup with this Hurricanes team will be an all-out battle which will be incredibly fun to watch as the Predators' speed and skill goes up against the Hurricanes' brawn and toughness.
Chicago Blackhawks
Dominik Kubalik, Jonathan Toews, and Patrick Kane. That is as good and as terrifying a first line as any in the league; in 27 combined seasons, this trio has scored more than 20 goals 26 times (Toews had 18 in 70 games last season). In any matchup with Nashville, home or away, regardless of last change, this daunting line should be able to match up favorably against any defensive pairing the Predators have on the ice unless Roman Josi and Ryan Ellis can be up to the task defensively.
In goal, it can be easy to say that the Blackhawks have a weak spot. However, Malcolm Subban and Collin Delia could be in an all-out duel for the regular starting job, and since they are both due to be free agents in 2022 with a plethora of young goaltending talent in Chicago's system, the room for error for either netminder is slim at best.
As many Nashville fans can attest to, there is nothing more dangerous than a goalie looking to prove himself and win a starting position – look no further than Juuse Saros, looking to prove himself in a contract season.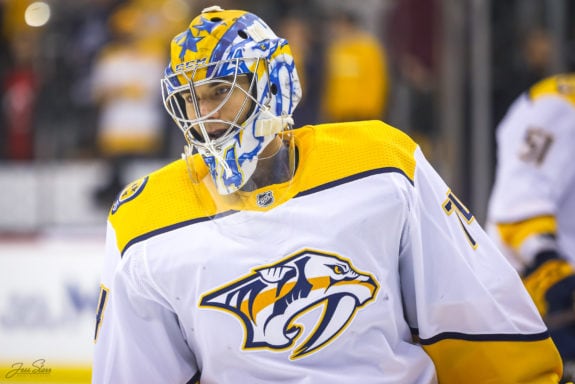 At the end of the day, the Blackhawks' success will revolve around the veteran leadership and prowess of Toews, Kane, and defencemen Duncan Keith and Brent Seabrook. But with the likes of 6'6 blueliner Nikita Zadorov, 6'4 Connor Murphy and 6'3 center Carl Soderberg, this is a bigger, stronger Blackhawks than we've seen in quite some time. Nashville has speed, yes, but once again toughness will become the question should the Blackhawks' defensive stalwarts shut down the scoring forwards of the Predators.
Columbus Blue Jackets
Elvis Merzlikins and Joonas Korpisalo might just be a top-two goaltending duo in the Division (Saros and Pekka Rinne would put up an argument here). Merzlikins took the league by storm last season with five shutouts, just as Korpisalo burst onto the scene five years ago with a .920 save percentage in his rookie season.
With the Blue Jackets likely to platoon the duo again this coming season, it spells trouble for most teams, especially teams like Nashville with so many forwards looking to re-discover scoring touches.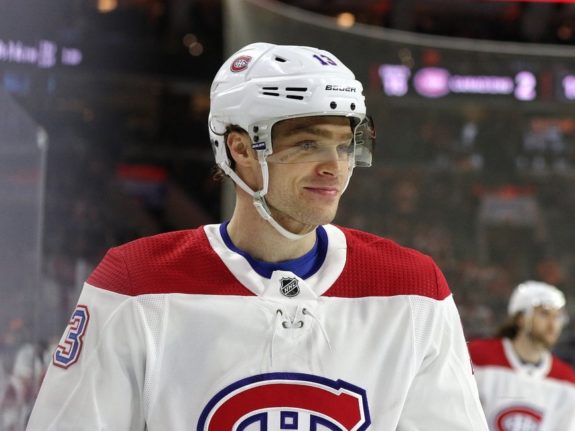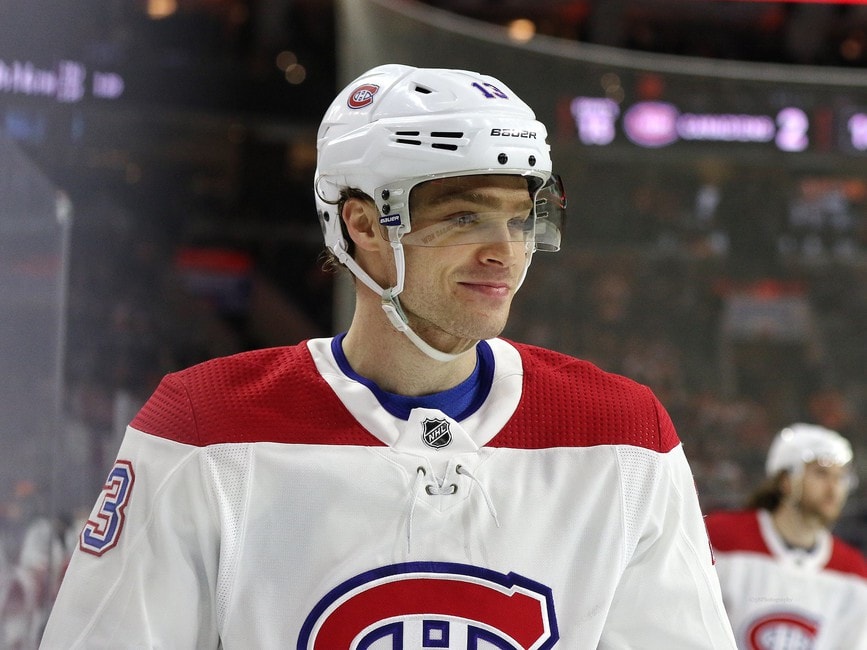 A pretty veteran group across the board, Columbus is a team known for its grit, and it just got grittier this offseason. Take Max Domi, for example, the only player currently on Columbus's roster under six-feet tall, but plays well above his size class at a hundred miles an hour.
Nashville's easy answer would be Ellis, who plays above his size, as well as Viktor Arvidsson, who always surprises me by how small he is because of how quick he is. In terms of matching power forwards, former Blue Jacket Ryan Johansen is someone the Predators will lean on for some physicality and scoring up front in these matchups.
Columbus plays top defensive pair Seth Jones and Zach Werenski more than any other players on their roster, so Nashville's only hope is wearing them down over the course of the season. That, however, is a task that is difficult to accomplish considering both players logged over 60 minutes apiece in the memorable five-overtime playoff game against the Lightning last postseason, and were both still playing at their top potential in the late, late stages of that game.
Josi and Ellis are unquestionably Nashville's two best players and averaged around the same time on the ice as Jones and Werenski last season. In any case, whenever those four are on the ice together, it will mean fireworks and a showcase of skill worthy of All-Star games.
Dallas Stars
Yes, Corey Perry is gone. Yes, Tyler Seguin and Ben Bishop will miss the start of the season to injury. But let's not forget who Dallas's front-runner for the Conn Smythe Trophy was all the way through the end of the Stanley Cup Final. Miro Heiskanen scored almost as many points in the postseason as he did the regular season, with 26 points in 27 playoff games.
Likewise, Joe Pavelski scored 14 times in the regular season but potted 13 goals in the postseason run the Stars went on. The time off in the summer inflicted by the pandemic appeared to have paid dividends for those two in the playoffs, and with puck drop on the 2020-21 season just around the corner, it's logical to think they can pick up where they left off in the fall.
The offensive firepower John Klingberg brings to the table from the defensive position, as well as the punishing physicality of 6'7 defenceman Jamie Oleksiak, means the Stars have a blueline worthy of discussing as one of the better overall groups in the Division.
Josi, Ellis, and company are extremely skilled it's true, but let's not forget Dallas has a punishing first line of power forwards in Pavelski, Jamie Benn (arguably one of the best power forwards in the game) and Alexander Radulov. Both Josi and Ellis have proven their durability, but they haven't had to play these Dallas forwards eight times in four sets of back-to-back games.
With Anton Khudobin anchoring the crease, at least until Bishop's return, the Stars are a team who found themselves re-invigorated when the 2019-20 season started again in August. With Rick Bowness firmly planted as the full-time head coach now, it's safe to presume that the Stars players will find the form they possessed in the postseason rather quickly in January, and it will be up to the Predators' blueline to weather the storm and match or surpass the offensive output of the Stars' defenders.
Detroit Red Wings
Yes, I know what you're going to say – I basically said the Red Wings don't have any hope in this Division this year. But this is a team who, despite being awful and finishing dead last by a few miles last season, swept the Montreal Canadiens. There is always hope, and that hope is going to manifest itself this season in the likes of returning stars Dylan Larkin and Anthony Mantha, an imposing and highly skilled tandem up front for Detroit.
Not to be forgotten are the veteran additions the Red Wings and general manager Steve Yzerman – you know, the guy who basically built the reigning champion Lightning – brought in. Vladislav Namestnikov and Bobby Ryan are two more skilled forwards who can make a big difference up front, and veteran blueliner Marc Staal will look to help groom and improve the defensive group. It could be unpredictable and frustrating enough of a group to have a big impact on players like Arvidsson and Filip Forsberg, who are looking to find their scoring touch again.
Lloyd Christmas once famously said "So you're telling me there's a chance!" As the potential Lloyd Christmas of the Central Division, while they might be chaotic, bumbling, and wholly unpredictable, the Red Wings may still in fact be able to come out on top. That being said, it would take a lot of things to go right for them and wrong for Nashville.
Florida Panthers
Aleksander Barkov is an important X-factor and has incredible chemistry with linemate Jonathan Huberdeau. Now veteran players, these two anchor a fairly impressive Panthers roster, which also features grizzled veteran Keith Yandle on the blueline; while not as flashy as someone like Josi, Yandle has consistently and quietly been one of the better offensive defensemen in the league over his 14-year career so far.
Florida has an incredibly experienced blueline overall, with the likes of Aaron Ekblad, Anton Stralman and Radko Gudas ready and waiting to stand in the way of Forsberg, Arvidsson and the rest of the Nashville forwards. The question of can Nashville's top-six out-perform the top four Florida blueliners to create scoring chances will come down to a combination of the speed of Matt Duchene and the power of Johansen in the middle of the Predators' top two lines.
Much-maligned though he may be, goaltender Sergei Bobrovsky is still one of the best in the game when he is on. Now with former star Roberto Luongo heading the Goaltender Excellence Department, this could be key to a turnaround for the Russian goalie. With a career .919 save percentage against Nashville, Bobrovsky's return to form will be a big reason the Panthers will have success again in 2020-21.
It helps Florida that Bobrovsky has a higher winning percentage against the Western Conference than the Eastern Conference, but whether he can sustain that success against the firepower of teams like Nashville is the question that remains to be answered.
Tampa Bay Lightning
Yes, Kucherov is out for the regular season, which is a crippling loss for their forward group and their scoring. However, the Lightning still has the best defenceman in the world in Viktor Hedman and the best goaltender in the world in Andrei Vasilevskiy.
Either one of those players could have won the Conn Smythe Trophy and nobody would have batted an eye; Hedman won, very deservedly so. But even if neither one had won, and it had been awarded to Kucherov (34 points in 27 games), or Brayden Point (14 goals and 33 points in 23 games) it would have been just as impressive a win for either of those players.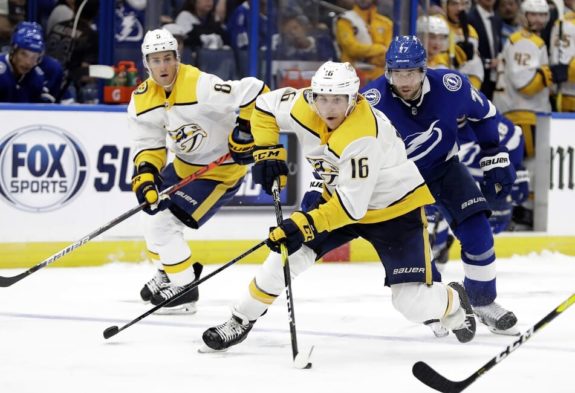 With Ondrej Palat, Tyler Johnson, Alex Killorn, Anthony Cirelli, Yanni Gourde and defenceman Mikhail Sergachev all providing depth scoring in the past, the challenge for them will be filling the void left by Kucherov. While the blueline advantage overall may go to Nashville, Hedman will eat up bigtime minutes for Tampa Bay, meaning we'll see lots of Josi versus Hedman – which, regardless of who wins, will be really entertaining.
I think it would also be a disservice not to mention Steven Stamkos. Reportedly reaching readiness, Stamkos could be good to go by the start of the regular season, and if not would miss marginal time. His return, however brief, in the postseason, resulting in a highlight-reel goal, is something that will remain as a franchise-altering legendary story, the ripple effect of which will be felt throughout the lineup for years to come. However, consistently facing a blueline with the likes of Josi and Ellis along with Mark Borowiecki could throw a wrench into the Lightning's dream of a repeat.
The Predators have their work cut out for them in the new Central Division. Josi and Ellis are a big part in making the squad as good as it is, but the theme of the Central Division in 2020-21 is depth, and it will be up to the depth and role players of the Predators to make big impacts in every single game. I, for one, am very excited about the potential competitiveness this Division has to offer from a spectating standpoint, especially with the star power and the afore-mentioned depth from every team.
---
---