Every NHL franchise has one or two players that are beloved by fans even if they aren't known for production on the ice. These are often those heart-and-soul grinders that go out every night and play a tough, thankless game.
Related: Lightning: The Future of Cedric Paquette
For the last few years, this player has been Cedric Paquette for the Tampa Bay Lightning. If you look only at the scoresheet, you see someone that offers inconsistent scoring while taking on fourth-line minutes.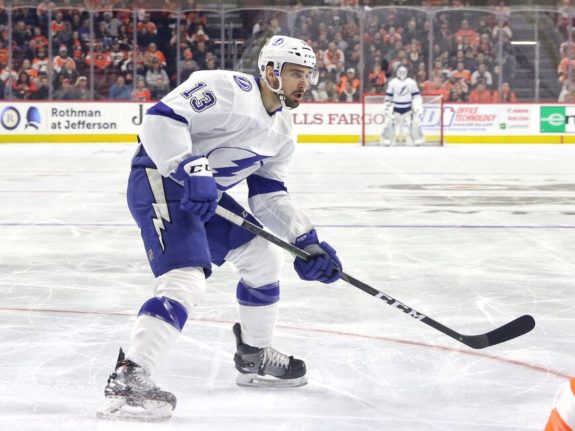 However, Paquette brought far more to the team than just a few goals each year. He was one of Tampa Bay's big men, playing that tough, pesky role for a franchise built more around speed and skill than size and strength.
A Healthy Paquette Was A Force for the Lightning
When Paquette was healthy, he was one of Tampa Bay's most difficult forwards to play against. While he wasn't a giant, he threw around his 6-foot-1 frame with the best of them, leveling close to 1000 hits in his seven-year career with the Lightning.
Even if it wasn't always perfect, this physical gameplan earned him the affectionate moniker 'Dump Truck' by local media and fans alike. Originally, this nickname was coined by boltsprospect.com when they said:
Dump trucks aren't pretty. Dump trucks aren't fast. Dump trucks are strong and dump trucks do hard work. That's what Cedric Paquette does. Hard work.
While he wasn't called 'Dump Truck' forever, Paquette was the ultimate fourth-liner for the Lightning. He was that pest on the ice who could get under opponents' skin while throwing down the gloves to defend his teammates whenever it was necessary.
Injury Tempered Paquette's Full Potential
Despite being the right player for Tampa Bay, Paquette struggled to stay on the ice for a complete season. Injuries slowed his potential, as he only played in 80 or more games once and played less than 60 games three times in six years.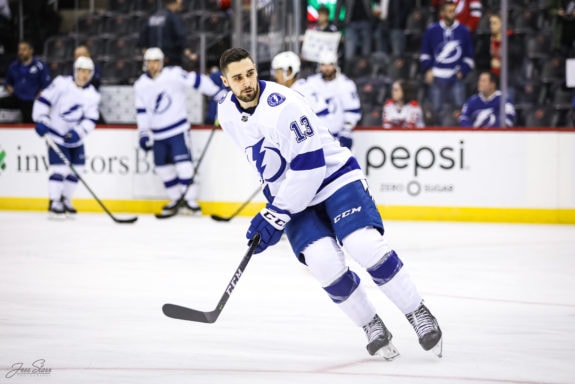 Early in his career, he showed glimpses of being more than just a fourth-line grinder. Back in Feb. 2015, he was the NHL's second star of the week, after scoring 5 goals in three games, including the third rookie hat trick in Tampa Bay's history.
Related: Lightning All-Time Rookie Hat Tricks
With this loss of playing time, it's difficult to know just what Paquette could have been. Sure, he likely wouldn't have become a top-six forward, but he may have threatened to score 20-goals if he had stayed healthy throughout a full 82-game season.
Lightning Will Miss Paquette
While Paquette may not have always been a perfect player, losing him is still tough for Tampa Bay because it's more than what he brought to the team on the ice. Over the course of eight years, he defied the odds, going from a longshot fourth-round pick at the 2012 Draft, to a nightly NHL starter with the franchise that selected him.
Paquette became a legit NHL'er with the Lightning, and he should be proud of what he did with the franchise. This was a team fighting for a championship, and he played in 91 postseason games, contributing a massive 112 hits for Tampa Bay on their run to the 2020 Stanley Cup.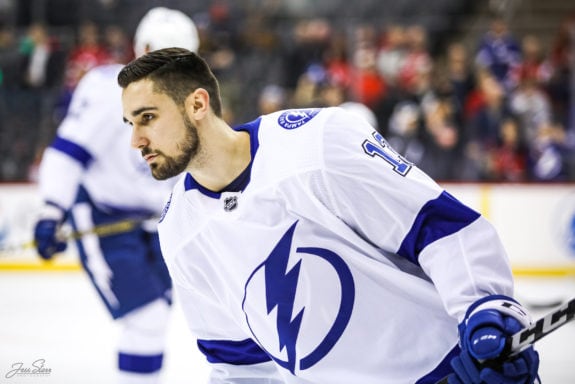 Sure, he wasn't an offensive force, but he wasn't supposed to be. He worked hard every night, laying down hits while making the Lightning harder to play against.
If Paquette hadn't won the Stanley Cup with the Lightning, then this trade would have hurt worse. However, seeing him lift the Cup in his final game with Tampa Bay gave a satisfying end to his time with the franchise.