They need a nickname. How's Jelvis or Korpikins? Maybe the Blue Blockers? Whatever you want to call them, the dynamic goalie tandem of Joonas Korpisalo and Elvis Merzlikins is likely the Columbus Blue Jackets' greatest strength heading into the 2020-21 season.
They are both 26 years old, entering their prime, and have shown flashes of brilliance to prove they may both be legit No.1 NHL goalies; a luxury in a potentially compressed season. We could easily see scheduling scenarios that feature three games in four nights and head coach John Tortorella will be able to ride the hot hand or alternate starters knowing he won't have to worry about who is stopping the puck. A coach who isn't confident in his team's backup feels the pressure to use his top goalie every night. Columbus shouldn't have this worry.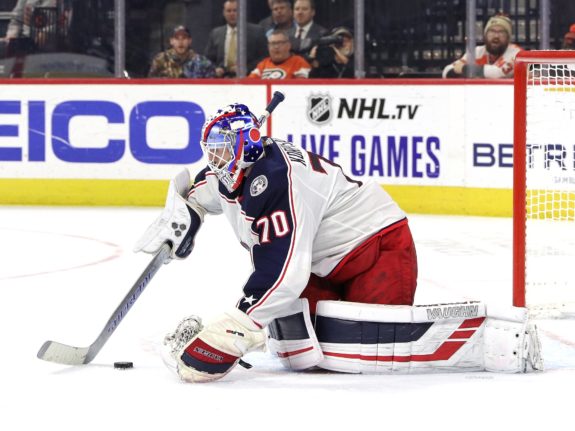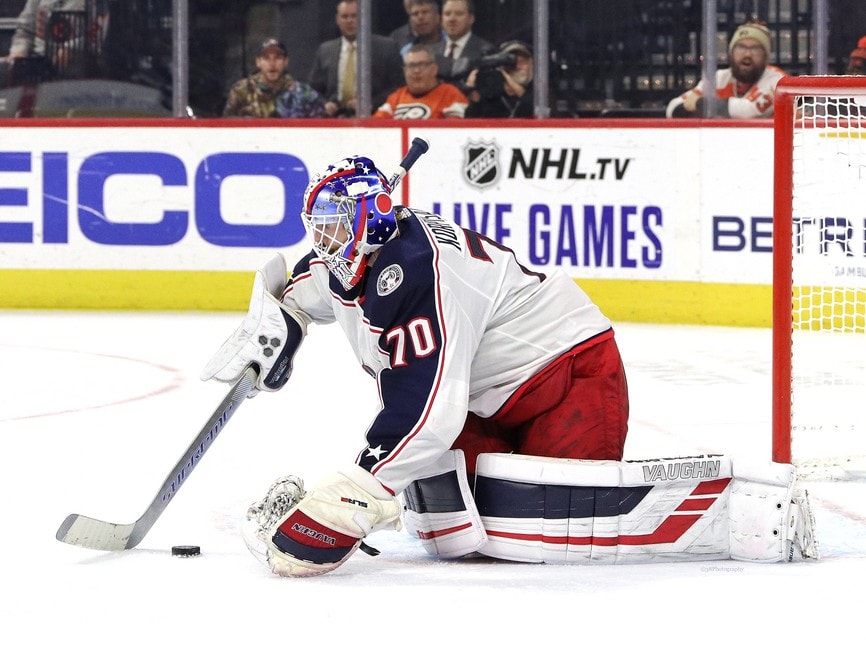 I evaluate players based on their ceilings: What could they be at their best? I could argue that both Merzlikins and Korpisalo are potential perennial All-Stars with undervalued contracts and game-stealing ability.
Joonas Korpisalo
Like most goalies, it's taken years for Korpisalo's to reach his full potential. But we saw glimpses. From 2010 to 2012, I was a video scout, operating my own scouting service for NHL teams. Basically, I would film prospects, break down the video and provide it to interested clubs.
In 2012, the goalie draft class was stacked with Andrei Vasilevskiy, Malcolm Subban, Connor Hellebuyck, Frederik Andersen, Matt Murray, Korpisalo and others. Korpisalo shined in the tournaments I covered in Europe. He was positionally sound, athletic with a big-time compete level.
I thought he would be selected ahead of Oscar Dansk from Sweden, who was ranked higher, and another goalie who I'd seen a lot that season. But it went the other way, Dansk was selected in the 2nd round and the Finn was chosen at the top of the 3rd. The fun part is that both were selected by the Blue Jackets. While Dansk was eventually let go after a pedestrian start to his career in the minors, Korpisalo emerged as the one with an NHL future.
When the Jackets didn't re-sign Sergei Bobrovsky before the 2019-20 season, Korpisalo finally had the net to himself. He had a 5-5 record to start the season, with a sub-par .886 save percentage (SV%) through October. Every game was a battle. But in November, he turned his season around giving up two goals or less in seven of 10 games. In December, he was even sharper, firing off 5 straight wins by mid-month and finishing with a .932 SV%. This incredible streak earned him an All-Star nod, although he missed the game due to injury.
And when that injury door opened, Merzlikins took the stage.
Elvis Merzlikins
Remember that 2012 Draft class of goalies…Merzlikins was in it too though I hadn't heard of him. I doubt many scouts had either. He was toiling in the under-20 Swiss League where he had only played eight games posting a 3.52 goals-against average (GAA).
Two years after his original draft year, his numbers improved and Columbus rolled the dice on him in the 3rd round, just like Korpisalo. From there, he's been phenomenal, twice winning the award as the top goalie in the Swiss League. He's been consistently dominant, enough so that the Blue Jackets felt confident he could back up Korpisalo, and when given the chance, he showed much more.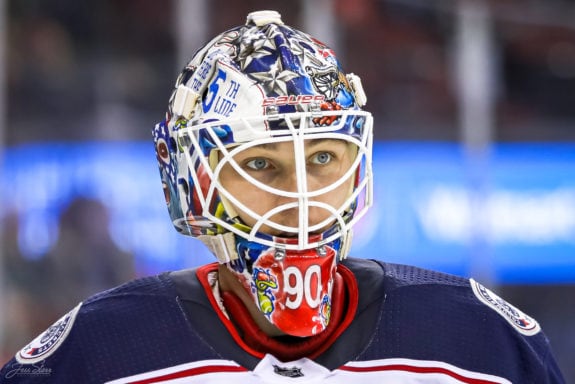 In 2020, Merzlikins took off. He went through a 23-game stretch with a 1.97 GAA and .935 SV%. During this blistering period, he won eight straight games including five shutouts which ranked second in the NHL, behind Hellebuyck's six. The Blue Jackets' incredible goalies led them to the playoffs.
Two Legit #1 Goalies in Columbus
We got a fascinating look into Tortorella's goalie mindset in the 2020 Playoffs. Korpisalo started nine of ten games in the Toronto bubble and was nearly unbeatable. He posted two shutouts with a .941 SV% and made NHL history with 85 saves in their Game 1 loss to the Tampa Bay Lightning that took five overtimes to decide.
Tortorella is one of those rare coaches who doesn't mind playing a goalie in back-to-back games. He likes letting his players stay in the crease until they fumble or need a break and that philosophy worked this past season. It will be very interesting to see if that carries over into 2020-21.
Each of the Blue Blockers has made their case to be no. 1 and I'm not just talking about being the top dog in Columbus. The Merzlikins-Korpisalo tandem could be the best league-wide. Sure the Dallas Stars have Ben Bishop and Anton Khudobin, the Vegas Golden Knights have Robin Lehner and Marc-Andre Fleury, the Boston Bruins have Tuukka Rask and Jaroslav Halak and the Montreal Canadiens now have Carey Price and Jake Allen. But among this group, only Lehner is under the age of 30, at 29. Merzlikins and Korpisalo are emerging stars.
And yes, maybe the Blue Jackets will open up their offence this coming season which could lead to more chances against but when you have Jelvis in the building you can afford to. No matter which one is in net.
---
---