Suspicions have been raised over the years that there may be some top-secret facility hidden away in the hills surrounding Nashville, manufacturing NHL-quality defenders and pouring specimen after specimen into the ranks of the local professional hockey team.
The products of this Predators-born system can be found scattered around the league to this day, serving in roles ranging from quality depth veteran (Kevin Klein, Cody Franson, Dan Hamhuis) to linchpin defensive superstar (Shea Weber, Ryan Suter, Seth Jones).
Yet despite the departure of such tremendous defensive talent over the years, the Nashville Predators remain fully stocked on high-end blueliners. So stocked, in fact, that the team recently began a resurgence in their season despite being down their top two star-caliber players at the position.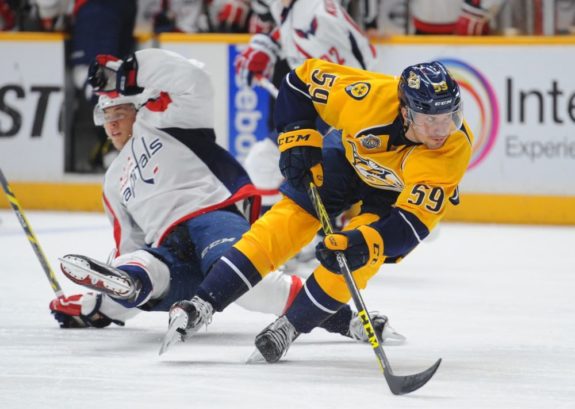 So begs the question; how do the Predators manage their roster to give the franchise its best shot at making a run at the Stanley Cup? Do they stick to their overstock of strength at the blue line, or do they take advantage of their wealth at the position and turn their talent into currency via trade?
Trading Defense
Despite relative success during their absences, it can be safely assumed (keep in mind, it is the NHL so we're still assuming here) that superstar talents P.K. Subban and Roman Josi are well off the table when it comes to trade talks. The franchise is built around the elite puck-moving defenders, so any suggestion that they would be moved should be considered unrealistic.
Enter the next pair of factory produced top-end talents, Ryan Ellis and Mattias Ekholm. Both 26 years old, and both good enough to slide right into a top defensive pairing for a large number of teams across the NHL.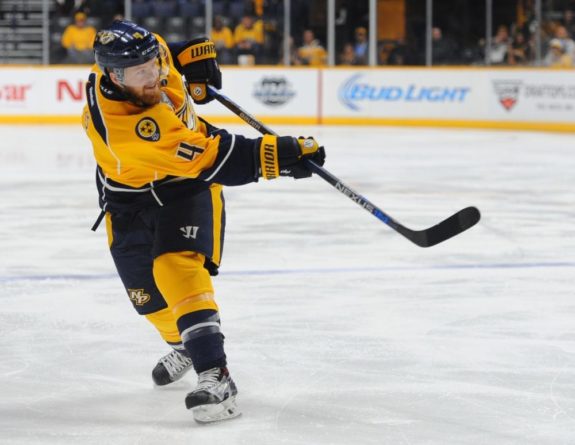 The two skaters are the reason the Predators are able to win games with both Subban and Josi out with injury. They are also the reason the Predators are one of the teams leaning strongly towards the eight player protection scheme in the upcoming expansion draft. They are, in short, a luxury– and they are in high demand around the league.
If choosing one of the team's luxurious core defenders to move, Mattias Ekholm becomes the most likely candidate. A left-handed shooter coming in at $3.75 million a year against the cap, Ekholm falls a bit short when compared to the value of the right-shooting Ellis and his ridiculously cost-effective $2.5 million AAV.
A viz I included in the piece that draws on DTMAboutHeart's XPM stat. Here, teams are ranked by total impact from DEF. Leafs are 19th. pic.twitter.com/9VqWPfPIjv

— Sean Tierney (@ChartingHockey) January 17, 2017
Finding Offense
The Colorado Avalanche have had fans of other teams salivating and piecing together mock package deals for awhile now, all because of their insistence upon moving at least one, if not both, of their high-end forwards Matt Duchene and Gabriel Landeskog before the beginning of next season.
The Nashville Predators focus, if considering a trade with the inter-divisional rival, would have to fall on Duchene, considering his natural center position addresses a franchise need.
Elsewhere around the league, names like Ryan Nugent-Hopkins and James van Riemsdyk get recurring mentions in trade talk, but the Oilers have cooled down speculations surrounding their club since the massive Taylor Hall/Adam Larsson swap, and van Riemsdyk isn't a direct match with the Predators positional needs. Another name attached to a cash-strapped, underachieving club is Tyler Johnson, who plays the correct position and is due for a year-end raise that the Tampa Bay Lightning may not be willing to foot.
Point being, there are offensive upgrades available to the Predators, but making a deal for Duchene sits as the most fitting on a need-for-need basis. How so? Well for starters, we know the phone lines between the two franchises are open, as the teams made a significantly lower-profile swap less than a month ago, resulting in perennial tough guy Cody Mcleod moving to Music City in exchange for prospect Felix Girard.
What does Duchene bring to the table? The 2009 third overall draft pick regularly challenges a 60-point pace on a team that claims residence in the NHL's cellar. His 15 goals, 14 assists in 41 games this season places second in total points on the Avalanche (bested only by the non-movable Nathan MacKinnon), and his speed brings the kind of threat every team hoping to make a championship run needs on their roster.
Predators Advantage
The goal for any trade involving the Predators this season should be addressing the second-line center position. There's a ravenous void behind first liner Ryan Johansen, with two 36-year-old veterans composing the core of the team in Mike Ribeiro and Mike Fisher.
Adding Duchene to the mix puts a legitimate scorer behind Johansen, giving the Predators the one-two punch every NHL team desires. It allows Captain Mike Fisher to shift into a third line role, significantly improving his effectiveness.
Matt Duchene earned every inch of this goal.
The @Avalanche lead it, 4-3!

?: @NBCSN
?: https://t.co/RGyigRIVNW pic.twitter.com/c6RhnqJFDK

— NHL on NBC (@NHLonNBCSports) January 18, 2017
Assist-machine and defensive liability Mike Ribeiro can be plugged into a less-pressured environment more fitting of his skill set. Or, seeing as he's already received a handful of healthy scratches this season, not plugged in at all. Replacing Ribeiro's turtle-esque skating with Duchene's speed alone is enough to entirely alter the offensive makeup of the Nashville Predators.
Avalanche Advantage
Barring wholesale makeover, the Avalanche have their top two right-handed defensemen locked up in Erik Johnson and Tyson Barrie. Their issues primarily lie down the left side of the defensive unit, where 36-year-old Francois Beauchemin is left absorbing top-pair minutes.
Rightfully, this leaves the Avalanche in the market for a young left-handed defenseman capable of swallowing top-two time effectively. Mattias Ekholm checks off all the boxes, with vigor.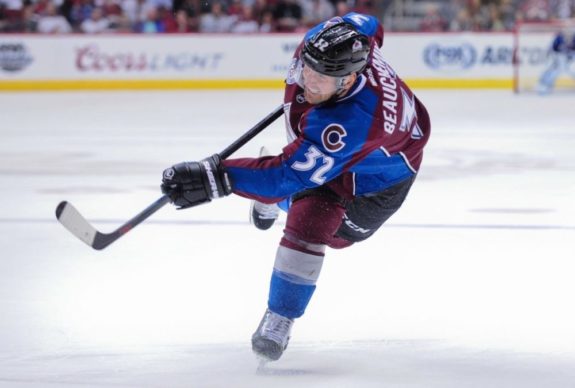 He slides immediately above Beauchemin into the top pairing next to Johnson– and more, he does it at a discount. Ekholm's $3.75 million AAV holds endlessly more value than the aging Beauchemin's bloated $4.5 million contract, and stands as more cost effective than the AAV of both Barrie ($5.5 million) and Johnson ($6 million). Ekholm's term, through the 2021-22 campaign, is itself an appealing note.
The Avalanche front office insist they won't accept anything less than a stellar deal for one of their big names, but the vital ability to open up cap space on a rebuilding franchise while upgrading a top-two defensive position should be nothing short of Temptation Itself.
Moving Parts
Duchene and his $6 million AAV won't be moved for Ekholm alone, and the Predators would doubtlessly have to put any combination of prospects and/or draft picks on the table as well.
A trade would also alter the Predators' expansion protection plan, allowing them to shift to a 7-3-1 strategy and protect two additional skaters. In this scenario, Subban, Josi, and Ellis would serve as the protected defensemen, while Nashville could save a hoard of forwards including Johansen, Duchene, Filip Forsberg, James Neal, Viktor Arvidsson, Colin Wilson, and whomever they deem worthy between Calle Jarnkrok and Craig Smith.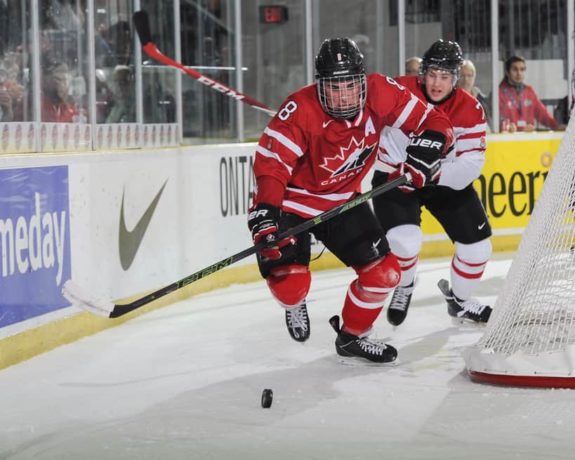 The Predators have been able to dish away valuable defenders before and patch their holes effectively. Conceivably stepping into Ekholm's role would be either sophomore Anthony Bitteto or, most likely, the impressive free agent pickup Matt Irwin, who has already displayed his ability to play significant top-four minutes this season.
Looking down the pipeline, a few names stand out as future replacements. AHL All-Star Alexandre Carrier looked good in his first two career NHL games this season. Last year's first round draft pick Dante Fabbro has played well with the NCAA's number one ranked Boston University, and prospect Samuel Girard has been turning heads, marking 52 points through 37 games with the Shawinigan Cataractes. None of the above, however, are realistic replacements for Ekholm until a date much farther down the road.
#QMJHL #LHJMQ SHA/DRU: @Cataractes_Shaw Samuel Girard could become 1st to lead League in D-man scoring since Derrick Walser, RIM ('96-'98).

— Geoffrey Brandow (@GeoffreyBrandow) January 18, 2017
Conclusion
Mattias Ekholm is a staple of the Nashville Predators. The Colorado Avalanche clearly do not feel the same way about Matt Duchene. That being said, the second line center position is traditionally more valued than a fourth defender slot.
While images of Duchene (or Nugent-Hopkins, or Tyler Johnson) replacing Ribeiro down the center should have every Predators fan woozy with desire, the cost must be manageable. Ekholm and a second round pick? Consider it. Ekholm and a first? Nothing doing. Move a depth prospect or two? Sure. Move Kevin Fiala? Pass.
Bottom line: the Nashville Predators system, while falling short of being able to make a Stanley Cup run, has been consistently better than that of the Colorado Avalanche. There's no reason to hurriedly sacrifice a winning personnel philosophy to move closer to one which has time and again proven to be one of the worst in the league.
Chance Humphrey hails from Cincinnati, Ohio and covers the Nashville Predators for The Hockey Writers. He studies as a double major in Mass Media Communications and Creative Writing at Miami University of Ohio, and is skeptical of most intermission entertainment and those beer glasses that fill up from the bottom.