The hottest love has the coldest end.

– Socrates
Without delving too deeply into philosophy, that quote from Socrates really speaks to the Pittsburgh Penguins' goaltending situation. Out with the old, I suppose…
Matt Murray in Charge
My colleague Mike Necciai wrote in his recent article that it's becoming clear that the Penguins' crease belongs to Matt Murray. I agree.
Starting in six of the last seven games, Matt Murray has become the unquestioned starting goaltender in Pittsburgh. If recent history were to suggest otherwise, Murray's struggles during a few of those games would have seen Marc-Andre Fleury back in the crease at some point. Murray had a recent stinker of a game against the Capitals where he allowed a remarkable seven goals – a game in which he was still credited with a victory. That he wasn't removed from that game speaks to the intent of head coach Mike Sullivan.
THERE IT IS! New AHL record for Matt Murray! pic.twitter.com/ZpB77wIALD

— WBS Penguins (@WBSPenguins) March 8, 2015
What we're witnessing now is the beginning of the coup. The winds are shifting out of the sails of Fleury and into those of Murray.
Though he hasn't gone public with a statement, it's often been speculated that Sullivan has long preferred Murray over Fleury. After all, he was the head coach of the Baby Pens when Murray set the AHL all-time shutout record just a few seasons ago. Simply put, Sullivan trusts Murray. He's watched and helped Murray grow into a championship-winning talent. To not embrace that which you helped to cultivate would be silly.
What This Means for Fleury
Marc-Andre Fleury is not the type to cause a stir just because he isn't getting playing time. By all reports, he's an amazing locker room presence and an even better teammate. He's not complained to the media even once during Murray's rise, and that's a testament to his character.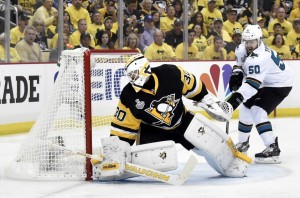 All of that doesn't mean that Fleury is going to see regular playing time, though. Unfortunately for Fleury's ambition for ice time, he's still valuable to the Penguins. Last season, when Fleury suffered the injury that kept him out of action for most of the playoffs, Murray was able to step in and help win a championship. Don't think for a second that this fact is lost on the Pens. They realize how lucky they were to have had two (or three – thank you very much for the playoff victory, Jeff Zatkoff) very capable goaltenders. They also realize that without the luxury of having a glut of quality goaltending, that it is very likely that the 2015-16 Stanley Cup Championship banner would be hanging in another city.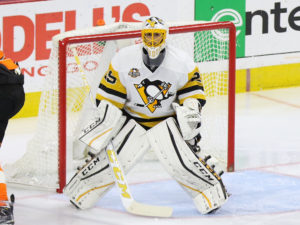 So what does this mean for Marc-Andre Fleury? First, he isn't going to be moved now or at the trade deadline. I'm confident in that much. Despite the contrary with Sullivan, Fleury still remains popular with upper management. No big name defenseman or top-six winger will be enough to sway GM Jim Rutherford to part with him. So he'll be relegated to a true backup role until he's needed once again.
So is he destined to tend the net in Las Vegas after 2016-17 comes to a close? That much isn't as clear. I don't know of too many franchises who would be keen on building their team on the back of a 32-year-old netminder who's still owed nearly $6 million dollars a year for the next two seasons. (Then again, I was around to witness the bag of pucks the Pens received in Jaromir Jagr's trade to Washington. So stranger things have happened…)
Nowadays, that contract is pretty tough to trade.
All things considered, a buyout is likely at the end of the season. It'll help alleviate some of Fleury's cap hit and give him a shot at obtaining a starting gig elsewhere.
Remaining Steadfast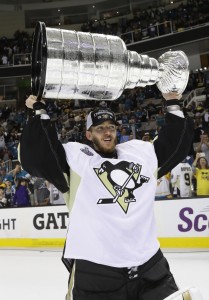 Local radio media occasionally discusses the "how and when" you decide who is going to be the starting goaltender as the playoffs creep ever closer. They'd toss out fun numbers like "I'd like to see a commitment to a goaltender no later than the last 20 games of the regular season, with a backup just sprinkled in…" or "To be successful in the playoffs, a goalie needs to play regularly between now and when the playoffs start." I find that thought process to be a bit funny considering what Matt Murray did last year as a young goalie who wasn't yet playoff-tested in the NHL.
There's no magic formula for creating a winner in net when it comes to success in the playoffs. You rely on what you have. Personally, I rely on having grown up with a best friend who's not only played goal, but also studied goaltending as if it were his second career, so I like to believe I have some small kind of idea as to how they operate. If every goaltender were cut from the same cloth, the NHL would be a really boring place. Thank goodness they're their own breed.
When Pens fans can't appreciate both Murray and Fleury pic.twitter.com/8cormEan11

— ㅤ (@PenguinsWorId) January 18, 2017
That's a roundabout way of saying: there's no true definition of how to get a goaltender in the right frame of mind for the playoffs. No 20-game stint nor extended playing time will produce the magic nectar needed to be successful en route to Lord Stanley's Cup.
The Pens have all that they need to win right now. For once, I could not criticize them much if they were to stand pat at the trade deadline. Moving a goalie would be a bad, bad idea. The time isn't right, no matter the consequence.
As we continue to watch the rise of Matt Murray, we lament Marc-Andre Fleury's position as the deposed. As natural as that may be, I find it more appropriate to celebrate Fleury's past while at the same time celebrating Murray's present. It's tough to do, but so was winning a starting goaltending job away from a Stanley Cup-winning All-Star.