By now you've probably seen – or at least heard someone mention – Adam Proteau's inflammatory piece of clickbait for The Hockey News about how the Predators "have to" trade Captain Shea Weber because his rent is too damn high. In addition for being blatant grab for pageviews from angry Predators supporters and fans of 29 other teams feverishly typing Weber-for-pennies-on-the-dollar proposals, Proteau's evaluation of both state of the franchise and impact of the Weber contract are just plain wrong.  So, let's break down the many facets of Proteau's ignorance point-by-point.
Shea Weber's contract is preventing the Predators from adding meaningful depth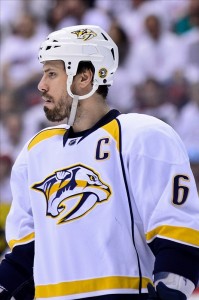 Proteau comes out swinging like the Mighty Casey, and two paragraphs in is already 0 for 1.  Apparently he missed Nashville paying the UFA premium for four forwards over the summer, having 15 or 16 NHL bodies up front between the NHL roster and Milwaukee, and culling Hal Gill and Jon Blum from the herd because of an equally sizeable logjam on D.  Nashville's top 4 of Weber, Seth Jones, Kevin Klein and Roman Josi is the envy of about 25 teams.  The only place Nashville doesn't have loads of depth is at scoring forward, and that's because they don't have the assets to trade for a Bobby Ryan or Thomas Vanek quite yet and UFA scoring forwards are terrible values, not because they won't back up the Brinks truck.
Nashville should probably sign a backup goalie (and Weber is preventing them from doing that)
Which is more likely – the team that spent upwards of 16 million over the summer won't dole out league minimum on "random backup de-jour" with Rinne on the shelf because they don't want to drop the cash, or they aren't signing that backup because they'd rather evaluate the two goalies in the system?  Carter Hutton has a .927 save percentage including his 6-1 drubbing by the Blues, and Magnus Hellberg has been excellent in a season and a few games of AHL play.  Unless Saturday's game is a trendsetting performance for Hutton and Hellberg is equally a tire fire, a UFA off the street isn't going to do any better.  The only wrinkle would be if Rinne's injury results in lasting damage and the Predators find themselves needing an actual starter, but only one current free agent fits that bill, and Mr. Universe is noticeably absent in Mr. Proteau's column.
Trading Shea Weber would help the Predators offense
Flipping Weber for a forward might result in a few more goals-for, but you don't typically amputate surface wounds.  While Nashville's offense is admittedly pretty anemic at the moment (27th), they're around league average in close possession situations and in another stratosphere defensively compared to 2013's 48 games.  On the whole, they're playing much, much better than last season and their scoring will progress to the mean given enough games.  Additionally, Weber's ability to control the possession game against opposing top lines is a major offensive contribution its own self (to say nothing of his cannon from the point), and it's extremely foolish to expect whoever steps into the shutdown role to match his output there.  The possibility of adding a "franchise forward" is certainly enticing, but that scorer (and the rest of the team)  would have serious issues getting out of his own end sans the Nashville Captain.  Keep in mind, despite playing the toughest minutes on the team, Weber still makes virtually everyone who shares his ice better.
The Oilers would offer Ryan Nugent-Hopkins or Taylor Hall in a package for Shea Weber (and the Predators would win that trade)
A Weber to Edmonton package would look something like – Hall/RNH, Ladislav Smid to replace Weber in the interim, and Darnell Nurse and a first rounder to even the value.  But why does either team do this?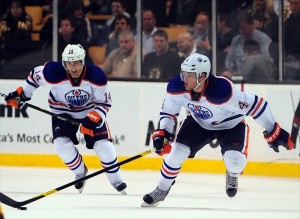 A Hall-for-Weber swap robs Peter to pay Paul for each squad, and doesn't even completely fill the roster holes it tries to.  The Oilers will still have extremely questionable goaltending, poor defensive depth, and Boyd Gordon as their best defensive center.  The Predators would be putting all their eggs in the Seth Jones basket on defense – despite taking away the best thing for his development – and would be left absolutely holding the bag if the Oiler forward's injury troubles flair up again.  Assets 2-5 years away don't mollify those risks for Nashville, either.  Perhaps if the Predators could get another major piece on the blueline for Nurse and a pick – Dion Phaneuf and Dan Girardi come to mind – it would creep toward an even flip, but it's a deal with too many what-ifs for my tastes, and it doesn't bring the Predators any closer to contending then just keeping Weber and waiting for a more advantageous, less costly deal.
Proteau really seems to believe the Predators should aim for a glut of assets and look 3-5 years down the line, but that outlook just doesn't line up with the facts.  Nashville is currently a borderline playoff team with a stingy defense and four hardworking lines, and are hitting Jones' development out of the park.  Rather than throwing the role of the most important pick in team history into upheaval – and all of Jones pre-draft "things to work on" involved his defensive positioning and general IQ, so Weber is seriously fundamentally important to this process – the Predators can sit back, develop the best pairing in the league (and Filip Forsberg), and look to add another major piece up front when the iron is hot.  If other top defensemen – Karlsson, Pietrangelo, Doughty, Ekman-Larsson – are any indication, Jones is going to be putting together an elite season sometime in the next two years, and it needs to come across from Shea Weber.  If anybody should get moved off the blueline, it's one of Roman Josi or Kevin Klein, but that's a story for another time…
Will Eldredge covers the Nashville Predators for the Hockey Writers. Previously, he's studied the Sabres for Buffalo Sports Daily and SabresFans.com, and his nuanced take on Nashville was honed in by four years at Skidmore College and even longer discussing the sport on HF Boards. Will has plans of someday working in an NHL front office.