It may not be the most hyped return in NHL history, but Marty Havlat's return is more good news for a team with an embarrassment of riches.  I know what you must think.  Are you nuts?  Havlat coming in might destroy the chemistry San Jose has built so far!  Fair point.  It is not an unpopular one.  But, there is little to suggest that injecting a former all-star like Marty will end the Sharks surge through the league.  Marty Havlat will play in Wednesday's matchup against the rival Kings.  Havlat's return will jumble the lines a bit, but expect the Sharks to stay at their elite level as he gets re-introduced into the league.  However, which line is his best fit?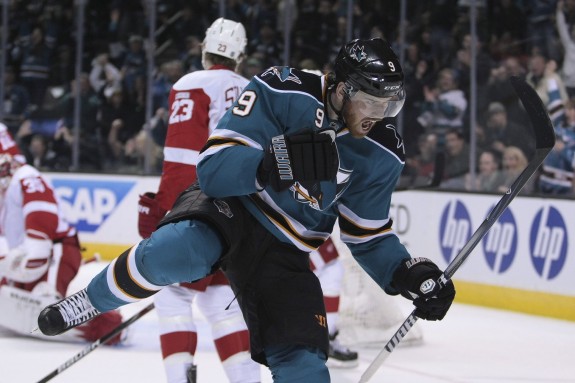 Prior Successes With Marleau
Havlat's return has brought on memories of his time with Patrick Marleau last year.  During his time playing with Marleau and Logan Couture, Marty's scored at a 2.08 points per 60 minutes.  That line also scored 70% of the Sharks goals.  Havlat's speed is still key to his success in the NHL.  And when playing with Patrick Marleau on his opposite wing, defenses get stretched quickly.
The problem is, however, that Marleau and Couture seem to have found a fine replacement in newcomer Tyler Kennedy.  In fact, the three forwards have yet to concede a goal while playing five-on-five together.  Kennedy has been a part of the injection of speed into this Sharks lineup.  That speed is what has separated Team Teal from its competition.  Surely, Havlat has lost a step or two.  Will that be enough to drop him to a third line?
Havlat Would Enjoy Pavelski's Helping Hand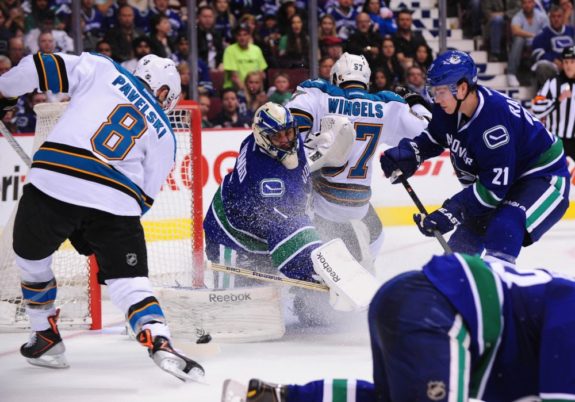 Little Joe Pavelski has channeled his inner Joe Thornton so far this season.  Nine assists in his 12 games played so far have him sporting 13 points already.  Pavelski's line has also seen a very different level of opposition than that of the top two.  This point alone, is enough of an argument to at least start Marty on the third line.
Pavelski's hard work has given his line a great reputation.  He plays with nearly unknown players every night, but continues to produce big numbers.  He is easily one of the best third line centers in the league as well.  This line has also shown the ability to work with just about anyone on that wing.
Two points of concern arise when looking at Havlat's return, however.  First, third line play is much grittier and harder on the body than elite play.  Often times, this line scores on tough rebound plays and digging pucks out of the corner.  Havlat and his injuries obviously are a worry there.  Second, Havlat prefers to play a style of stretch hockey.  He wants to break down the ice and create odd-man rushes.  While he would be able to exploit weaker opposition in this aspect, his opportunities to create these plays would be limited on the third line.
Havlat's Return Would Boost Bottom Three Lines
Havlat should at least start out on Pavelski's third line.  While he may have the ability to play with Marleau and Couture, he may have to work his way back up to that point.  But, no matter where he starts out, the shifting of players that would follow will bolster the lower lines.  Havlat definitely still has the talent to score at a mighty rate.  And since the Sharks are already thriving as things stand, Havlat's success will only help.  The issue is getting him onto the line that fits him best.  That line is opposite Patrick Marleau.  Havlat's return will start on the third line, but he must prove himself to move up to take Tyler Kennedy's spot.
Havlat in #SJSharks lineup for first time this season and McLellan says he does have something to prove. http://t.co/1h28ZjYyjG

— David Pollak (@PollakOnSharks) October 30, 2013

Havlat's return will drop some players out of the lineup.  Namely, curious acquisition Mike Brown.  But he will also fill in for Nieto on the third line.  When the Sharks get healthy, and if Havlat stays healthy, Team Teal will ice four very competent lines.  Imagine if you will:
Burns-Thornton-Hertl

Marleau-Couture-Kennedy

Havlat-Pavelski-Wingels

Nieto-Desjardins-Sheppard
Everyone on that list is fully capable of putting points on the board.  And that lineup gets even scarier when a certain enforcer named Raffi Torres returns and bumps someone off the list entirely.
Kenneth is a graduate of the University of San Francisco in Politics and Chemistry. But his passion in life has always been hockey. He has played since he was four and even coached a few teams. Kenneth writes for the San Jose Sharks at thehockeywriters.com