The 2014 Frozen Four weekend, where the NCAA Championship will be decided, takes place in Philadelphia's Wells Fargo Center on April 10 and 12, 2014. With about 16 months to go before the 2015 edition, the NCAA announced via their twitter feed the finalists to host the 2015 through 2018 Frozen Fours.
Frozen Four finalist sites for 2015-18: Boston, Brooklyn, Buffalo, Chicago, Columbus, Philly, Pittsburgh, St. Paul, Tampa, DC #NCAAhockey

— NCAA Ice Hockey (@NCAAIceHockey) October 30, 2013
Let's take a look at the finalists. We'll start in Boston.
Boston, MA
Arena: TD Garden, home of the Boston Bruins and the NBA's Boston Celtics. Opened in 1995 and seats 17,565 for hockey.
Last time to host: 2004 (Champion: Denver).
Boston has hosted 6 Frozen Fours in history, including 3 in a row from 1972 to 74. Having hosted a Stanley Cup Champion is a great resume booster, not to mention the yearly Beanpot Tournament, among other big events. Opening Day in Fenway Park would be another great draw for NCAA hockey fans, and often falls around Frozen Four weekend.
Brooklyn, NY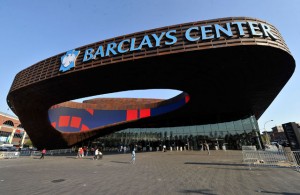 Arena: Barclays Center, home of the NBA's Brooklyn Nets. Opened on September 12, 2012 and its hockey configuration would seat 15,813.
Last time to host: New York City has never hosted the Frozen Four, although there have 10 Frozen Fours decided in the state of New York (Troy, Utica, Syracuse, Lake Placid and Buffalo).
Another early favorite. The Barclays Center is the newest arena in the country, although it currently does not have an NHL team to call its own. The New York Islanders will move into the Barclays in 2015. Although NCAA Hockey is still small potatoes to a city like NYC, I would be shocked if New York doesn't get a Frozen Four in this grouping.
Buffalo, NY
Arena: First Niagara Center, home of the Buffalo Sabres. Opened in 1996 and holds 19,070 for hockey games.
Last time to host: 2003 (Champion: Minnesota)
I missed the 2003 event and would personally love to have it hosted here again. With its proximity to Canada and Niagara Falls, this would be a great place to host another Frozen Four.
Chicago, IL
Arena: The United Center hosts the Chicago Blackhawks and the NBA's Chicago Bulls. Built in 1994, the arena holds 19,717 for hockey, although with standing room only, crowds are regularly announed in the 22,400 range.
Last time to host: Never.
Chicago, Chicago, that toddling town
Chicago, Chicago, I'll show you around, I love it
Bet your bottom dollar, you'll lose the blues in Chicago
Chicago, the town that Billy Sunday could not shut down
Okay, enough Frank Sinatra. It's a shame that Chicago has never hosted the Frozen Four. Of all the locations listed, this has to be the overall favorite and with 4 cities to be picked from 10 potential hosts, this has to be one of them. Think of the possibilities: Frozen Thursday, opening day for Major League Baseball at Wrigley Field OR Comiskey Park US Cellular Field on Friday, and the NCAA Championship on Saturday. Chicago has 2 Stanley Cups in 4 years and hockey is growing by leaps and bounds in the area.  Don't let me down, NCAA!
Columbus, OH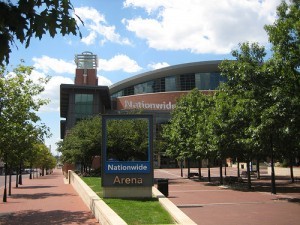 Arena: I profiled Nationwide Arena in downtown Columbus just a few weeks ago. NWA was opened in 2000 to coincide with the Blue Jackets franchise's inaugural season, and holds 18,144 in a hockey configuration.
Last time to host: Many will remember the 2005 Frozen Four that was an all-WCHA affair, won by Denver.
Wait what? Cow Town, USA host the Frozen Four? Well, it isn't that far of a stretch, as Value City Arena on the campus of Ohio State University hosted in 2005. This event would be hosted in Nationwide Arena, a much better hockey-first and hockey-specific venue. Nationwide and the Columbus Blue Jackets were to be the host of the 2013 All-Star game if not for the strike-shortened season that forced its cancellation. I would love this to be a host city again, of course! Do I think it will happen so soon? Not really.
Philadelphia, PA
Arena: Wells Fargo Center, which is the home of the Philadelphia Flyers and Philadelphia 76ers of the NBA.
Last time to host: First-time host in 2014.
I can't see the NCAA bringing Philadelphia a second Frozen Four in less than 5 years, but crazier things have happened. Without knowing how Philly is going to do this year, and the crop of talent in this group of 10 cities, I can't imagine this will happen so soon.
Pittsburgh, PA
Arena: Consol Energy Center is the home of the Pittsburgh Penguins and holds 18,387 for hockey.
Last time to host: Pittsburgh hosted Yale's first NCAA Ice Hockey Championship this past April.
I said it about Philadelphia above, and I think I would be remiss if I didn't repeat it for Pittsburgh as well. 2 Frozen Fours in 6 years is a tough sell, but hey, it's happened before. Pittsburgh did an excellent job hosting in 2013's event, despite some attendance concerns for the Consol. The attendance may have been low due to the 4 schools competing, however, and Pittsburgh is a great sports town.
St. Paul, MN
Arena: Xcel Energy Center, home of the Minnesota Wild, seating 17,954 for hockey.
Last time to host: 2011 (Champion: Minnesota-Duluth)
There is some talk about having a set of cities that would host the Frozen Four on a rotating basis, similar to what the NCAA does with its current Bowl Championship Series in football. If that happens, St. Paul (and really this means the twin cities including Minneapolis) would be on the very top of that list of host cities. While Detroit is nicknamed Hockeytown, this town is much more hockey crazed, and could be considered as the one and only host if the Frozen Four were to ever pick a neutral site and never rotate it (don't worry – they won't). Minneapolis was the site of my favorite Frozen Four. Minnesota-Duluth won their first championship in 2011, no doubt aided by the fact that it was nearly a home game for the Bulldogs:
Tampa, FL
Arena: Tampa Bay Times Forum, holding 19,204 for the Tampa Bay Lighning
Last time to host: 2012 (Champion: Boston College)
I'll come right out and say it: I loved Tampa for the 2012 Frozen Four. Golf, going to the beach and 80-90 degree weather all weekend was awesome, and that was without the great hockey! The 2012 event was spectacular and Tampa is deservedly on this list to host once again.
Washington, DC
Arena: Verizon Center, home of the Washington Capitals and the NBA's Washington Wizards, seating 18,506 for hockey.
Last time to host: 2009 (Champion: Boston University)
As a Miami University graduate, and Miami hockey season ticket holder,  I was heartbroken when Miami lost a 3-1 lead to Boston U. in 2009 with 1 minute remaining, then lost the championship in overtime. But going to Washington was one of the best weekends of my life. There is no city in the United States with more history and culture, and Washington, DC deserves another year to host the Frozen Four.
Who's it Gonna Be?
I'm surprised to see places like Detroit, Denver and Raleigh, NC off of these lists. Detroit hosted in 2010, but it was in Ford Field – a football stadium. Denver (an hour from some of the best skiing in the world) hosted last in 2008, and Raleigh has never hosted. With the NCAA's push to find some non-traditional hockey markets, I'm surprised not to see them on a list of finalists. Some of the other cities to submit bids were Cleveland, Kansas City, Milwaukee and Orlando.
Wherever the site may be, my measly streak of 5 consecutive Frozen Fours will certainly continue through any and all of these cities.
My favorites to host are as follows: 1. Chicago, 2. Brooklyn, 3. Boston and 4. St. Paul. Washington and Buffalo are close behind. The NCAA will decide in November what cities actually get the nods.
Hit me up on Twitter at @DougCutlerTHW and let me know your favorites, as well as any other cities you would have liked to see on the list!
Doulas Cutler is a Lead Writer for The Hockey Writers covering the Chicago Blackhawks. Follow him on Twitter at @DougCutlerTHW. In addition, he also writes on The Blog of Brotherhood, dedicated to Miami RedHawks Hockey (www.blogofbrotherhood.com and @MiamiHockeyBlog). LET'S GO HAWKS!