Rankings:
Minnesota
North Dakota
Clarkson
Boston College
Cornell
Wisconsin
Harvard
Mercyhurst
Boston University
Ohio State
The Round-Up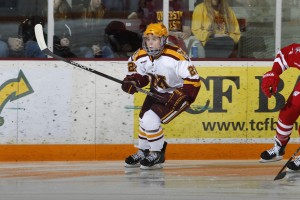 Minnesota continued their winning ways this weekend, beating Bemidji State 4-0 and 4-3. The Beavers kept that second game much closer than the first, pushing the Gophers and forcing them to make plays. Minnesota forward Rachael Bona, who has really developed into an extremely valuable player, scored her team-leading sixth goal of the season. Hannah Brandt was able to net the eventual game-winner, breaking a 3-3 tie with only 7:14 left in the third. The Gophers have been getting enough production from other players to get by without Brandt tearing it up stats-wise this year, but she's still going to be relied on to score in tight games, and she was able to come through this weekend.
North Dakota earned a sweep on their first road trip of the season, defeating St. Cloud State 2-1 on Friday night and 6-1 on Saturday. That first game was a little too close for comfort as they entered the third period tied at one, but UND earned the win in that final frame, firing 21 shots on goal and getting the go-ahead goal from Michelle Karvinen. They looked much better overall on Saturday, as they responded to the Huskies tying it up with a four-goal second period. Special teams were also on point in that game; North Dakota scored three times on the power play and twice on the penalty kill.
The Golden Knights were able to end the weekend on a high note by winning 2-0 over Colgate, but their 6-3 loss to Cornell on Friday afternoon probably still stings a bit. Clarkson didn't play terribly in that loss; the Big Red scored against the run of play a few times. However, they still need to clean things up in their own zone, because teams like Cornell will have no issue taking advantage of sloppy passes and mistakes. They played well against the Raiders despite only getting the two goals, but again, the focus going forward has to be playing that well defensively against top teams.
The past couple of weeks have definitely raised some concerns for the Eagles, with all of those concerns peaking in a 4-1 loss to Syracuse on Friday. Boston College is evidently having a big problem adjusting to the loss of Blake Bolden and Dru Burns; many of their concerns start and end with defensive play. They've given up the first goal in their last four games. The puck-moving aspect of their defensive corps is fine, as they haven't really had a problem generating offense, but there have been way too many breakdowns in the Eagles' end. Syracuse goaltender Kallie Billadeau was excellent in net, but Boston College never should have let the Orange jump out to a 3-0 lead.
With a 6-3 victory over Clarkson and a 6-4 victory over St. Lawrence, Cornell is officially off to a great start to the year. There's been no shortage of goals for them; they now have scored 21 in four games so far. After a great showing against the Golden Knights, Jillian Saulnier looks ready to take control of the offense. Emily Fulton has also played a big part in the Big Red's 4-0 start. She's averaging three points per game after factoring into all but three of Cornell's goals this weekend. They still have some work to do when it comes to controlling play, but they've proven to be a truly explosive offensive team.
Wisconsin had a very solid weekend against Lindenwood, winning 5-1 and 4-1. Lions goaltender Nicole Hensley was great all weekend despite constant pressure from the Badgers, and she even kept it a one-goal game on Saturday until the third period. Wisconsin looked strong in all areas, and it's definitely a good sign that they're getting contributions from a variety of players. One big plus for the team this weekend was the play of Courtney Burke. She's going to be crucial to their success this year and she was pretty involved on the offensive side of things in this series, tallying a goal and three assists.
Harvard started their season well with a 4-2 win against Quinnipiac and a 4-0 victory over Princeton. The Crimson did a really good job of handling the Bobcats' attack on Friday night, but they did give up 44 shots to the Tigers the next day. They're a young team, and it's going to take some time for them to gel completely; giving up a lot of chances is going to be expected from them, especially at first. But even with a really young defense in front of her, sophomore goaltender Emerance Maschmeyer picked up right where she left off last season and was able to earn the shutout against Princeton.
Mercyhurst put in two good efforts in a sweep of Maine this weekend, beating the Black Bears 2-1 and 5-0. They put up 43 shots in that first win, and then fired a remarkable 60 shots at Maine netminder Meghann Treacy in the second game. The Lakers have definitely been improving since their rocky first couple of weeks. Christine Bestland has returned to form as a force up front once again, and though Emily Janiga and Jenna Dingeldein have been chipping in more in the last few games, I think the Lakers would like to see more from those two consistently.
Boston University had a solid week, earning a 2-1 win over Yale on Saturday and a 3-2 overtime win over Northeastern on Tuesday night. Though they didn't blow either team out of the water, they were still able to defeat two pesky squads. The Terriers' offense looked much more in sync this week; they put up 38 shots on goal in each game. Their top players definitely sustained more pressure than in the past couple of weeks, which they'll need to keep doing moving forward, because Boston University has a weakened blue line that has yet to clamp down defensively.
In the News
This week's headlines from around the women's hockey world
Three Stars of the Week
1. Kallie Billadeau, Senior, Goaltender, Syracuse: She stopped 43 of 44 shots to lead the Orange to a huge 4-1 upset of Boston College this weekend.
2. Emily Fulton, Junior, Forward, Cornell: She recorded a ridiculous nine points in two games this weekend, after scoring one goal and eight assists. She's really helped to steer the Big Red's offense so far.
3. Michelle Karvinen, Senior, Forward, North Dakota: She posted four goals and an assist in UND's series against St. Cloud State this weekend, including both goals on Friday and a shorthanded tally on Saturday.
Play of the Week
Louise Warren's overtime winner that lifted Boston University over Northeastern on Tuesday night.
Gabriella is now in her third season of covering NCAA and international women's hockey for The Hockey Writers. She is the founding editor of At Even Strength, a website dedicated to providing full-time coverage and analysis of women's hockey. She is currently working towards a degree in Communication at the University of North Dakota, and is also interning with UND Athletic Media Relations. She can be reached on Twitter (@gabfun) or via e-mail (gfundaro10 [at] gmail [dot] com).