The offseason has been relatively quiet for the Colorado Avalanche. The team has only made a couple of moves and still refuses to budge in the great Matt Duchene stare-down. Outside of Duchene, the biggest moves expected from the team revolve around their own restricted free agents, specifically Nikita Zadorov.
Which Way to Go With Zadorov
Zadorov was the key piece returned to the Avalanche in the infamous Ryan O'Reilly trade. The Avs have taken their time with Zadorov, who spent a good amount of his first season with the organization in the AHL, before becoming a regular on the big roster during the 2016-17 season. When Erik Johnson went down with a broken leg, Zadorov stepped up in a big way.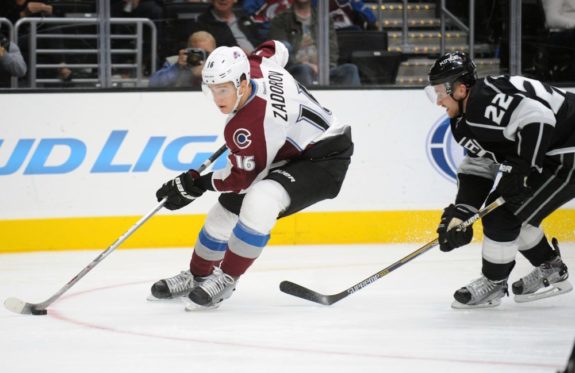 While the team's overall season can only be described as dismal, Zadorov was a clear bright spot. This now puts the Avs in an interesting spot. Do they go with a bridge contract and let him show the team what kind of player he truly is before any long-term commitment is made, or do the Avs lock him up like most teams are doing with their young franchise cornerstones? And how much do you actually pay him?
Finding Zadorov's Comparables
Negotiating contracts is an inexact science. Somehow there must be a balance of what the team wants to pay, what the player wants to be paid, and what the market deems fair. With very few exceptions, we can look at recent comparable contracts to determine what type of deal to expect.
Here, I looked for players with similar styles, numbers and age. Additionally, I wanted to make sure that the contracts signed were within the last couple of seasons. With these things in mind, the three best comparable contracts appear to be Matthias Ekholm, Jonas Brodin and Connor Murphy.
Their contracts average out to six years at just under $4 million annual average value (AAV). Ekholm is the best comparison when looking at the actual player. At the same time, Ekholm's contract was very team-friendly and it's impossible to expect every player to approach contracts with that same attitude. There has also been some chatter surrounding Zadorov potentially running to the KHL if things don't work out with the Avs, so it may be fair to assume that a team-friendly deal is not in the cards.
One of the wild cards will be the term of the contract. The Avalanche have been more amenable to locking up younger players with big deals than they have in the past, but are they convinced Zadorov will be their guy for the future? This new contract will likely tell us more about how the team views him.
Zadorov's Final Contract Number
Zadorov's situation is unique for one specific reason, he was a part of the O'Reilly deal. If he was a regular draft pick coming up through the system, the team might be more likely to take a cautious approach and go with a bridge contract. However, Zadorov was the man identified by Sakic as the player that sent O'Reilly packing, so Sakic may feel a need to show a stronger sense of confidence in the big Russian.
Zadorov took excellent strides this past season, so Sakic could reward him with a bigger contract as a bet that he will continue to develop. I expect a deal that rewards the player but still challenges him to improve for an even larger pay day in the future. So what does that deal look like? When all is said and done, the best contract for him will be five years with a cap hit of $4.25 million.