Last offseason, Nashville Predators General Manager Dave Poile took a gamble by signing Mike Ribeiro to a one-year, $1.05 million deal.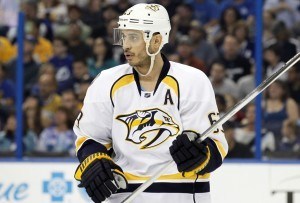 (Mike Ribeiro is a free agent after a bounce back year with the Nashville Predators. – Kim Klement-USA TODAY Sports)
It was seen as a low-risk deal for a team that was trying to play a faster paced style under new head coach Peter Laviolette. Ribeiro had off-ice problems and his brief tenure with the Arizona Coyotes ended with a buyout.
The expectations were all over the place for Ribeiro as the On the Forecheck blog made a bold prediction that he would have his best season since he left the Dallas Stars. However, some were hoping he wouldn't play himself out of the league.
However, Ribeiro turned into a great bargain with 15 goals and 47 assists for 62 points. He was an amazing free agent find for great value. Dave Poile made probably one of the biggest steals in franchise history.
Mike Ribeiro is now an unrestricted free agent, and the price of keeping the 36-year old will probably go up. Today I weigh the pros and cons of keeping Mike Ribeiro and whether the Predators should re-sign him.
The Pros of Mike Ribeiro
Mike Ribeiro has always been a pass-first player that sets up his linemates. He really clicked with changing teammates James Neal, Craig Smith and Filip Forsberg. Ribeiro's passing helped Forsberg have a campaign that would've been nominated for Caldey Trophy any other year.
He also chipped in with a few goals, including this beauty against Cam Talbot of the New York Rangers. The goal ended up being Ribeiro's 700th career point.
Ribeiro finished second in points behind Forsberg and help the first line with him, Forsberg, Neal and Smith carry the bulk of the scoring load. The bottom six for Nashville didn't do the team any favors, but Ribeiro and the rest of his line helped out.
He also was second best in possession stats. He was given some very favorable zone opportunities, but was invaluable in Laviolette's system. Ribeiro helped make the transition from Barry Trotz's defensive system to Laviolette's more offensive-minded system easier.
Recent Predators Posts
[catlist categorypage="yes" numberposts=3 excludeposts=this]
Ribeiro also seemed to behave himself. He wasn't yelling at coaches like he did with the Coyotes and his past issues didn't rear their head. Nashville's no-nonsense approach helped them tackle his past demons. He thrived in the smaller market and told Adam Vingan of The Tennessean about how pleased he was for the changes Ribeiro made.
"I'm just proud of him for everything he's done and battled through both on and off the ice," said Predators forward James Neal, who has played with Ribeiro in Nashville and Dallas. "He really turned everything around and was really good for our team."
The Cons of Mike Ribeiro
While Mike Ribeiro has fixed his on-ice problems, there is still the cloud of his legal problems stemming from a 2012 incident. The Predators have been proactive when it comes to discipline in recent years, including sitting players that violated curfew. Could Ribeiro's off-ice issues be more trouble than Poile wants to deal with?
The one glaring issue with Mike Ribeiro was he struggled in the faceoff dot with a 43.21-percent success rate. A top-line center should be decent at draws, and those hampered Nashville when it slumped later on in the season.
Ribeiro is also 36, and most teams don't have a first-line center at that advanced age. He's been playing well despite that, but one doesn't know when his body will start breaking down. Nashville doesn't want to be saddled with a long contract on a guy that's on his last legs.
The Verdict on Mike Ribeiro
I think the Predators should try to sign Ribeiro to a one or two-year deal if possible. However, Poile has to make sure he doesn't give Mike Ribeiro too much. Nashville does have nearly $30 million in cap space, but have they need to re-sign Mike Fisher and others.
Ribeiro has stated that he wants to return to the Music City next season.
"I'd love to be back with the #Preds next season." – Ribeiro

— Thomas Willis (@TomAWillis) April 27, 2015
The lack of centers on the open market may drive up the price, but I feel Ribeiro will give some kind of discount because the Predators took a chance on him.
What do you think? Should Mike Ribeiro stay or should he go? Vote in our poll and leave comments below.
Subscribe to our Predators stories to get email updates every time a new story is published.
Dan Mount is a Nashville Predators staff writer for The Hockey Writers. You can follow him on Twitter, @DanMountSports.
Covered hockey since attending SUNY Oswego in Upstate New York in the early 2000s. Has written about college, major junior and professional hockey for the last five years.
Resides in Watertown, NY.