Even though Nashville is a smaller market team, they have always been known that they don't accept bad behavior from anyone, and Mike Ribeiro won't be any exception.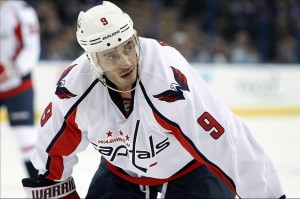 The past 3 seasons certainly haven't been kind to the former All-Star Ribeiro. Not only has he played for three different teams in Dallas, Washington, and Arizona, but after only one the first campaign with Arizona, he was bought out of his 4-year, $22 Million dollar contract for "behavioral issues." Those alleged issues included; being late for several bus rides, late for team meetings, basically having a shouting match with Head Coach Dave Tippett after a game against the Colorado Avalanche, along with probably a much longer list which hasn't been leaked to the public.
"Mike had some real behavior issues last year with us I felt we could not tolerate going forward. To his credit, he has been getting help this offseason and obviously would hope he continues. But at the end of the year and all the background checking and what happened, we felt that for us to move forward, we couldn't have him a part of this team." – GM Don Maloney
A possible cause to all of this drama would lead to the relationship with his wife Tammy.
Now there aren't any specifics go along with, but when Ribeiro was playing with Washington during the lockout season, it was reported that Ribeiro and his wife were back in good spirits after re-marrying a couple of summers ago. It certainly showed, as Ribeiro played in every game while collecting 13 goals and 49 points on the year. One can only wonder what happened between the two, but whatever transpired obviously had a profound effect on Ribeiro's game and attitude after he signed with Arizona.
So which Mike Ribeiro are the Preds getting here? The one that's a possible point-per-game player, or the player that misses team practices and gets into shouting matches with his Head Coach. Nobody knows, including myself. The only thing Preds fans can do is hope and pray they are getting the Ribeiro of old because if they are, then the chances of them making the playoffs increase dramatically.
So that's the bad part of Mike Ribeiro, let's talk about the good, which when he's on his game there's a ton of. First off, he is a playmaker at heart while also being a shootout specialist as I'm sure many of you remember this highlight shootout goal while he was with the Dallas Stars.
https://www.youtube.com/watch?v=kGS_WrDYuSI
In 865 career NHL games, Ribeiro has potted 202 goals, and 454 assists totaling 656 points which calculates to a 0.76 points-per-game percentage. The best players in the league all of PPG percentages of over at least 0.90 so the possibility of getting a player close to that status is huge for the Preds.
Another factor which effects Ribeiro is joining a team where he is going to have a chance to play with a premier goal scorer in James Neal. Now Neal isn't Alexander Ovechkin, however Neal has a lot of the same qualities of Ovi like a lightening quick shot, and the ability to score off the rush. The familiarity should hopefully be there as well since Neal and Ribeiro played together for a few seasons in Dallas when Neal broke into the league. Thankfully Ribeiro is going to have the first opportunity to play with Neal because of Mike Fisher unfortunately severing his Achilles tendon which will leave him out of the line-up for a good 4-6 months. If Ribeiro gets off to a hot start with Neal on his left side, Ribeiro could easily rack up 70-80 points while Neal possibly cracks the 40-goal plateau for the first time in Preds history.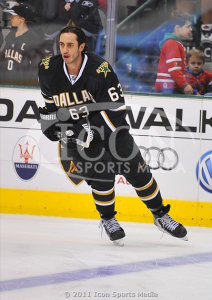 The best part about this entire scenario is that since Ribeiro is already making extra money from being bought out from Arizona, the Preds were able to sign him to a 1-year, $1.05 million dollar contract. This contact is for one, extremely low-risk for the Preds because if Ribeiro is terrible, and all those issues I mentioned earlier crop up again, then they simply don't re-sign him once the season concludes. However, if Ribeiro goes off and puts up at least 60 points while nothing extraneous occurs during the season, then it give Nashville all the reason in the world to re-sign the 34-year-old to at least a 2-year extension if not longer.
Just like Neal, Ribeiro has a possibility of breaking records this season. The highest point scorer, and assists leader in a season for Nashville was Paul Kariya in 05-06 when he recorded 54 assists and 85 points. I think it's safe to say that Ribeiro probably won't get to 85 points however it's easily possible he passes 54 assists, especially if Neal hits 40 goals.
Simply put, this is it for Ribeiro. His status as a player is currently in question throughout the league, and this is as good of a time as any to bring some respectability back into his career before he retires. Arizona was probably an even better place to play than Nashville if you just want to lay low and play your game, however the Predators aren't far off. There isn't any doubt that there are going to be questions about Ribeiro's current status before the season starts which he's going to have to deal with. Although if he can get off to a hot start to the season than those questions will quickly disappear and Ribeiro can focus on continuing his success.