Since the beginning of his career, Nashville's Pekka Rinne has been mentioned in the same breath as many of the League's goaltending elites. Rinne, twice a Vezina Trophy Finalist, had his numbers take a hit last season prior to getting his hip surgically mended, cleaning out an infection from a previous procedure. After his return, fans saw flashes of the old Pekka, winning the IIHF World Championship's Most Valuable Player award and posting numbers the franchise is used to.
Rinne's style is conducive to injury
Despite Rinne's confidence and gaining a dash of swagger back after his World Championship performance, Nashville fans should be prepared for the reality that a twice-repaired hip is a potential Achille's Heel for an athletic goalie. Rinne's signature post-to-post splits and dynamic stretching glove saves wreak havok on hip joints. Rinne's athleticism and strength displayed with every quick recovery might be tempered — consciously or subconsciously — as he continues to test the joint. The 31-year-old goaltender doesn't strictly play the controlled, compact butterfly style so many other at his position are indoctrinated in. Almost every move Rinne displays is dynamic, moving toward the puck and relying on stretching to grab shots rather than butterflying into position. For this reason, it is not completely unlikely that some form of stress-related re-injury will cost Rinne games — and Nashville wins if recent history holds true.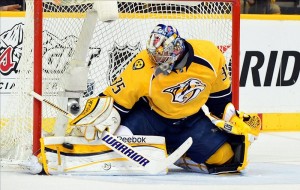 A change in the guard
Rinne is a seasoned professional, no longer requiring a coach to teach him the finer points of movement and structure at the NHL level. Mitch Korn, a legend among goaltending coaches, was a staple of Nashville Predators goaltending since Rinne was a rookie. With Korn's departure, fans may initially see a slight "change in swing" with a different approach from a new goalie coach. Ask any goaltender and you'll hear that thinking takes too much time. Combining the reality of his new hip and a new coaching approach, Rinne may show some struggles early as he adapts to his new reality. Head coach Peter Laviolette was hired specifically to add more offense to what was always a defense-first mindset. Although this change promises to add more goal support than Rinne was ever been accustomed to, it remains to be seen if a looser system places more pressure on Rinne to pick up the slack.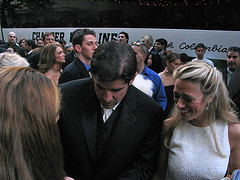 Pekka needs to be Pekka
Pekka Rinne has led his Predators team to the playoffs in the vast majority of seasons he's been with the team. This, despite a large amount of scoring punch, relying on the dynamic trio of Shea Weber, Ryan Suter and Pekka Rinne. With Suter gone and a new brand of hockey on the horizon in Nashville, Rinne needs to stay healthy and continue the All-Star form that's made him a household name in a southern NHL hockey market. Behind him sit competent goalies Carter Hutton and Marek Mazanec , but neither of those guys have a large enough sample size in the NHL to determine if either could replace Nashville's $7 million man should disaster strike. If the new coaching structure pans out to more offense and Rinne can keep his save percentage above league average, the Predators have a very good chance at making the post season in a tough Central Division.