Like all NHL teams nowadays, the Ottawa Senators have a big social media presence. All news, scores and events are posted in a timely fashion on all their social media accounts. The Senators do a very good job of breaking news to fans, giving updates throughout games, and posting behind-the-scenes pictures. If you're only going to follow one of these, I suggest the Twitter account.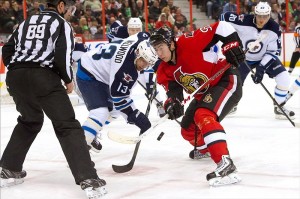 The guy that runs it can be absolutely hilarious.
– Ottawa Senators Official Website
– Ottawa Senators on Instagram
Reporters and Writers
Brent Wallace
As TSN's Ottawa reporter, Brent Wallace has been with Canada's Sports Leader since 1998, covering the Senators for a long period of time during his tenure. When he's not reporting on the Redblacks, Senators or other Ottawa sports teams, he occasionally does the afternoon SportsCentre at TSN.
James Gordon
Currently an Ottawa Citizen columnist and editorial writer, James Gordon covers the Senators and many other ongoing stories. His articles range from sports and politics, to local news or whatever the latest fad is. Gordon's witty take on the Senators and other news is one of the best around.
Ian Mendes
Ian Mendes is the heart and soul of Ottawa Senators media. Growing up in Ottawa, I will always remember Mendes hosting on Sportsnet's coverage each and every game. You just can't say a bad word about the guy. He was always the star of that broadcast and I enjoyed watching him whether it was a Senators game, or just highlights on Sportsnet Connected.
Mendes now covers the Senators on TSN 1200 Radio and occasionally writes blogs for TSN's website. He also does a fantastic job writing blogs for todaysparent.com, a site all about parenting in today's world.
Other Notable Reporters and Writers
Blogs/Bloggers
The Ottawa Senators' fan base loves the blogging community, and they have good reason to. There are numerous quality blogs and creative bloggers dedicated to the Senators, and each one of them is unique. With interesting reads, breaking news and great self-done fundraising, Sens bloggers are definitely one of a kind.
Sens Chirp
With 11,000 followers on Twitter, Sens Chirp may be the most popular Senators blog around. Anonymously run, Sens Chirp is an informative blog that also provides insider information. Most articles on senschirp.ca get upwards of 200 comments, making it the go-to-place for fan conversation and discussion.
Travis Yost
After sharing his final post at Hockey Buzz, Travis Yost has announced that he is leaving his regular stomping grounds. For so long, Yost has been posting phenomenal articles on Hockey Buzz. His statistical references are second to none and his insight is widely appreciated. There's no doubt that Yost is moving on to bigger and better things, but for now, Sens fans and hockey enthusiasts in general will have to wait and see where he ends up.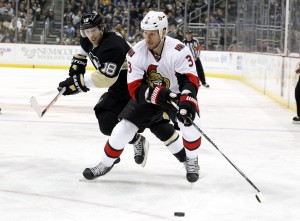 The 6th Sens
Run by Graeme Nichols, The 6th Sens is a well-regarded Senators blog with a few fine writers. With almost 7,000 followers on twitter, T6S is one of the most popular Sens blogs out there. They provide excellent breakdowns of Senators news, and are always on top of all the interviews, posting great quotes from management and the players.
Bonk's Mullet
In early 2010, Eric Doty took to Twitter under the identity of Radek Bonk's mullet. Bonk is a well-liked former Ottawa Senator, and the perfect guy to base a Twitter account on. Doty is known on Twitter for his humour and hilarious depictions of anything Senators. In May of 2013, with the help of multiple humorous writers, Doty launched his website, bonksmullet.com. He also runs a fundraiser called Sens Money on the Board. During selected Senators games, fans can donate money every time their favourite player scores a goal or extra money if the Sens win. All proceeds go to the Senators Foundation for children in Ottawa. So far, $15,000 has been raised.
– Sens Money on the Board on Twitter
Silver Seven
Silver Seven is a Sens blog run under SB Nation eyes. The site has a plethora of great writers, and there's also a fantastic way for fans to get involved. They have a page specifically for fan posts, and the Silver Seven writers visit and comment on them frequently. Recently, Silver Seven did a magnificent piece on The top 25 under 25. Series like this are the norm for Silver Seven. Their writers have a great way of getting together and creating something brilliant.
Players
Some of the Senators tend to use their Twitter accounts more than others. Erik Karlsson, Bobby Ryan, Marc Methot and Kyle Turris are probably the players that use social media the most, but here's a list of all of them:
Erik Karlsson   Eric Condra   Bobby Ryan
Craig Anderson   Marc Methot   Eric Gryba
Cody Ceci   Mike Hoffman   Mika Zibanejad
Kyle Turris   Chris Phillips   Robin Lehner
Patrick Wiercioch   Zack Smith   Jean-Gabriel Pageau