Neither the Minnesota Wild nor the Vancouver Canucks gave the performance they wanted to in their last matchup.
The Minnesota Wild went into Calgary having recorded at least a point in 14 straight road games. The Calgary Flames were able to bust that slump with an emphatic 5-1 win. They went up 2-0 early in the first period and never looked back.
The San Jose Sharks inflicted the same wounds on the Canucks, taking an early 2-0 first-period lead that they never relinquished. Patrick Marleau scored his 500th career goal, leading the Sharks to a 4-1. It was a game where the Canucks look completely outmatched.
It's hard to believe that the Canucks won't look outmatched in tonight's game against the Western Conference's best team. However, these two teams did put on a show during their last meeting at Rogers Arena. In arguably the most exciting game of the Canucks season — a 5-4 Canucks victory that was back and forth all the way down to the final minutes.
The Wild jumped out to a 2-0 lead, but the Canucks would score four unanswered goals to go up 4-2. Minnesota wouldn't be silenced, as goals from Jason Zucker and Erik Haula tied the game up 4-4 with less than six minutes to go. Sven Baertschi would get the eventual game-winner after redirecting a shot from Troy Stecher. The game had back and forth action with chances at both ends. It would be a treat to see these two teams put on a show like that again tonight.
It's worth watching these highlights as it was one of the most entertaining games of this Canucks' season.
[irp]
Minnesota Wild at Vancouver Canucks
Saturday, February 4th, 2017 – Rogers Arena, 7:00 p.m. PST
Broadcast Channels: CBC, SN, FS-N
2016-17 Season Series: Nov. 29, Minnesota Wild 4 – Vancouver Canucks 5
Minnesota Wild: 33-12-5, 71 Points, 1st in Western Conference
Hot Players: Mikael Granlund (11-game point streak), Jason Zucker (Three-game point streak)
FRANCHISE RECORD: Mikael Granlund has a point in 11 straight games (2-11=13), the longest point streak in Wild history. #mnwild #MINvsCGY

— Minnesota Wild PR (@mnwildPR) February 2, 2017
Key Injuries: Jonas Brodin, Victor Bartley
Projected Lines
Forwards
Zach Parise – Eric Staal – Alex Tuch
Jason Zucker – Mikko Koivu – Mikael Granlund
Nino Niederreiter – Erik Haula – Jason Pominville
Chris Stewart – Tyler Graovac – Charlie Coyle
Defence
Ryan Suter – Jared Spurgeon
Marco Scandella – Matt Dumba
Mike Reilly – Nate Prosser
Starting Goaltender
Devan Dubnyk
Vancouver Canucks: 23-22-6, 52 Points, 11th in Western Conference
Hot Players: None
Key Injuries: Ben Hutton, Anton Rodin, Erik Gudbranson, Derek Dorsett
Projected Lines
Forwards
Daniel Sedin – Henrik Sedin – Loui Eriksson
Sven Baertschi – Bo Horvat – Alex Burrows
Markus Granlund – Brandon Sutter – Jannik Hansen
Brendan Gaunce – Michael Chaput – Jack Skille
Defence
Alex Edler – Troy Stecher
Luca Sbisa – Chris Tanev
Nikita Tryamkin – Philip Larsen
Starting Goaltender
Ryan Miller
[irp]
Game Notes
[miptheme_dropcap style="normal" color="#222222″ background=""]1)[/miptheme_dropcap] The Wild are eagerly awaiting the debut of Alex Tuch, who was recalled following Minnesota's loss to the Calgary Flames on Wednesday. The 2014 first-round pick of the Wild has enjoyed a solid AHL season down in Iowa. He earned a trip to the AHL All-Star game with his strong performance and could make his NHL debut just a week later. Maybe he's trying to emulate Bo Horvat's NHL success, as he will wear #53 for the Wild.
[miptheme_dropcap style="normal" color="#222222″ background=""]2)[/miptheme_dropcap] According to Michael Russo of the Minnesota Star Tribune, Tuch's debut comes at the expense of Charlie Coyle, who hasn't scored a goal in his last 17 games. He does have ten assists during that time, but more is expected of him playing on the Wild's top line with Eric Staal and Nino Niederreiter. Bruce Boudreau has shuffled his lines for this matchup by putting Tuch on a like with Staal and Zach Parise. Niederreiter moves down to the third line, while Coyle replaces former Canuck Jordan Schroeder on the fourth line.
[miptheme_dropcap style="normal" color="#222222″ background=""]3)[/miptheme_dropcap] Although Boudreau isn't happy with Coyle's performance, the Canucks would be pretty happy if more of their players had ten points in the last 17 games. Only Bo Horvat (four goals, seven assists) and Henrik Sedin (four goals, six assists) have more than ten points since Dec. 23 against Calgary. Sven Baertschi has nine points in that time span, but no other Canuck has more than six. In comparison, the Wild have ten players with more than ten points in the last 17 games. Mikael Granlund has led the way with 19.
.@NHL leaders in primary assists:

1. Connor McDavid, 26
2. Mikael Granlund, 24
T-3. Evgeni Malkin, 22
T-3. Alexander Radulov, 22

— Pete Jensen 🏒 (@NHLJensen) February 2, 2017
[miptheme_dropcap style="normal" color="#222222″ background=""]4)[/miptheme_dropcap] The Canucks wish Markus Granlund could emulate some of his brother's offensive success. He has been one of the team's better offensive producers since Dec. 1, but that's not saying much. His 11 points in 28 games is tied for fifth on the team since Dec. 1, and his seven goals rank second. His critics, however, will point to his poor goals against at even strength total, which is worst among all Canucks forwards. However, he is one of only four Canucks with a positive Corsi percentage. Most believe he will be protected in the Expansion draft, but his middling production might signal otherwise.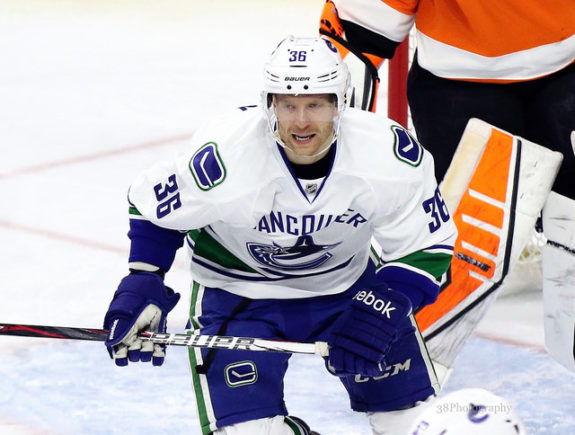 [miptheme_dropcap style="normal" color="#222222″ background=""]5)[/miptheme_dropcap] If Granlund is protected, Jannik Hansen is likely the forward the Canucks choose not to protect in the Expansion Draft. It makes more sense to protect Granlund, solely because he is younger and has more potential. However, there is no doubt that Hansen it the better player right now. If Hansen shines and Granlund slumps upon Hansen's return, then exposing Hansen will be a tougher decision.
[miptheme_dropcap style="normal" color="#222222″ background=""]6)[/miptheme_dropcap] While I wouldn't bet on another high-scoring affair between these two teams, it's worth noting that Devan Dubnyk has slowed down since Christmas. Leading up to then, Dubnyk easily led the league with a shining .950 save percentage. Ignoring the first two games of the season, Dubnyk went 23-straight games without registering a save percentage below .917. His dominance in the crease has been the main reason behind Minnesota's dominance.
Courtesy of Micheal Ferland, the Flames have put five past Devan Dubnyk. Only once before, since joining the Wild, has Dubnyk given up five.

— Darren Haynes (@DarrenWHaynes) February 2, 2017
However, Dubnyk has shown signs of humanity since Christmas. His save percentage only dipped below .900 once in his first 25 games, but in the last 13 games, his save percentage has been sub- .900 on seven occasions. His Christmas, his .903 save percentage ranks 22 among 42 goaltenders who have played at least six games since Christmas. Darcy Kuemper could start again against a brutal Canucks offence but it might not be so intimidating if Dubnyk indeed gets the start.