Tonight's matchup between the visiting New Jersey Devils and the Philadelphia Flyers will be a battle of two teams that are struggling to find consistency. The Devils in January have gone 5-3-2, winning two games, then losing four, winning three, then losing last night. Whereas their counterpart, the Flyers, have been a sinking ship for the last month. In January the Flyers are 2-4-2 but their struggles stem back much further.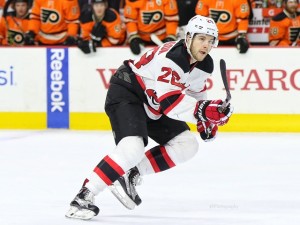 Since December 17th, the Flyers are a putrid 3-8-3 and are fading out of the Eastern Conference playoff race. What was once a cushiony, lead thanks to a 10 game winning streak, is now the last wildcard spot in the conference. During their bye week they were officially jumped by the Toronto Maple Leafs and only six points separate them from the bottom of the conference.
As for the Devils, they are only three points back of the Flyers and ultimately the Maple Leafs for the second wildcard, however, they have five teams in their way between them and Toronto. With the Metropolitan Division being the best in the NHL, the cellar dwellers of the Eastern Conference are jam packed at the bottom of the standings.
---
New Jersey Devils vs. Philadelphia Flyers
Wells Fargo Center – 7:00 p.m. EST
Broadcast channels – TCN-Philadelphia, MSG; 97.5 The Fanatic, TONJ
2016-17 Season Series: Devils lead 1-0
New Jersey Devils: 19-19-9 – 47 Points
Road Record: 9-12-6
Hot Players: Taylor Hall, Damon Severson
Injuries: Sergey Kalinin, Andy Greene, John Moore
Projected lines:
Forwards:
Taylor Hall – Adam Henrique – Pierre-Alexandre Parenteau
Mike Cammalleri – Travis Zajac – Kyle Palmieri
Pavel Zacha – Jacob Josefson – Beau Bennett
Miles Wood – Blake Coleman – Devante Smith-Pelly
Defense:
Jon Merrill – Ben Lovejoy
Kyle Quincey – Damon Severson
Karl Stollery – Steven Santini
Starting Goaltender:
Cory Schnieder
Philadelphia Flyers: 22-18-6 – 50 Points
Home Record: 14-6-3
Hot Players: None
Scratches: Nick Schultz, Brandon Manning 
Projected lines:
Forwards:
Michael Raffl-Claude Giroux-Travis Konecny
Nick Cousins-Sean Couturier-Jakub Voracek
Dale Weise-Brayden Schenn-Wayne Simmonds
Chris VandeVelde-Pierre-Edouard Bellemare-Matt Read
Defense:
Ivan Provorov-Andrew MacDonald
Michael Del Zotto-Radko Gudas
Mark Streit-Shayne Gostisbehere
Starting Goaltender:
Michal Neuvirth
---
Game Notes
[miptheme_dropcap style="normal" color="#222222″ background=""]1)[/miptheme_dropcap] The Flyers have yet to name a starting goalie for tonight so it's anybody's guess at this point. The once-sizzling Steve Mason has fallen off dramatically along with the rest of the team's play. Michal Neuvirth, now finally healthy after being lost for over two months with a knee injury could play a key part in the Flyers' end of season stretch.
[miptheme_dropcap style="normal" color="#222222″ background=""]2)[/miptheme_dropcap] The Devils, given how up and down they've been this season, are relatively hot with points in seven of their last 10 games. However, they are coming into tonight's game fresh off a loss to the Montreal Canadiens, 3-1, at home. They will be looking to bounce back quickly against a Flyers team that, despite having five days off, is playing their worst hockey of the season.
[miptheme_dropcap style="normal" color="#222222″ background=""]3)[/miptheme_dropcap] Claude Giroux will be looking to come off the bye week fresh and rejuvenated. He has struggled in the last month, with only one goal in his last 17 games to go along with a minus-15 in his last 15 games. The Flyers have all the advantages working for them tonight, as they get a Devils team in their second game of a back to back along with being off all week. It will be prudent for the Flyers to turn their sinking ship around starting tonight.
[miptheme_dropcap style="normal" color="#222222″ background=""]4)[/miptheme_dropcap] Speaking of back to back games, the Devils have fared fairly well in them this season. They sport a 5-2-3 record in the second game of back to back sets. The Devils dismantled the Flyers in the last game prior to the Christmas/holiday break, 4-0. The Flyers were just coming off their 10 game winning streak and had nothing left in the tank that night in which Jersey took full advantage.