Over the last half-decade, the hockey world has constantly found issue with the New York Rangers' lack of young talent. That has changed for good, as the Rangers now have one of the finest young cores in all of the NHL. This rapid change of the team's philosophy comes from years of building and a general manager change. GM Jeff Gorton has done a wonderful job mixing in the youth with seasoned veterans in just a year and a half in the position. With a few more trade deadline moves, Gorton could have something special on his hands.
Gorton Creating Rangers Fountain of Youth
At the end of the 2015-16 NHL season, the Rangers average age was the highest in the league at just under 30-years-old. For any team trying to create a dynasty and make Stanley Cup runs, that wasn't going to fly. After moving Derick Brassard for a much younger center in Mika Zibanejad and signing Jimmy Vesey, it was clear the Rangers direction was headed towards the future.
Gorton also added on key contributors Matt Puempel (24), Adam Clendening (24), and brought over Russian phenom Pavel Buchnevich (21) in his first full year as Rangers general manager. With prospect Ryan Graves hopefully ready next year, the shift towards the future will be more prevalent than ever.
Surprise Performances, Progressions
The Rangers have had few problems putting the puck in the net this year, with special thanks to new pickups Michael Grabner and Nick Holden. Grabner has 21 goals and is tied with Alex Ovechkin, Patrik Laine, and Max Pacioretty for fifth in the league. Grabner currently leads the league in even strength goals and has shown no signs of slowing down.
Nick Holden has also provided the offense with 24 points over 46 games. including two game-winning goals. This production has surpassed expectations for sure, creating another dangerous weapon on the blue line. Holden's shown to be extremely important to the defensive core, playing on both the penalty kill and power play at times.
One of the best things the Rangers have going for them right now is the progression of their younger players. Chris Kreider is on pace to have more goals and assists than any of his previous years. Kevin Hayes is just one goal off of his 2015-2016 total of 14. Even J.T. Miller is on pace to outscore his 22 goals and 21 assists from last year.
Why is this progression important? For one, there is a constant need in the NHL to have players who can step up into higher roles. With players like Zibanejad and Nash missing time, the Rangers needed their younger forwards to play bigger than they've ever played before. In turn, the youth has answered.
Rangers Looking Towards Adding Young Defenseman?
All signs point to the Rangers front office likely making calls to multiple teams with inquiries about young defensemen. Teams like the Anaheim Ducks and Carolina Hurricanes may be willing to talk trade. Both the Ducks and Hurricanes have young defensemen and have struggled offensively at times. As the trade deadline inches closer, could the Rangers land a young defenseman for a young forward such as Jesper Fast or Oscar Lindberg?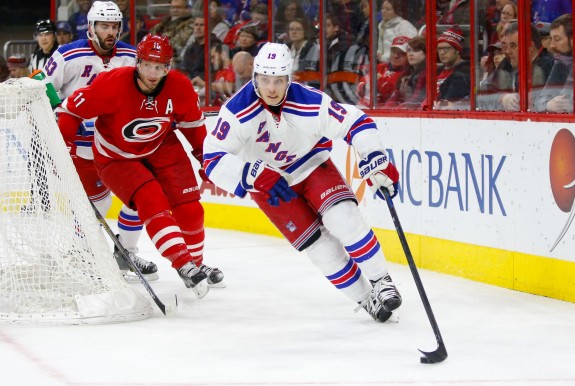 Jeff Gorton is building towards the future, striking gold on almost every move he's made so far. If Gorton can make another splash without giving up one of the talented, young forwards, he'll be hitting gold again on a very important piece of the team that can help for many years to come. While easier said than done, Gorton's got pieces to move to land a playmaking top-four defenseman. With all the possibilities, expect the Rangers to be big players at the trade deadline.
I'm a college student at Robert Morris University. I'll be covering everything Rangers as well as some gaming news as it comes out! Follow me on twitter at THWDonovan!