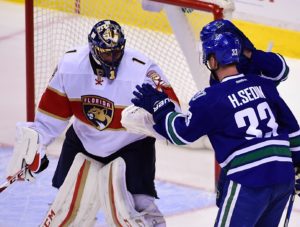 With his 1,000th career NHL point last night, Henrik Sedin has cemented his legacy not only with the Vancouver Canucks but also amongst the NHL's all-time greats.
He sits 85th in all-time points, keeping company with Hall-of-Famers like Maurice Richard, Lanny McDonald and Pat Lafontaine. Whether he ultimately earns Hall-of-Fame honors is a discussion for when his playing career is over, but one thing is clear: Henrik Sedin is the greatest Canuck of all time.
Standing on the Shoulders of Giants
He's the Canucks' all-time scoring leader, with only his brother Daniel coming close to his level of production. Vancouver deities Markus Naslund, Trevor Linden and Pavel Bure all fall well short of Henrik's accomplishments as a Canuck.
Hart and Soul
Statistics aside, Henrik has captained inarguably the Canucks' greatest teams and guided them to back-to-back President's Trophies and, of course, a Stanley Cup Final. Along the way he's picked up a Hart Memorial Trophy, an Art Ross Trophy, a King Clancy Memorial Trophy, two first team All-Star distinctions, a World Championship gold medal and an Olympic gold medal.
Show me a player with Henrik's point production but half of his accomplishments and I'll show you a Hall-of-Famer, but I digress…
Despite the real or perceived lack of respect that Sedin receives league-wide, he has provided Canucks fans with some of the team's most incredible plays throughout his career. So, with the team's greatest player reaching its highest milestone, what better time than to rank Henrik Sedin's Top 10?
First, a disclaimer: please bear with me on this list.
I'm sure your particular favourite play is missing, either because I couldn't recall it or because I couldn't find a clip of the play online. Rest assured however that I scoured YouTube and endured plenty of terrible Linkin Park-backed highlight packages to bring you MY definitive collection of Henrik Sedin's Top 10. Enjoy.
10. Sedin to Sedin to Sedin
The passing and positioning on this play demonstrate how well Henrik can read his brother Daniel. They play a little tic-tac-toe and work their way from the neutral zone to the slot in three quick passes without ever really being touched.
9. One Man, One Armed
Not many players have an empty-net goal on their top 10 highlight package. But in Henrik's case, his extra-effort in fighting off both Mark Giordano and Kris Russell with one arm earns him the distinction.
8. Head-High Sauce
While this play doesn't result in a goal, it perfectly demonstrates Henrik's vision, skill and, frankly, his audacity when it comes to passing and playmaking. Not many players can go tape-to-tape for an 80-foot pass that's 6 feet high.
7. Possessed Possession
While this isn't a particularly dazzling goal, I chose it because it's a significant goal in Canucks history (their longest playoff overtime game) and because it's the culmination of a vintage Henrik Sedin shift. He and Daniel cycled the puck deep in the Stars zone for over a minute before Daniel rang the post. Seconds later, Daniel found his brother in the slot to end the game.
6. Terrible in the Shootout
Not known for his prowess in the shootout, or on penalty shots in this case, Henrik fakes, waits and takes on arguably the greatest goalie in NHL history.
5. Icing on the Cake
Creativity and quick thinking. Unable to make a clean pass to Daniel through the neutral zone, Henrik intentionally ices the puck knowing that Daniel has a step on his defender and that the Joe Louis' famed boards will provide a perfect pass.
4. Anaheim Mighty Dangles
Perhaps sensing that he was the only Sedin in the offensive zone, Henrik makes a rare power move to the net by poking the puck through his defender's legs. He then outwaits J.S. Giguere and tucks the puck in on his backhand.
3. Getting Nifty on Niemi
Henrik's assist (his fourth of the game) to Burrows for this goal is, without hyperbole, ridiculous. Henrik is a left-handed shooter coming down the right wing with a left-handed shooter on the left wing, who happens to be perfectly covered. Rather than shoot, Henrik freezes everyone with a fake and waits for the tiniest five-hole opening before sliding the puck to Burrows for a tap in.
2. Spin, Spin, Snipe
Known more for his patience and creativity when creating plays, Henrik decides to put his head down and make Sean O'Donnell and Jonathan Quick look foolish as they enjoy the show on this goal.
1. Peter Who?
The one-handed "Forsberg-esque" finish to this goal obviously makes it a highlight. However, watch it again and notice how Henrik out-skates two Sharks from his own end to get free and receive the breakaway pass. Vision, effort and skill all in one play.
But Wait…There's More
Again, I'm sure that I've missed an important goal or two. Henrik Sedin has been producing highlight reel material long before the inventions of YouTube videos, Twitter gifs or Reddit posts, but if I've omitted something please feel free to comment with your own suggestions.
"Where's the between-the-legs," you say? Well…while it was an impressive tip pass from Henrik, I give most of the credit on that goal to Daniel. But…just because I teased it, I'll leave you with this as a bonus:
Copywriter and web developer by day, THW contributor by night. Rabid hockey fan, beer-league defenceman and tyke hockey coach always. Covering the Canucks from BC's Sunshine Coast.