The Los Angeles Kings will try to open the month of February by extending their current winning streak to four games when they host the Colorado Avalanche on Wednesday night.
It will be the second game in as many nights for both the Kings and Avalanche who both had road games on Tuesday night.
In the Kings' game, Jake Muzzin scored the game-winning power-play goal late in the third period to propel Los Angeles to a 3-2 victory over the Arizona Coyotes. Peter Budaj made 30 saves for win number 23 on the season.
"Just kind of slowly creeping in the back door and Jeff found me," said Muzzin, via LA Kings Insider, on his game winning goal. "It was a nice sauce pass, I kind of saw the puck coming through the air and it just landed perfectly on my stick and I was able to get it up. It was a nice play by him, lucky play by me, but we'll take it."
The Avalanche visited the Anaheim Ducks on Tuesday night where Jakob Silfverberg scored twice and John Gibson made 28 saves to anchor Anaheim to a 5-1 win. Colorado has last 18 of their last 20 games and will try to right the ship against the Kings before they return home for a three-game homestand.
The Kings and Avalanche have met once this season, back in November when Semyon Varlamov made 32 saves to help Colorado to a 4-1 win over Los Angeles. The teams will wrap up their season series later this month in Colorado.
---
Colorado Avalanche at Los Angeles Kings
Staples Center – 7:30 p.m. PST on Wednesday, Feb. 1
Broadcast channels – NBCSN
2016-17 Season Series: 
Nov. 15 – COL 4 – LAK 1 
Los Angeles Kings – 25-21-4 – 54 Points
Home Record: 14-8-1
Hot Players: Drew Doughty
Key Injuries: Tyler Toffoli and Jonathan Quick
Projected Lines:
Forwards
Dustin Brown– Anze Kopitar – Marian Gaborik
Tanner Pearson – Jeff Carter – Kyle Clifford
Trevor Lewis – Nic Dowd – Andy Andreoff
Dwight King – Nick Shore – Jordan Nolan
Defense
Jake Muzzin – Drew Doughty
Derek Forbort – Alec Martinez
Brayden McNabb – Kevin Gravel
Starting Goaltender
Peter Budaj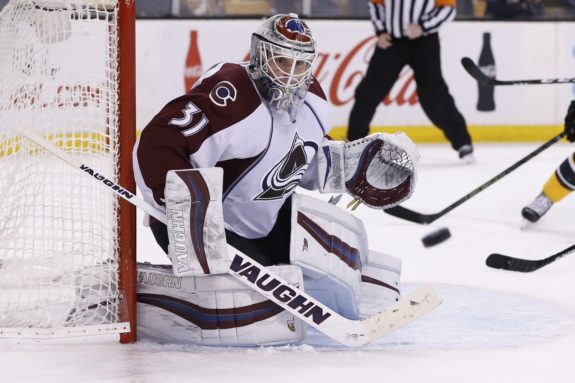 Colorado Avalanche – 13-32-2 – 28 Points
Away Record: 8-14-1
Hot Players: Mikko Rantanen
Key Injuries: Semyon Varlamov and Erik Johnson
Projected Lines:
Forwards
Mikhail Grigorenko – Nathan MacKinnon – Mikko Rantanen
Matt Duchene – Gabriel Landeskog – Matt Nieto
Rene Bourque – Joe Colborne – Blake Comeau
Jarome Iginla – Andreas Martinsen – Carl Soderberg
Defense
Cody Goloubef – Nikita Zadorov
Tyson Barrie – Francois Beauchemin
Eric Gelinas – Patrick Weircioch
Starting Goaltender
Calvin Pickard
[irp]
Game Notes
[miptheme_dropcap style="normal" color="#222222″ background=""]1)[/miptheme_dropcap] Budaj will be between the pipes for the Kings against the Avalanche, a team he played 242 games with over the course of the first six years of his career. The goalie ranks second in games played this season with 43, is tied for the second most shutouts with five and ranks in the top eight with 23 wins.
[miptheme_dropcap style="normal" color="#222222″ background=""]2)[/miptheme_dropcap] It has been a tough season for the Avalanche who sit in the league's basement and have a ten-point gap between themselves and the next closest team. One of the contributing factors to their shortcomings is their lack of scoring. Colorado is currently averaging 2.00 goals per game which is the fewest in the NHL. Couple that with facing a Kings team that averages 25.9 shots against per game, the best in the league, and goals may be extremely hard to come by for Colorado.
[miptheme_dropcap style="normal" color="#222222″ background=""]3)[/miptheme_dropcap] The Kings have found a knack for killing penalties of late. They have killed 12 consecutive penalties which has pushed the team into the league's top ten penalty-killing units having killed 82.9 percent of their penalties this season.
[miptheme_dropcap style="normal" color="#222222″ background=""]4)[/miptheme_dropcap] Both teams will be coming into tonight's game having played a game less than 24-hours prior to puck drop. This will be the end of the Avalanche's sixth set of back-to-back games this season where they have gone 3-2-0 during the second game of those pairs. The Kings on the other hand have played seven sets of back-to-back games this season and have put together a respectable 4-2-1 record in the second game of those sets.
[miptheme_dropcap style="normal" color="#222222″ background=""]5)[/miptheme_dropcap] Kings head coach Darryl Sutter is currently tied with Bryan Murray for 11th place on the all-time wins list with 620. A win against the Avalanche would move Sutter into sole position of the spot and bring him within 27 wins of the top ten coaches of all time.