It'll be a game of former employees taking on their former employers when the Toronto Maple Leafs take on the Anaheim Ducks at the Air Canada Centre on Monday night. The Leafs will take on their former coach in Randy Carlyle while Frederik Andersen and Jonathan Bernier will get set to see their former clubs.
Carlyle coached the Leafs from 2011 to 2015 when he was let go by the franchise and in 188 regular season games with the club he had a record of 91-78-19. He's the only coach to lead the Leafs to the playoffs over the past 12 seasons when they went to the postseason during the 2012-13 shortened season.
While it seemed as though Carlyle overstayed his welcome in Toronto, it seemed as though the Leafs were just heading in a different direction – one that eventually led them to Mike Babcock.
http://gty.im/160785019
For Andersen, he'll be taking on his former club – the Ducks – for the first time since being traded to the Leafs this past offseason for Bernier. In three seasons with Anaheim, Andersen held a 77-26-12 record with a .918 save percentage and 2.33 goals against average in 125 games. His best year came in 2014-15 when played 54 games for the Ducks and recorded a career high 35 wins in just his second year in the league.
On the other side of the puck, Bernier will also be watching his former club take to the ice against his new team. Bernier had a 59-68-17 record in 151 games for the Leafs over three seasons. He had a .915 save percentage and 2.80 goals against average during his tenure with Toronto. However, by the sounds of it, the Canadiens will be the ones who see Bernier on Tuesday.
John Gibson is in the starter's net for the Ducks.

— Chris Johnston (@reporterchris) December 19, 2016
This will be the first meeting between the two clubs this season, but if history has anything to do with it the Leafs have a great opportunity to pull out a win at home. In 38 games against the Ducks, Toronto holds a 23-9-5-1 record. They've out scored the Ducks over that span by nearly a goal per game.
The Leafs will be without the services of Tyler Bozak and Ben Smith as both missed the morning skate with injuries that Babcock is calling day-to-day. The injuries will move William Nylander to the middle – centring the third line, while recently called-up Frederik Gauthier and Josh Leivo will draw in. On top of that, it looks as though the Leafs will give Frank Corrado a chance to get into the lineup tonight. However it pans out though, the Leafs will look to win their second consecutive game at home and their first in the seventh five-game segment of their season.
---
Anaheim Ducks at Toronto Maple Leafs
Air Canada Centre – 7:30 p.m. EST
Broadcast channels – SNO and PRIME
2016-17 Season Series: First meeting of the season
Anaheim Ducks – 16-11-5 – 37 Points
Road Record: 6-7-4
Hot Players: Rickard Rakell and Ryan Getzlaf
Key Injuries: Simon Depres, Clayton Stoner and Nate Thompson
Projected Lines:
Forwards
Rickard Rakell-Ryan Getzlaf-Corey Perry
Andrew Cogliano-Ryan Kesler-Jakob Silfverberg
Nick Ritchie-Antoine Vermette-Ondrej Kase
Joseph Cramarossa-Stefan Noesen-Logan Shaw
Defense
Cam Fowler-Sami Vatanen
Hampus Lindholm-Josh Manson
Shea Theodore-Kevin Bieksa
Goaltender
John Gibson
Toronto Maple Leafs – 12-11-7 – 31 Points
Home Record: 9-5-2
Hot Players: Auston Matthews, Jake Gardiner and William Nylander
Key Injuries: Martin Marincin and Joffrey Lupul
Projected Lines:
Forwards
Leo Komarov-Nazem Kadri-Nikita Soshnikov
Zach Hyman-Auston Matthews-Connor Brown
James van Riemsdyk-William Nylander-Mitch Marner
Matt Martin-Frederik Gauthier-Josh Leivo
Defense
Morgan Rielly-Nikita Zaitsev
Jake Gardiner-Frank Corrado
Matt Hunwick-Roman Polak
Goaltender
Frederik Andersen
---
Game Notes
[miptheme_dropcap style="normal" color="#222222″ background=""]1)[/miptheme_dropcap]Tonight will mark Kadri's 357th career regular season game with the Leafs. That mark will tie him with Tom Fergus and Sergei Berezin for 78th on the Leafs' all-time list – one game behind Andy Blair. He also just needs three points to tie Russ Courtnall for 63rd on the Leafs all-time points list with 218.
[miptheme_dropcap style="normal" color="#222222″ background=""]2)[/miptheme_dropcap]Matthews is first on the Leafs in shots on goal with 107. He's ranked 10th in the NHL – tied with Chicago's Patrick Kane – and he's on pace for 293 this season.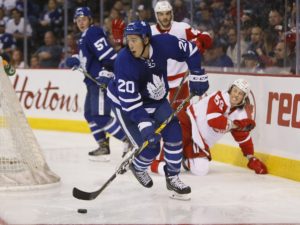 [miptheme_dropcap style="normal" color="#222222″ background=""]3)[/miptheme_dropcap]Ryan Getzlaf needs just one point to pass the late Pavol Demitra for 176th on the NHL's all-time list. He has 768 points in 816 career games – averaging 0.94 points per game over his career.
[miptheme_dropcap style="normal" color="#222222″ background=""]4)[/miptheme_dropcap]If Corrado does draw into the lineup tonight, it'll be his first game action since November 12 against the Pittsburgh Penguins. In one game this season, he has two penalty minutes. Corrado recently voiced his displeasure with being scratched for most of this season and now could be given the chance to back up his words.
The Leafs are starting the seventh segment of the Babcock's five-game plan. He breaks the season up into five-game segments and would like his club to earn six points for each allocated grouping of games. As they head into the next group of games, the Leafs have 31 points in 30 games so far. That's an average of 5.2 points per segment. While they haven't quite met the quota, the Leafs will have to have a perfect seventh segment to get back on track. The first step to that will come on Monday as the Leafs look to shoot down the Ducks.