The OHL's Western Conference is shaping up to be one of the most competitive races fans have seen in years. With Windsor hosting the 2017 Memorial Cup, and the trade deadline approaching, teams are making changes to their roster in hopes of joining the Spits in May.
This season's trade deadline is Jan. 10 and four teams in the conference are on pace for approximately 100 points – Erie, London, Sault Ste Marie and Windsor. The last time three teams had 100-plus points was 2013-14 when Erie, London and Guelph accomplished the feat.
An ultra-competitive season means stronger battles for prime playoff positions. The conference has become a bit of a three-tiered place. You have the elites in Windsor, Erie, London and SSM, followed by the dark horses with Kitchener, Sarnia and Owen Sound, and then you have the lower tier with Flint, Saginaw and Guelph.
Packing Bags or Settling In?
There are a lot of players in the West who could put a team over the top or even enhance their own team's chances of pulling off a significant upset. Let's take an educated look at which players could be available in the conference and who might just settle in with their current team for the long haul:
Jeremy Bracco – Kitchener Rangers
The Rangers are in a tough spot. They boast one of the league's most dominant duos in Bracco and Adam Mascherin. However, the conference is just too deep. Mascherin is just 18-years-old and could be a key veteran on a rebuilding team. Bracco, on the other hand, is 19 and could be looking at Toronto or the AHL next season. It's tough for the Rangers to split up the duo but the package that could come to Kitchener in a Bracco deal would be an incredible help to their future. It would likely to see a top-notch 16-or-17-year old along with several picks to pry Bracco from the Rangers.
Prediction:  Peterborough for 2016 first-round pick F Pavel Gogolev and a plethora of picks. Peterborough needs to make a splash this season and they have the picks and the record to do it. Why not go all-in with one of the biggest names out there? This is a perfect chance for the Petes' management to make a statement to both the OHL and the City of Peterborough.
Check out Bracco's highlight package from 2015-16:
Nikita Korostelev – Sarnia Sting
The 19-year-old forward has been magical for the Sting this season, being one of the leaders in offence from the start. Korostelev was drafted by the Toronto Maple Leafs in 2015 and, with four years now under his belt, this appears to be the end of his OHL career. With Sarnia not contending, it's a perfect chance for the Sting to get some young talent and/or picks in return. He could be a slick pick-up by a team for a respectable price.
Prediction: Sault Ste Marie for F Morgan Frost, SSM second and third in 2021.
Michael McNiven – Owen Sound Attack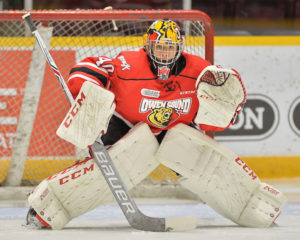 McNiven is one of the most important pieces this season for the Attack. The Team Canada World Juniors Invitee has been simply outstanding in the crease for his club with career highs in GAA and save percentage. While the future looks bright with Emanuel Vella and rookie Riley Daniels on the roster, and the return on McNiven could be huge, it's still possible that McNiven could give the Attack a solid playoff run. This is the type of goalie that could easily steal a round or two, upsetting a couple of teams in the process. It's a tough decision for Owen Sound.
Prediction: McNiven stays in OS. The primary buyers all have their top goaltender. While a team like North Bay or Mississauga could use him, it's tough to see them spending a lot in this situation.
Nicholas Caamano– Flint Firebirds
Caamano has been a key part of the Flint resurgence this season. He has joined forwards Ryan Moore and Luke Kirwan in providing point-per-game scoring for the young Firebirds. Caamano was a fifth-round pick by Dallas in 2016 and is showing everyone he will be a force for years to come. While Moore and Kirwan have substantial talent, Caamano has the most value in a trade. He could bring a young forward and multiple picks back to Flint while being a big part of a contender's run to the Memorial Cup.
Prediction:  London in a package that includes 16-year-old Liam Foudy going back to Flint.
Mitchell Stephens – Saginaw Spirit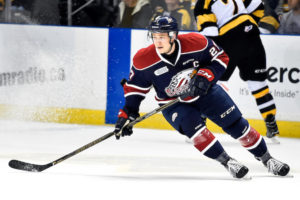 Sitting out of the playoff picture and struggling for offence, the Spirit are in rebuild mode. The Tampa Bay prospect could bring a significant return to the mid-Michigan franchise and allow them to continue this rebuild in proper fashion. If he's putting up solid numbers with a team starving for offence in Saginaw, imagine what he could do with a team that scores in bunches. This could be a big pickup for a club.
Prediction: Windsor in a package that includes multiple players and picks going each way.
Evan Cormier – Saginaw Spirit
The 19-year-old Cormier is an elite goaltender on a struggling team.  On a contender, he could easily elevate his numbers to be among the league leaders. He's similar to Erie goaltender Troy Timpano, who had average numbers in Sudbury before showing his true colours after a trade to the Otters. With the Spirit fully rebuilding and Cormier likely in the pros after this season, he could become a hot commodity on the market.
Prediction: Mississauga in a package deal with OA goaltender Matt Mancina going to Saginaw. Mancina would help the Spirit in their rebuild, while Cormier would be key for the Steelheads as they try to rebound from a slow start. This gives Saginaw an extra OA but that can be settled in a separate deal.
Here's a vide of Cormier talking to the New Jersey Devils' media after being drafted in 2016:
Patrick Sanvido – Windsor Spitfires
When Windsor acquired F Jeremiah Addison in the offseason, it gave the team four OAs – Addison, Jalen Chatfield, Cristiano DiGiacinto and Sanvido. Chatfield and Addison are locks for two spots and it looks like DiGiacinto has won the third spot. Sanvido, a fifth-year stay-at-home D, is the odd-man out. He's Windsor's captain and has become very reliable on the back-end. It's just a case of numbers now.
Prediction: Ottawa for a fourth in 2018. The 67s are very young on the blue line with just one player over 18-years-old. While the team isn't contending this year, Sanvido would provide excellent leadership to the young blue line. It also gives Windsor a pick which they can use in other deals or down the road.
CJ Garcia – Saginaw Spirit
With the Spirit going into rebuild mode, Garica could become a nice commodity for a team looking for veteran leadership on the blue line. He provides a nice mixture of offence, defence and leadership and could come fairly inexpensive for a team looking for an upgrade.
Prediction: Sault Ste Marie for a fourth and fifth in 2019. The Hounds have an offence that is expected to really shine in the second half and goaltending that is proving critics wrong. They have an OA spot available and a young defence. It may be a great fit for both Garcia and the Hounds.
Final Push Towards May
The OHL Trade Deadline is always a strange time for teams, players and fans, as there are usually some surprises. Players are dealt who we never thought we'd see, while others stay on their team for a variety of reasons.
With such a tight group at the top of the conference standings heading into the Christmas break, there is likely to be a lot of moving and shuffling to add that piece that could put a team over the top. The players listed above are all significant for their current clubs but could be that addition that sends another team packing for Windsor in late May. The 2016-17 OHL season has become one of the most entertaining we've seen in a few years and the days leading up to the deadline may turn out to be a classic.