The San Jose Sharks had won four in a row against Eastern Conference opponents before falling to the Blackhawks Sunday evening. At 19-12-1, the Sharks sit in first place in the Pacific Division. It would appear to be a strange time to speculate on roster changes needed to improve the team's performance. But is it?
The Western Conference appears to have only one team that has separated itself from the pack, the Chicago Blackhawks, who have 46 points and are six points clear of the second-place Minnesota Wild (although the Wild have three games in hand).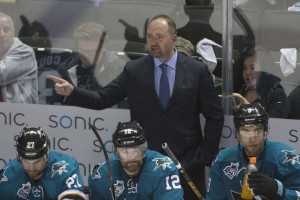 The standings show that the Pacific Division has five teams with 34-39 points — a very tight race, even if it is too early to look at potential playoff seeding. The division is there for the taking for any team that can get on an extended hot streak like the Flyers (10 wins in a row before a loss Saturday), Blue Jackets (current 10-game unbeaten streak), or even the Wild (7-1-2 in their last 10 games).
While the Sharks have won four games in a row and could be that team, it seems appropriate to continue to explore what they could do to further build a team that can separate itself from the pack in their division.
In Part 1, I explored upcoming unrestricted free agent (UFA) forwards the Sharks could acquire without giving up any currently rostered players. Part 2 provided a similar look at potential defensemen the team could add. In Part 3 I will look at the assets the Sharks could deal away, besides draft picks, that could be used to make a bigger splash than some of the potential UFA available via trade.
Obvious Trade Candidates Stuck with Barracuda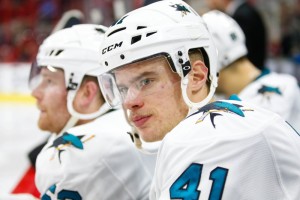 Nikolay Goldobin: The Sharks have waited too long to deal him away. He clearly does not fit into their plans. Nail Yakupov, a former first overall pick, had three years in the NHL and because he did not fit coach Todd McClellan's vision for the Oilers, they dealt him a mid-round draft pick and a low-level prospect (Zach Pochiro). Goldobin does not even have the value of Yakupov, despite being two years younger. The best hope the Sharks have for getting something for Goldobin is to bring him up and have him play well. But then he will have significant value to the scoring-challenged Sharks.
Mirco Mueller: At 21, Mueller is extremely young. However, spending another season in the AHL (or not dressing for the Sharks) in the manner he has, leads one to believe that despite the team needing a skilled quarterback for the second power play unit, the Sharks do not see Mueller helping them this season.  Elite Hockey Prospects calls Mueller a "smooth skating two-way defenseman with impressive mobility. Has strong puck-moving abilities and combined with decent passing skills he is capable to push a team's transition game." Many teams in the league could use a player with these skills and unlike Goldobin, it appears that the Sharks have not drained Mueller's value…YET.
Danny O'Regan (22) and Barclay Goodrow (23) are very similar players. Versatile, hardworking and good skaters. Both are currently in the AHL, but Goodrow dressed for 60 games for the big club during the 2014-15 season and only 14 last season. O'Regan had a quick cup of coffee with the Sharks earlier this season. For a team with a need for a power forward, Goodrow's size, 6'2" and 216 pounds, would seem ideal. It appears the Sharks feel Goodrow has not performed as desired as his career has not progressed to the NHL level.
Redundant Young Pieces to Deal
Matt Nieto (24-years-old), Joonas Donskoi (24), Chris Tierney (22), and Kevin Labanc (21) all match the same description provided by Elite Hockey Prospects for Matt Nieto. "A forward with a lot of energy and plenty of skills. A quick skater with good puck handling. A skilled playmaker. Needs to improve his shot and gain strength."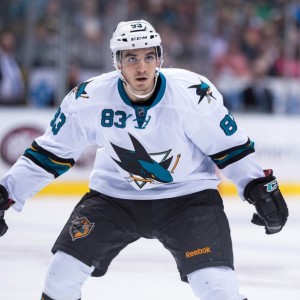 Nieto and Tierney have proven to be strong defensive forwards with limited scoring. Tierney has shown signs of life offensively at times this season, but none of these three provide much offensively. With speed at a premium across the league, perhaps a change of scenery for Nieto, an outstanding skater, especially to a team that plays to its speed such as the Pittsburgh Penguins, Columbus Blue Jackets or Nashville Predators, would better allow Nieto to experience consistent NHL success.
Donskoi is coming off a successful rookie season and strong World Cup performance but he has disappointed so far this season. He may have the best return potential of the bunch if the Sharks believe the return improves the team's size or scoring, but his value is lower now than it was at the start of the season.
LaBanc is the youngest and has shown a stronger scoring potential than the other two. LaBanc is the one the Sharks need to keep unless they are overwhelmed with an offer that includes a proven power forward or a physical defenseman.
Veterans That Would Make Nice Trade Bait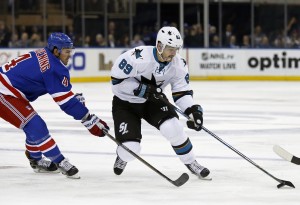 Mikkel Boedker (27): Despite his very strong play during the recent four-game winning streak, Boedker has been disappointing as a Shark. His career performance is similar to that of Carl Hagelin, now with the Penguins. Hagelin was a big part of the Penguins' run to the Stanley Cup last season and perhaps the Sharks can find a team seeking a speedster who can kill penalties and add a few goals the way Hagelin did for the Penguins last season. If the Sharks believe LaBank and Timo Meier are what the Sharks offense needs, moving Boedker is a no brainer.
Melker Karlsson (26): He arrived in San Jose with little fanfare during the 2014-15 season but quickly made a splash playing on the top line with Joe Thornton and Tomas Hertl or Joe Pavelski. According to Elite Hockey Prospects, the native of Sweden is: "A hard working forward, Karlsson can play any position up front. Not the best skater. Isn't afraid to go hard to the net. Tough to play against. Decent hands. Could use more bulk." His skills seem redundant with the younger prospects on the team, which make him expendable. Combining Karlsson with other assets to obtain a big-time contributor is a very real possibility.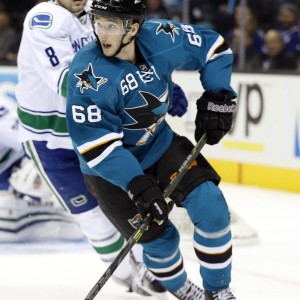 Brendon Dillon (26): Dillon is 6"4" and 225 pounds but is not a physical presence in the defensive zone. On the Sharks, he is a third pair defenseman with no significant role on the power play or penalty kill. Younger than other players on the blue line, perhaps the Sharks can find a taker for his $3.27 million cap hit for the next three-plus seasons.
Justin Braun (29): With a cap hit of $3.8 million through his age 32 season of 2019-20, it will be difficult to trade Braun. He's neither a tough physical defenseman nor a power play point player, but rather, a nice second or third pair defenseman. Any trade involving Braun would merely be an attempt to alter the skill set on the team. Combining Braun with other assets (i.e. Karlsson) could bring a more important piece than the sum of Braun and another player.
David Schlemko (29): Like Braun, he is a non-descript second or third pair defenseman. Neither physical nor tremendously skilled offensively, Schlemko was signed to a reasonable four-year, $8.4 million contract prior to this season. Despite his limited offensive potential, Schlemko sees time on the Sharks' second power play unit. That is more of an indictment on the lack of offensive depth on the Sharks' blue line beyond Brent Burns than an endorsement of Schlemko's skills. A deal moving Braun would be more desirable for the Sharks as Schlemko is less expensive, but dealing Schlemko may get a better return.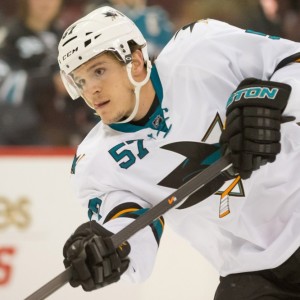 Tommy Wingels (28): Wingels is a UFA after this season and is a veteran two-way center who may have value to a team trying to add a proven young playoff veteran at the trade deadline. Teams such as St. Louis, Columbus, Nashville or another looking to sure up its penalty kill for the playoffs would likely overpay for Wingels. His penalty kill skills can be replaced by current Sharks' players.
Paul Martin (35): At his age and a nearly $5 million cap hit through his age 37 season, Martin's contract is untradeable. His value to the Sharks is that he allows Burns to roam the ice and control the Sharks' offense every time they are on the ice together.
Joel Ward (36): The grizzly veteran was a healthy scratch for the first time recently. He is a proven playoff performer and excellent locker room presence. His smart play makes up for the steps he has lost the last few seasons. With a $3.275 million cap hit through the 2017-18 season, he may not draw the return the Sharks need. However, his playoff track record could attract interest from teams such as St. Louis who have seen regular season success but not playoff success. A return to the Capitals is also not out of the question.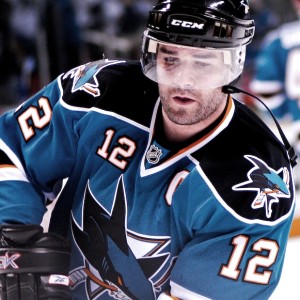 Patrick Marleau (37): Still one of the best skaters in the game at 37, Marleau has a no-movement clause and is a UFA after this season. His nearly $6.667 million cap hit is reduced to only $3.333 million at the midpoint of the season. Last season it was rumored he would accept a trade to the Los Angeles Kings, the Anaheim Ducks or the New York Rangers. I do not believe the Sharks want to see Marleau as they battle through the Western Conference playoffs. That leaves only the Rangers as a potential trade partner unless Marleau expands his acceptable landing places. As the deadline approaches, Marleau's value will likely increase the return the Sharks will receive in a trade.
While no player on the team should ever be off limits if the right offer comes to the Sharks, Burns, Joe Thornton, Mark-Edouard Vlasic, Joe Pavelski, Logan Couture, Timo Meier and Martin Jones are as untouchable as a player can be.
The Sharks Should…..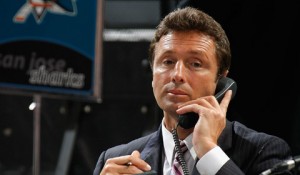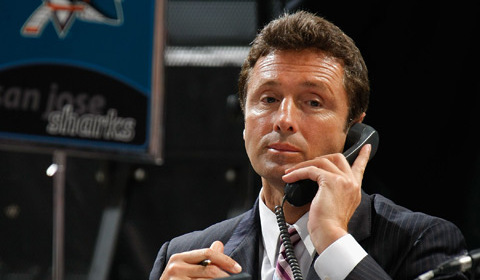 Based on this three-part series on the Sharks' needs and their assets, the Sharks do not have the assets to acquire a top line forward or a top pair defenseman. General Manager Doug Wilson will be required to do what he did last season — acquire supplemental pieces that meet specific needs. The Sharks need a physical presence on defense, a power play quarterback for the second unit and a backup goaltender. The best the Sharks can offer in return are Tommy Wingels, Mikkel Boedker, who has not fit in as hoped, and one of their redundant young fast skating offensively challenged forwards. Justin Braun or Brendon Dillon could be used to acquire a power forward who can help the Sharks become more physical on the forecheck only if Mirco Mueller is effective in the NHL.
The only chance at adding a significant top six power forward or top tier offensively skilled defenseman is using a combination of Wingels or Boedker, Braun or Dillon, and Goldobin, Donskoi or Karlsson in a package deal.
Whoever does not go in a package can be used to obtain a veteran backup goalie. The key to the Sharks' second power play unit is likely Mueller, but will he get a chance?
The pickings were slow last season and Wilson did well, the Sharks and their fans have to hope he once again has the Midas touch.