The long-term contract signed by Brent Burns, well-earned by the player and well-structured for the benefit of both player and team, represents only a $2.24 million-per-year raise over Burns' current salary cap charge. With four unrestricted (Joe Thornton, Patrick Marleau, Tommy Wingels, and Micheal Haley), and four restricted free agents (Matt Nieto, Melker Karlsson, Joonas Donskoi, and Chris Tierney) on the current roster, the Sharks have only $53.5 million in committed salary for next season.
But that is next year.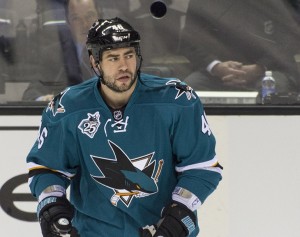 What does all this mean for this year's roster? To keep this article shorter than War and Peace, let's not detail the complicated salary cap rules in the NHL Collective Bargaining Agreement or the long-term injured reserve (LTIR) cap relief rules that very few people can understand, much less explain. I'll leave you with this LTIR FAQ so that you can try and figure it out. Skipping the explanations, Cap Friendly provides that the Sharks have $2.97 million in cap space after considering LTIR predominantly created through the injury to Tomas Hertl.
General Manager Doug Wilson, as recently as last season, has a proven history of making deals to acquire soon-to-be unrestricted free agents (UFAs). These deals do not negatively impact the Sharks' offseason maneuverability, something that is even more important this offseason if the Sharks hope to keep any of their own potential free agents.
What Can Be Done with Almost $3 Million?
ESPN provides the world an NBA Trade Machine so that anyone can play GM and make trades that fit within the NBA salary cap. Not only do they not provide such a tool for NHL trades, but there does not appear to be one available anywhere on the Internet.
If the Sharks do not give up anything, once the team is past the half-way point in the season they can trade a draft pick for any player earning less than their $2.965 million in cap room for the remainder of the 2016-17.
Who is available at that price that will not hit the Sharks for the 2017-18 season? A better question would be "Who is not available?" as the only NHL players that will carry a cap hit beyond the Sharks' available funds are Joe Thornton and Patrick Marleau.
To take on more than the current available cap space San Jose would need to trade a player back to their trade partner and that trade partner must have the room to take on any player they receive.
First, what do the Sharks need? Everyone can see the Sharks need scoring, but they also need a physical presence on defense and like most NHL teams, they can certainly find a use for a true power forward to provide a more powerful presence on the forecheck.
Who is Available and Will They Fit?
Because of GM Wilson's success in trading for upcoming UFAs, in Part 1, I present a list of potential 2017 UFA forwards (in alphabetical order) that could help the Sharks make another run at the team's first Stanley Cup and who currently play on teams not likely to be threats to dethrone the Penguins this season. A full list of all 2017 UFA forwards can be found on Spotrac.
In Part 2, I hope to present potential UFA defenseman that the GM could scoop up if he did not want to move any existing Sharks players. Lastly, in Part 3, I will explore the trade rumors swirling around the NHL and where I believe the Sharks should be players in the trade market between now and the Feb. 28, 2017 trade deadline.
[irp]
Will Sharks Add a Future Hall of Famer?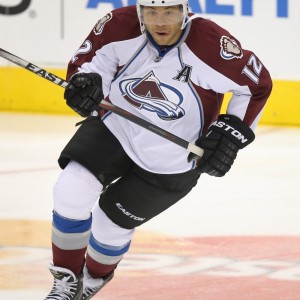 Jarome Iginla is a veteran presence any team could use. Iginla has never won a cup, and unlike last season when he refused to waive his no-trade clause, he may waive it this season for one last chance to raise the Stanley Cup.
Jaromir Jagr also may accept a trade to San Jose to make one last Stanley Cup run to cap a truly historic career. Jagr's career speaks for itself and Jagr is, until this season, nearly a point-a-game scorer, even at age 40 and beyond. Jagr would immediately improve the team's scoring depth, power play and most importantly provide a right wing that can give Logan Couture the linemate he deserves.
Power Forwards the Sharks Should Consider
Shane Doan has suffered through 19 seasons without any significant playoff run. The rugged power forward could seek a trade to a team that has Stanley Cup potential and former teammates from the Canadian national team. Another locker room leader would not hurt the team either.
Sam Gagner is having a terrific comeback season with the Columbus Blue Jackets. A consistent 40-point scorer prior to the 2015-16 campaign, Gagner seems to have returned to that level this season in a salary push for next season. Forty points this season would likely place Gagner towards the top of the Sharks' scoring statistics.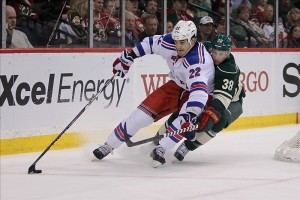 Martin Hanzal, at six feet six inches and 226 pounds, is a big body the Sharks can use. After 10 years in Arizona, Hanzal, like Doan, may desire a change of scenery with a chance to make a deep playoff run.
Brian Boyle is perhaps the most interesting of the potential 2017 UFA forwards. At six feet six inches, Boyle plays at nearly 250 pounds and has a history of stepping up his game in the playoffs. Boyle is also a terrific penalty killer and a HUGE presence in front of the net on the power play. On the "defense first Sharks," Boyle is a terrific fit.
Players to Do What Mikkel Boedker Has Not
Mike Ribeiro, at age 36, is having another typical Ribeiro season. He is again likely to score at, or near, 60 points this year and fits the Sharks' desire for a fast-skating responsible two-way player. He appears to be the player the Sharks were hoping for when they acquired the so far very disappointing Mikkel Boedker.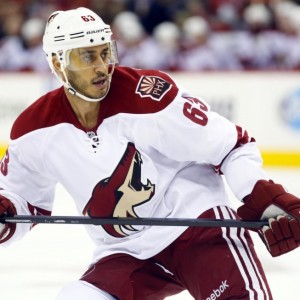 Radim Vrbata, a 13-year veteran currently with Arizona, like Ribeiro, would fit the Sharks' system and has been a consistent 50-point scorer for most of his career.
Other potential 2017 UFA forwards the Sharks may consider include T.J. Oshie (Washington), Alexander Radulov (Montreal), Mike Fisher (Nashville), Alexandre Burrows (Vancouver) and Chris Neil (Ottowa). While there are other future UFAs available, all but Oshie and Radulov in this list are wallowing with teams near the bottom of the standings.