Week 8 marks the end of one-third of the fantasy hockey season in standard leagues. By this point in many owners' seasons, they are learning who the truly strong fantasy teams are among their leagues as well as where their obvious team weaknesses are. In a week headlined by yet another double-digit victory, scoring was up among players for the first time in what seems like forever. With that, here are your Week 8 fantasy hockey major award winners:
Fantasy Hart Trophy – Jakub Voracek
GP:4 G:3 A:6 Pts:9 +/-:+4  PPP:4 SOG:17 GWG:1
The Fantasy Hart Trophy is awarded to the week's most valuable player.
Jakub Voracek was simply a fantasy beast in Week 8. Voracek's nine points across the seven-day span were good for the best point output across a full fantasy week all season, making this one of the more impressive weekly performances to date.
With two four-point (1 goal, 3 assists) performances in back-to-back games in Edmonton and Dallas, Voracek looked like a man on a mission, fueling the Flyers on their current impressive nine-game league-best winning streak.
Voracek's six assists were good for tops on the week, his nine points are three points better than the next best forward, while his four power-play points are also tops among all players. Voracek was also a phenomenal plus-4 on the week with an equally impressive 17 shots on goal.
Lining up with a familiar face in fellow Flyers superstar Claude Giroux on the Flyers' top line, Voracek looks a lot like the 81-point fantasy superstar owners remember from the 2014-15 season when he took the league by storm as a top fantasy option. As one of the main resources of offence in Philadelphia this season, Voracek, along with Giroux and Wayne Simmonds, are  looking like a trio of elite fantasy stat suppliers.
Being in his current position on the Flyers' top power-play unit paired with his recent streaky play and run of luck, do not be surprised if Voracek and some of his Flyers teammates are fighting for the Fantasy Hart weekly award as the trio looks poised for a very successful fantasy season, especially with weeks like Week 8.
Honourable Mentions: Max Pacioretty, Sam Gagner
Fantasy James Norris Trophy – Erik Karlsson
GP:4 G:2 A:5 Pts:7 PPP:4
The Fantasy James Norris Trophy is awarded to the week's most valuable fantasy defenseman.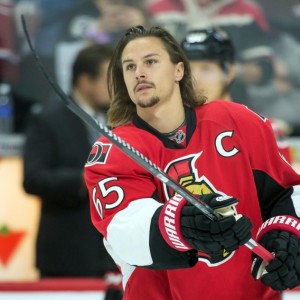 It seemed only a matter of time before Erik Karlsson would finally win a Fantasy James Norris award as he has consistently put up steadily productive weeks throughout the 2016-17 season. In Week 8, the defensive stud finally took the honour, surprisingly much later than many would have expected.
Karlsson looked like the classic forward on defence that owners have come to know and expect year after year when owning the superstar.
Although he has steadily been doing so since the year began, Week 8 may finally be the one where Karlsson truly breaks away from the rest of his fellow fantasy defenseman as the season continues, mostly fellow fantasy stud Brent Burns.
[irp]
With seven points through four games on the week, Karlsson had two more points than the next best fantasy defenseman and was second to only Jakob Voracek for most points among all players. His two goals were second best among defenders while his five assists led all blueliners in the category.
His four power-play points were tops among the entire league, tied with Voracek. Karlsson yet again reminded owners of his forward-like production from a player who occupies the defensive positions, making him all the more valuable.

With 27 points in 29 games so far this season, Karlsson has been his usual extremely valuable fantasy self. With nearly a point per game, Karlsson is currently leading all defenseman in points and is on pace to do so for the fourth consecutive season. He is in an elite tier by himself along with only two-time fantasy Norris winner Brent Burns of the San Jose Sharks.
As mentioned, Karlsson was expected to win this award sooner rather than later, but his overall steady production meant he was constantly an honourable mention rather than an actual award winner. Expect Karlsson, along with Burns, to win this award more often than any other defenseman from here on out, as the two have proven yet again that they truly are the most valuable players at what has been an overall weak fantasy defensive position this season.
Honourable Mentions: Rasmus Ristolainen, Dougie Hamilton
Fantasy Vezina Trophy – Antti Raanta
GS:3 W:3 L:0 GAA:0.33 SV%:.984 SO:2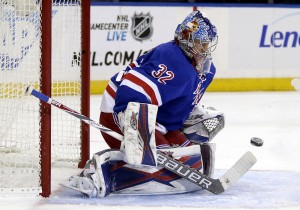 The Fantasy Vezina Trophy is awarded to the week's top goaltender.
In what has seemingly become a weekly award of surprises, the fantasy Vezina award continued to follow its weird trend of odd winners yet again in Week 8. The obvious deserving party of this honour across the seven days was the rarely owned New York Rangers backup goaltender, Antti Raanta.
Across his three starts on the week, Raanta collected an impressive three wins on way to a fantastic week of counting stats. The final two starts on the week were perfect as Raanta blanked his old team the Chicago Blackhawks, as well as the New Jersey Devils, to help him lead all fantasy goaltenders with an impressive two shutouts on the week.
Raanta's three wins were tied for most among all goaltenders with his 0.33 goals against average earning him far and away the best GAA as well as best save percentage among goalies with two starts or more. As a slightly owned asset, if owners took the chance on slotting Raanta into their lineups this week, then they were sure to reap the rewards.
Raanta has been having a phenomenal season backing up "The King" Henrik Lundqvist under the bright lights of Broadway, with eight wins and an extremely impressive .943 save percentage through his 10 total starts so far this year. Raanta, who mirrored Chad Johnson of Calgary a week ago, is proof that fantasy owners who are aware of hot streaks, especially with goaltenders, can get elite performances and weekly, high-end counting statistics if they decide to ride the hot hand.
.@ARaanta31 is the first #NYR goalie with a shutout in 2 straight team games since Mike Dunham in 2003. pic.twitter.com/wKnNO9WBLJ

— New York Rangers (@NYRangers) December 12, 2016
With the best week among all fantasy goaltenders, Raanta is a nice reminder of unexpected success and even more unexpected benefits of a great waiver wire pickup. With the No. 1 position clearly locked down by Lundqvist, do not expect Raanta to be up for this award often. Owners who can afford to hang on to the veteran backup and spot start him when needed should expect to receive productive starts as he has proven to be one of the better league-wide backups yet again this season.
With Lundqvist turning the ripe age of 34 this season and Raanta playing so well, do not be surprised if the Rangers reward their backup with more spot starts than expected to start the year.
Honourable Mentions: Braden Holtby, Chad Johnson