As presented in Part 1 of this series on potential Sharks roster moves, the team's General Manager Doug Wilson has proven very adept at making deals to acquire soon-to-be unrestricted free agents (UFAs). Because of injuries, the Sharks have almost $3 million to spend without having to worry about going over the NHL salary cap for this season. Part 1 of the series discussed potential forwards the team could add without having to give up anything more than draft picks, minor league players or foreign players stashed in leagues outside the NHL.
See Part 1 of this series here: "Sharks Have Cap Space to Deal."
In Part 2, I review potential UFA defensemen that the GM could scoop up if he did not want to move any existing Sharks players.
Mirco Mueller the Human Yoyo
With Mirco Mueller going up and down between the NHL and the AHL Barracuda yet never dressing for a game, it is clear the team would rather have injured and sore players come back early than dress the 21-year-old. Although a 2013 first-round pick with 50 games of NHL experience, Mueller, an excellent puck mover, does not have the size or physical presence that the team is lacking in its defense corps.
What Do the Sharks Have?
The current defensemen, other than Brent Burns, have little to no offensive presence. Additionally, only Marc-Edouard Vlasic would qualify as a potential shutdown defenseman that can be matched against an opponent's top offensive line without any hesitation.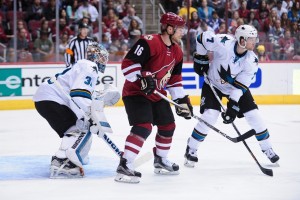 Paul Martin is a veteran presence and stays at home so that Burns can roam the ice helping the goal-starved Sharks' offense. But he is 35 and has lost several steps from his prime.
David Schlemko is 29, an age that is considered a prime performance year for an NHL player. His signed a reasonable four-year, $8.4 million contract prior to this season. Never a physical presence during his career elsewhere in the league, was he a replacement for Roman Polak, who brought toughness to the Sharks last season? Could the Sharks have been better served to pay slightly more to keep Polak on a one-year deal at the same $2.25 million the 30-year-old got with Toronto?
Justin Braun is also 29 and should be in his prime. However, Braun, a hard working player, provides no physical presence either. In fact, in  Part 3 of this series Braun will be one of the players the Sharks should consider moving if someone is willing to take on his overpriced $3.8 million cap hit through the 2019-20 season.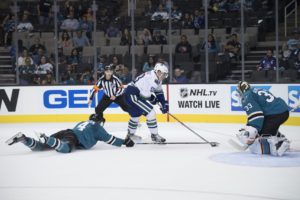 Brenden Dillon, at age 26, is just entering his prime. He too appears overpriced at an annual cap hit of $3.27 million through the same 2019-20 season as Braun. At six-foot-four and 230 pounds, Dillon should provide a much heavier presence on the backline than he does.
Dylan DeMelo is just 23 and is only now getting a chance at a regular shift at the NHL level. He has fared well so far this season in his short six-game opportunity.
In summary, the Sharks have two top line defensemen in Burns and Vlasic and a bunch of other guys who would be considered a fourth best defenseman, at best, on a clear Cup contender. Braun and Dillon have shown they can be an important part of a contender, but not at the minutes they have needed to play this season. In fact, Dillon's minutes are down as his play has not matched previous performance levels.
What do the Sharks Need?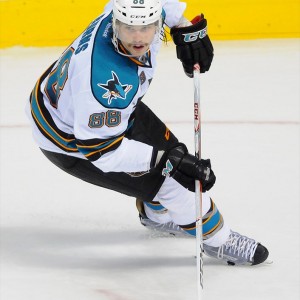 Burns is a stud, and despite the new HUGE contract, he is worth every penny. He is arguably the best defenseman in the league and inarguably one of the top five. But because the team's offense revolves around him and no longer Joe Thornton, he cannot play (not that he has ever been willing to play) the big horse physical defenseman the club needs.
The loss of Polak was a big blow to the Sharks. As a defense-first team, a physical presence in the defensive zone is desperately needed. Another puck-moving defenseman is also needed to spearhead the second power play unit and perhaps assist secondary lines in generating scoring chances, especially since Mueller is not getting any opportunities.
Here is a brief list of the defensemen the Sharks can acquire without popping the NHL salary cap or giving up anyone on their NHL roster, while also not committing to the player beyond this season because the players listed will be unrestricted free agents after the 2016-17 season.
Upcoming UFA Defensemen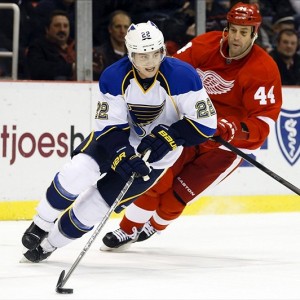 Kevin Shattenkirk: He has been the subject of trade rumors all season. Several teams, mostly those that believe they have a chance at the Stanley Cup, have expressed interest in this puck-moving defenseman. The Sharks fit the Cup contender profile and Shattenkirk meets a big need for the Sharks. It is doubtful the Sharks have the assets to obtain Shattenkirk, and because the Blues have Cup dreams of their own, he may be held by them until the last minute before the trade deadline as the Blues decide if they are in it to win it.
Dennis Wideman: He has had some spurts of offensive performance throughout his career (56 points as recently as 2014-15) and could be a good second line defense partner for Vlasic and a point man on the second power play unit. However, with the muddled playoff picture in the Western Conference and in the Pacific Division specifically, Calgary may want to hold the 12-year veteran for its own playoff push.
Dennis Seidenberg: He is currently on the Injured Reserve list with an upper-body injury, but he is a 35-year-old German defenseman with 14 years of NHL experience. He is off to the best offensive start of his career with 10 points in 21 games for the New York Islanders. He is a player to watch once he returns from the IR.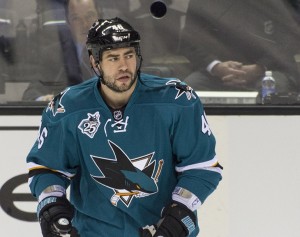 Michael Del Zotto: While the Philadelphia Flyers have been red hot, they were not expected to be a major factor during the 2016-17 season. Del Zotto, who came into the league with much fanfare regarding his offensive prowess (and defensive deficiencies), has nine points in 15 games this season for the Flyers. He certainly could quarterback the second power play unit but would need a stay at home defenseman, preferably one with a physical presence, to be his partner.
Other potential 2017 offseason UFA defensemen the Sharks could consider include Cody Franson (Buffalo Sabres), Nick Schultz (Flyers), and Zbynek Michalek (currently in the AHL), or a mid-season return could be granted to Roman Polak (Toronto Maple Leafs).
In Part 3, I will present the assets the Sharks have to deal away and my estimate of what players like Braun, Dillon, Patrick Marleau, Matt Nieto, Chris Tierney, Tommy Wingels or young AHL players the Sharks seem to have buried (Mueller and Nikolay Goldobin) could return.