The Quebec Major Junior Hockey League's winter trade period officially got underway on Dec. 18 and it didn't take long for some deals to start trickling in.
Eight deals were made official during the first day of the three-week trading window and several more, including some blockbusters, are rumored to be in the works. The QMJHL's winter trade period offers a final chance for the league's 18 teams to make deals before embarking on their respective playoff runs or rebuilding efforts. The 2016-17 season's trade period runs from Dec. 18 to Jan. 6.
Booth Blockbuster
The biggest deal of the day saw the Quebec Remparts trade star goaltender Callum Booth, along with forward prospect Matthew Pietroniro, to the Saint John Sea Dogs. In return, the Remparts received goaltender Alex Bishop, forward Olivier Mathieu, a 2017 first-round pick and a 2019 third-round pick.
Booth, a Carolina Hurricanes' draft pick, is an important acquisition for a Sea Dogs team already stocked with a high-end offense and a veteran defense corps. At the time of the trade, the netminder was sporting a 2.87 goals against average and a league-leading .918 save percentage. He has appeared in 163 regular season games over his four-year junior career and has posted a 2.99 GAA, a .906 save percentage and seven shutouts over that time.
Pietroniro is a 17-year-old forward currently lacing up in the Quebec Midget AAA ranks where he has 17 points in 22 games. He was an eighth-round pick of the Remparts in 2015 and has yet to make his QMJHL debut.
Mathieu, 16, is the main piece coming back to Quebec in the deal. He was chosen 11th overall in the 2016 draft by Saint John and managed to dress in seven games with the team this season. To date, the rookie forward has a lone assist to his name but should get plenty of opportunities to add to that total with the Remparts.
Bishop, 19, has spent the last three seasons with Saint John after arriving as a free agent out of the Ontario Junior Hockey League. The Richmond Hill native has a 2.82 GAA and a .888 save percentage to go along with an 11-9 record on the year.
This move makes it apparent that Quebec is choosing to sell despite sitting in second place in the East Division. The Remparts have a young team and general manager Philippe Boucher likely realized that there will be a handful of powerhouse teams who will be tough to compete against heading into the playoffs. Trading Booth enables the team to look towards the future with the promising newly acquired 16-year-old Mathieu as well as an always valuable first-round pick.
Moncton Trades Six
The Moncton Wildcats erased any doubts that they are heading towards a full-on rebuild. The team traded away three of its top four scorers within minutes of the trade period opening before making another swap later in the day which saw them send their top two defensemen packing.
I really want to thank Cam Askew Zach Malatesta Adam Holwell Kelly & Kevin Klima and Alex Lavoie for their time with us. Wishing them well! pic.twitter.com/RJCOUqZmoO

— Roger Shannon (@rogershannon12) December 18, 2016
Moncton and Chicoutimi
The first deal saw 19-year-old twins Kelly and Kevin Klima packaged in a trade to the  Chicoutimi Sagueneens in exchange for former QMJHL first-round draft pick Julien Tessier as well as first and fourth-round picks in the 2017 draft.
Kelly Klima was the Wildcats' leading scorer at the time of the trade with 32 points in 31 games. The forward has amassed a total of 73 points over 93 career regular season games in addition to six points in 14 career playoff games.
Kevin Klima has 22 points in 29 games this year and 72 points in 81 career regular season games — all with Moncton. He's also added four points in 14 career playoff games.
The brothers, sons of former NHL player Petr Klima, joined the Wildcats as free agents prior to the 2015-16 season. Before debuting in the QMJHL, the two spent a handful of games in the OHL with the London Knights.
https://twitter.com/TheQNews_Net/status/810511424959238144
Tessier was drafted 15th overall by Saint John in the 2014 QMJHL draft but has battled through injury and illness for the majority of his junior career. The forward has spent the bulk of the 2016-17 campaign with the Terrebonne Cobras of the Quebec Junior AAA Hockey League where he has 37 points in 26 games.
The 18-year-old has recorded 11 points in 68 career QMJHL games split between Saint John and Chicoutimi. He's expected to join Moncton for the second half of the season.
Moncton and Shawinigan
In a separate deal, the Wildcats traded 6'4″ power forward Cameron Askew, 19, and rookie defenseman Alex Lavoie, 17, to the Shawinigan Cataractes. The Wildcats received 6'2″ forward Charles Taillon, 18, and two second-round picks in return.
Askew was originally drafted 11th overall by the Drummondville Voltigeurs in the 2013 QMJHL draft. He's a big right-shot centreman who has a good chance of returning to Shawinigan as an overage force next season. The 19-year-old has 29 points in 32 games this year and has amassed 153 points in 228 career regular season games with Moncton and Drummondville. He's also registered 14 points in 43 playoff games.
Taillon, meanwhile, has five points in 23 games with Shawinigan this season. The third-year veteran has only put up 13 points in 94 career games but should get a better opportunity for top-six minutes and special teams duty in Moncton during the back half of the 2016-17 campaign.
Moncton and Acadie-Bathurst
Trade alert: The Moncton Wildcats have traded defencemen Adam Holwell and Zach Malatesta to Bathurst.
Details here: https://t.co/wAlQm7AvZr pic.twitter.com/A2pftLGZHp

— Moncton Wildcats (@monctonwildcats) December 18, 2016
In a third trade, Moncton departed with their top defense pairing by shipping both Zachary Malatesta and Adam Holwell to the Acadie-Bathurst Titan. In exchange, the Wildcats acquired blueliner Francis Thibeault and five draft picks including one first-round, two second-round, one third-round and one eighth-round selection. The Titan also received a 2017 seventh-round pick in the deal.
Malatesta made headlines earlier in the season when he was suspended for seven games following a vicious hit on Philadelphia Flyers prospect Pascal Laberge. The 20-year-old American has eight points in 25 games this season and is a known physical force who has the ability to deliver some heavy bodychecks.
Holwell was drafted 44th overall by Moncton in the 2013 draft and has played 229 games with the team over the past three and a half seasons. The 19-year-old rearguard has 13 points in 32 games on the season and should be able to step into a top-four role with Acadie-Bathurst as they gear up for the stretch drive.
Thibeault is a right-shot defenseman who played 49 games with Acadie-Bathurst in 2015-16 but decided to play Junior A with the Campbellton Tigers this season in order to get more ice time. The 18-year-0ld is already confirmed to be joining Moncton for the remainder of the 2016-17 season.
The Wildcats are sitting in last place overall in the QMJHL and have quickly sold off almost all of their most valuable trade chips. The team is clearly focusing on the future and could end up with two very good players with projected high picks in both the 2017 QMJHL and CHL Import drafts. Forwards Alexis Lafreniere and Andrei Svechnikov would go a very long way towards a successful rebuild.
Other Deals
There were four other deals on the first day of the QMJHL trading period.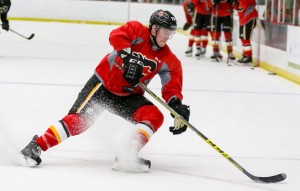 Victoriaville sent 18-year-old forward Danyck Calgaro to the Baie-Comeau Drakkar in a one-for-one swap for 19-year-old enforcer Justin Doucet. Calgaro has two points in 31 games this season while left winger Doucet has two points and 49 penalty minutes over 23 contests on the year.
The Sherbrooke Phoenix traded rookie goaltender Justin Blanchette, 16, to the Drakkar in exchange for a 2018 first-round pick. Blanchette, who was selected 28th overall in 2016, has struggled in his QMJHL career so far with a 5.52 GAA and a .834 save percentage.
Another goalie changed teams as Acadie-Bathurst acquired 19-year-old Anthony Dumont-Bouchard from Drummondville. The Titan have already had five different netminders start a game for them this season and will hope that Dumont-Bouchard will be able to step in and stabilize their goaltending situation.
The third-year veteran has a 2.52 GAA and a .911 save percentage with the Voltigeurs this season. Those numbers would be, far and away, the best among any goalie to suit up for Acadie-Bathurst this season.
In return for Dumont-Bouchard, the Voltigeurs picked up 17-year-old defenseman Jerome Gravel and a 2017 third-round pick. Gravel has one assist in 29 career games with the Titan. The left-shot defender was a third-round pick in the 2015 draft.
The final trade of the day saw Drummondville send 18-year-old blueliner Benjamin Gagné, a fourth-round pick and a sixth-round pick to Quebec in exchange for second and fourth-round picks. Gagné, who was Drummondville's first-round choice in 2014, has 11 points in 26 games this season.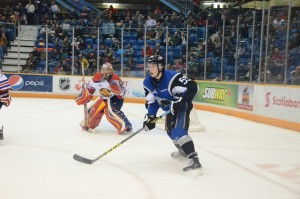 More to Come
Although Dec. 18 was a fairly busy day on the QMJHL trade front, some of the biggest names have not yet officially been moved. The widely reported trade of Pierre-Luc Dubois to the Blainville-Boisbriand Armada has been put on hold until the conclusion of the World Junior Championship. Other big names like Julien Gauthier, Luke Green, Yakov Trenin and Nicolas Meloche are also rumored to be heading for new addresses in the coming days or weeks.