Two teams struggling to stay afloat in the tough Western Conference face off today, hoping to end their losing skids as the Arizona Coyotes fly into Manitoba to take on the Winnipeg Jets.
The big story for the Jets is the return of former starting goaltender, Ondrej Pavelec. Pavelec will get the start tonight, getting his first taste of NHL action this season after spending the first half of the season in the minors. He posted a .917 save percentage over 18 games.
Hellebuyck will be on the bench, while Hutchinson has been scratched. The true motive behind the move isn't quite known, whether they are trying to showcase Pavelec for a trade, give Hellebuyck a break or actually trying to fix the goaltending situation.
Tonight marks the return of Alexander Burmistrov, who had only played for the Winnipeg franchise until this move, after being claimed off waivers by the Coyotes.  He had an assist in his first game with the new team.
The Coyotes have struggled this year, sitting 12 points back of the Jets in the wildcard race (with four games in hand). One of the biggest problems this season has been scoring goals, as they are one of only two teams not to have scored 100 goals this season. The Coyotes will look to Radim Vrbata, who has four points against the Jets this season and leads the team with 28 points.
---
Arizona Coyotes at Winnipeg Jets
MTS Centre – 6:30 p.m. CST
Broadcast channels – SNW, FS-A
2016-17 Season Series: November 10 – Winnipeg (3) at Arizona (2)
January 13 – Winnipeg (3) at Arizona (4)
Winnipeg Jets – 20-23-4 – 44 Points
Home Record: 11-9-1
Hot Players: Nikolaj Ehlers, Mark Scheifele
Key Injuries: Tyler Myers, Marco Dano, Patrik Laine, Ben Chiarot
Projected Lines:
Forwards
Ehlers-Scheifele-Wheeler
Perreault-Little-Armia
Matthias-Lowry-Stafford
Copp-Petan-Thorburn
Defense
Morrissey-Byfuglien
Enstrom-Trouba
Stuart-Postma
Starting Goaltender
Pavelec
[irp]
Arizona Coyotes – 25-10-6 – 56 Points
Away Record: 5-13-4
Hot Players: Radim Vrbata
Key Injuries: Ryan White, Max Domi, Brad Richardson
Projected Lines:
Forwards
Rieder-Burmistrov-Vrbata
McGinn-Holland-Duclair
Perlini-Dvorak-Doan
Crouse-Jooris-Martinook
Defense
Ekman-Larsson-Schenn
Goligoski-Stone
Chychrun-Murphy
Starting Goaltender
Smith
---
Game Notes
[miptheme_dropcap style="normal" color="#222222″ background=""]1)[/miptheme_dropcap] The game features a battle of two goaltenders who have had up and down careers. Pavelec is making his first start for the Jets after spending the first half of the season sharing the crease with the Manitoba Moose. He has posted a .907 career save percentage, which is what he was sent down for in the first place. Pavelec knows this might be his last chance and will be looking to kick it off with a great game.
Mike Smith has been on the receiving end of a lot of goals over the last nine games. Eight of his last nine games, Smith has allowed three-plus goals, while holding a .890 save percentage. On the road, Smith has been better this season with a .920 save percentage and goes against a team that has lost four in a row and is without their superstar sniper, Patrik Laine.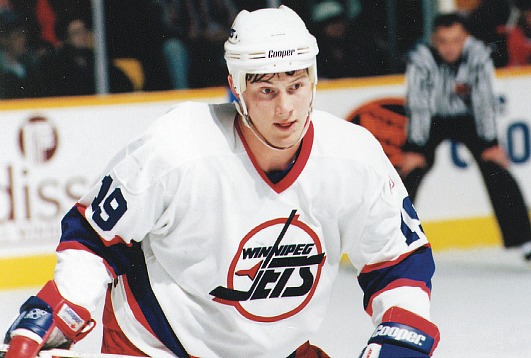 [miptheme_dropcap style="normal" color="#222222″ background=""]2)[/miptheme_dropcap] Shane Doan is the only former member of the original Winnipeg Jets still left in the NHL. This will be the last meeting of the season between the two teams, is this the last time we'll ever see Doan on the ice in Winnipeg?
[miptheme_dropcap style="normal" color="#222222″ background=""]3)[/miptheme_dropcap] The Coyotes top five scorers have combined for 98 points and have an average age of 26.8. The top five scorers of the Jets have 180 total points with an average age of 24.4. Without an injured Laine, that average jumps to 26.0. Both teams have moved towards youth and you can expect a fast-paced game, likely with many mistakes.