The dog days of summer are upon us. Big free agents have signed, the draft has passed, and now we (not so) patiently await the beginning of the 2016-17 season, a season with big potential for a young Carolina Hurricanes team.
This time of year makes fans everywhere excited, and for the Hurricanes, there's a sense of promise and the potential of big upside. Here, we will do some predicting. Let's take a look at what Carolina's forward unit will look like when October 13 rolls around.
Hurricanes Lineup Projection
Joakim Nordstrom – Jordan Staal – Andrej Nestrasil
Jeff Skinner – Victor Rask – Lee Stempniak
Teuvo Teravainen – Elias Lindholm – Sebastian Aho
Viktor Stalberg – Jay McClement – Bryan Bickell/Phil Di Giuseppe
The First Line
Last season's power line of Nordstrom, Staal and Nestrasil was ruined due to a season-ending injury for Nestrasil in late February.
The Hurricanes expect the Prague native to make a full recovery and be ready for training camp, so I think head coach Bill Peters has to try putting the trio back together.
This combination was an unexpected hit last year, with all three playing very similar games, they were able to develop fantastic chemistry in the offensive zone and also dominate opponents in their own end.
http://gty.im/501561680
All three players can play a tough, abrasive game in the offensive zone. They wore down opponents and then struck at the right times. They were all able to get the best out of each other.
Nordstrom and Nestrasil both posted career-highs in all scoring categories, and Staal finished second on the team in points with 48, his most as a Hurricane.
They formed the best line on the Hurricanes and one of the hottest lines in the league last season, so expect them to come back together in October and, hopefully, find the magic once again.
The Second Line
Jeff Skinner and Victor Rask have developed some great chemistry over the past few seasons, and it would be foolish to think that will change in 2016-17.
Skinner exploded for an amazing run of 19 points in 20 games, including a pair of hat tricks in a three-game period, on a line with Rask and rookie Phil Di Giuseppe last season. This streak also included a five-game pointless streak while Di Giuseppe was out due to injury.
Getting a reliable scoring winger for this line was key over the summer, and they got a perfect player in Lee Stempniak. Stempniak can provide a great veteran presence on that line, and he has the speed and two-way ability to keep up with the two young forwards.
Stempniak, 32, is coming off of a 51-point season, and the Hurricanes will be more than happy if the veteran can duplicate that this upcoming season.
Rask, who was extended for six years this week, has already become a fantastic two-way center in the NHL, and his 48 points as a 23-year-old last season indicate that he can contribute as a top-six forward for a long time to come. His size, two-way reliability, and offensive instincts paired extremely well with Skinner last year.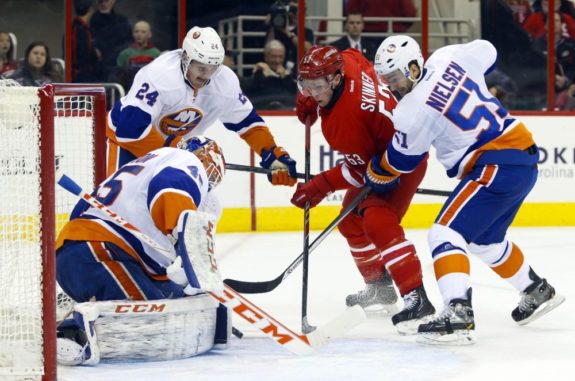 Skinner has been a rollercoaster for the Canes over the past five years, but after a great season in 2015-16, it is his time to turn into the star player that he has the potential to be.
The 24-year-old was downright dangerous in the second half of the season with his elite goal-scoring prowess and his ability to put up bunches of points. The problem has been consistency, but if he can put together some big years while staying consistent, he can be a perennial all-star and a top-flight goal scorer alongside Rask and Stempniak. Skinner finished eighth in the league last year in points per 60 minutes.
His advances as a two-way player shouldn't be passed over. He has turned into a good player on both sides of the ice ever since he got adjusted to Bill Peters' system. He has a 51.19 Corsi-for percentage since Peters was hired prior to the 2014-15 season.
The Third Line
The Finnish are coming, and they are featured heavily on this third line.
Newcomers Teuvo Teravainen and Sebastian Aho are both incredibly talented offensive players. That combined wth Elias Lindholm's good two-way play down the middle should make for a very dangerous trio in the middle of the lineup.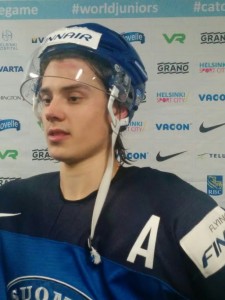 Lindholm is entering his fourth season in the NHL, and it seems likely that he will man the center position going into the season. He has always been a reliable two-way player, but now the 2013 fifth-overall draft pick will look to improve on his offense. He has posted 39 points in each of the past two seasons.
He will have some talented wingers to work with here. Teravainen has performed well in a smaller role with Chicago over the past couple of seasons, but he will get a much bigger offensive role with the Hurricanes this season. He's a crafty and speedy playmaker and knows how to score with a very accurate shot. His offensive instincts will be welcomed with open arms this season, and maybe he can get the most out of Lindholm.
Rookie Sebastian Aho will be the wild card this year not only for the third line but also for the organization. The 2015 second-round pick finished second in MVP voting in the Liiga and was a point per game player with Karpat.
He can score, he can dish out great passes, and he's a great half-wall player who can distribute the puck well and facilitate offense. The trio of European forwards is very young, yet very capable offensively.
The defense is lacking a bit here, which means Lindholm will need to be an effective two-way player that can win faceoffs and cover well in the defensive zone.
If this line can gel, the Hurricanes would have three good scoring lines on paper.
The Fourth Line
This fourth line is all about size. With three big bodies in Bickell (6-foot-4, 223 pounds), McClement (6-foot-1, 205 pounds) and Stalberg (6-foot-3, 209 pounds) this line should be tough to play against, and that's all you can really ask out of your fourth line.
Bickell will need to benefit from a change of scenery after struggling mightily since signing a four-year contract with the Blackhawks after a big playoff performance in 2013.
If the veteran winger can use his body to wash out players in the defensive zone, drive the net in the offensive zone and bang bodies along the boards to win battles, he will be fine.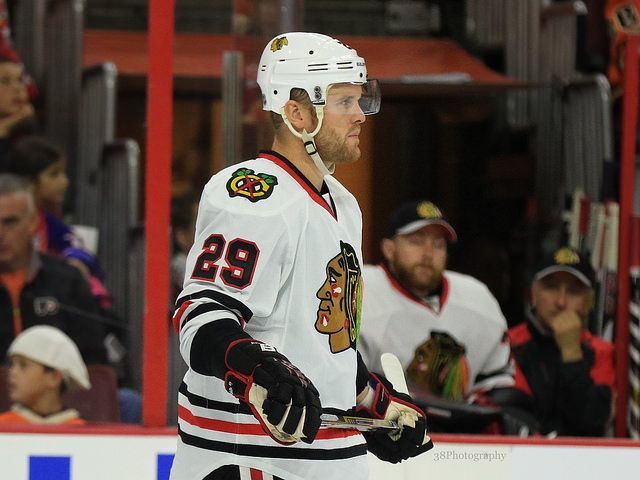 Analytically, McClement was one of the worst forwards in the league last season. Despite being a great faceoff taker, he struggled defensively and was a liability in the offensive zone in 2015-16. He doesn't need to score 40 points, but he does need to find a way to contribute to some extent offensive while staying solid on the defensive end. The number one thing McClement needs to worry about is his defense. Like Bickell, McClement is entering the final year of his contract, so he will need to prove that he is worth keeping around.
Viktor Stalberg is the most offensively capable player on this fourth line, and he will likely be the player that drives this line's offensive chances. His speed and size should make him a tough player to play against all over the ice. He finished the 2015-16 season with 20 points with the Rangers.
Stalberg is a player who will likely move up and down the lineup next season. His versatility is a great asset, so expect the Canes to take full advantage of that.
Hurricanes Have a Much Improved Forward Core
Last season's Hurricanes team struggled offensively. They couldn't support their stellar defense and on-and-off goaltending, which ultimately led to a finish outside of the Eastern Conference's top-eight.
The 2016-17 season should be different. The additions of Teravainen, Stempniak, Aho, Stalberg and Bickell should be enough to completely shake up the club's lineup and hopefully turn them into a more dangerous offensive team.
Looking at the lines above as a template, the club should have two scoring lines, a great two-way line and a gritty fourth line.
If the Canes can get the best out of the likes of Jordan Staal, Jeff Skinner, Teuvo Teravainen and Elias Lindholm, the offense will be just fine, but they will also need role players to contribute in one way or another.
The Carolina Hurricanes are trending way up, but if they want a playoff berth for the first time since 2009, they will need their forwards to generate offense.