Connor Brown has been recalled from the Toronto Marlies on an emergency basis. Apparently, Leo Komarov is suffering from a lower-body injury, which necessitated a call-up. With Brown set to make his debut Thursday night, he will become the tenth Maple Leaf to make his NHL debut tonight. With that, let's take a look at his career so far.
Brown was drafted by the Erie Otters in the 13th round (251st overall) in the 2010 OHL Priority Draft. He did not join the team until the 2011-12 season. In his rookie year, he scored 25 goals and recorded 28 assists for a total of 53 points. All three of those totals were good enough to lead the Otters in each category. That obviously caught the eye of the Leafs' scouts as they drafted him in the sixth round (156th overall) in thee 2012 NHL Entry Draft.
He remained with the Otters for the 2012-13 season and served as the captain of the team. He improved on all of his totals as he scored 28 goals and added 41 assists for 69 points. He also improved his plus/minus from a minus-72 to a minus-11. He did even better the next season as he scored 45 goals and added 83 assists for 128 points.
Best Year Yet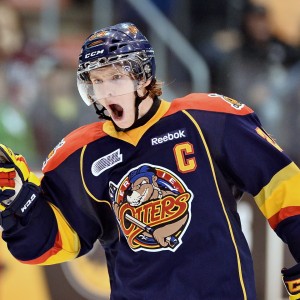 That season, his final in the OHL, he won the Eddie Powers Memorial Trophy as the scoring champion and the Red Tilson Trophy as the Most Outstanding Player. Keep in mind, this was a team that included Connor McDavid and Brown outscored him in the two seasons they played together. The 128 points were also good enough to set the Otters' all-time points record, although it was broken the next season when Dylan Strome put up 129 points.
With his junior career over, he joined the Toronto Marlies. He yet again had a great season as he won the AHL's rookie scoring title, putting up 21 goals and 40 assists for 61 points. After performing well in Leafs' training camp, he was poised to do even better with the Marlies this season. However, an ankle injury caused him to miss a significant amount of time. In the time before his call-up, he played 28 games. He scored nine goals and added 15 assists for 24 points in that time.
So now Brown gets to finally begin his NHL career. No matter how short or long his stay is, he'll be trying his best to make an impact. With names like Nylander and Marner ahead of him in the prospect depth chart, he'll need to.
Toronto Maple Leafs Writer At The Hockey Writers.