Alex Goligoski is set to be an unrestricted free agent on July 1st of this year and he will be one of the more coveted defenseman on the open market, if he makes it that far. Ideally, the Dallas Stars would like to retain their top-pairing defenseman but the salary cap and their current log jam of defensemen might force them to let Goligoski walk. The Stars currently have players like Patrik Nemeth and Jamie Oleksiak waiting in the wings when the entire blue-line is healthy. They've got even more down in the AHL waiting for a chance to show the NHL what they've got.
The Stars will have Johnny Oduya, John Klingberg and Nemeth locked up next season. They have Oleksiak and Johns as restricted free agents and you have to imagine that both will be retained. Oleksiak may end up a trade target but that is incredibly murky as of now.
That leaves the Stars with Goligoski, Jason Demers, Jordie Benn and Kris Russell as NHL defensemen who will hit free agency. Benn is the only one of the four who can be retained for a relatively cheap cost.
If Russell makes a good impression, could he be retained cheaper than Goligoski? Is Demers more valuable as a right-handed shot? If the answer to either of those questions is yes to Jim Nill, he may let Goligoski test free agency.
If that happens, what would Goligoski fetch on the open market?
What Does Alex Goligoski Bring?
Goligoski is still just 30 years of age and is quietly having just another solid season roaming the blue-line for the Dallas Stars. He has yet to be under 50% in CorsiFor% in his nine years in the NHL with this current season being by-far his best yet. He doesn't do anything too flashy on the ice but he has excellent puck-moving skills, he's good at shot-blocking and is generally sound in his own end. He also delivers vicious hip-checks to Corey Perry, something you really can't put a price on.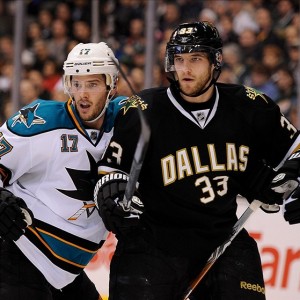 In all seriousness, Goligoski has made a marvelous transformation in Dallas and one that he doesn't get nearly enough credit for. He was initially brought in to be a puck-moving, offensive-defenseman and was looked at as a potential replacement for Sergei Zubov. He chipped in quite a bit of offense when he first arrived and then Jim Nill and Lindy Ruff took over the team. They started playing a more risky style and now there was a need for a more defensive-defenseman. Instead of going out and trading for one, Goligoski switched his role. He turned in to a big-minute defenseman that the Stars consistently trust when the game is on the line.
The offense didn't stop, either.
His power play production has dropped as John Klingberg has taken over the top-unit, but the 5-on-5 production is still there. His 24 points playing 5-on-5 this season matches his career-high from last season. Although his focus has shifted more to his play in the defensive zone, he is still a quality puck-mover who can rack up points throughout the season.
He has a tremendous impact on the possession numbers for the Dallas Stars. When Goligoski is on the ice, the Stars have a 2.95% higher CorsiFor% than when he is off the ice, a differential that is only bested by Klingberg, Jason Spezza and Tyler Seguin. His overall 54.76 CorsiFor% at 5-on-5 is good for seventh on the Stars behind the likes of Klingberg, Eaves, Spezza, Seguin, Sharp and Benn.
Is he prone to some rough giveaways? He is, but that is going to come with a player who has the puck a lot. If you can get over some iffy turnovers, Goligoski is a perfect all-around defenseman that a team would love to have on board.
What is His Value?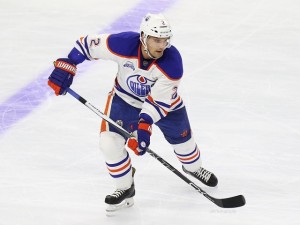 A big question for the offseason will be what Goligoski should get in free agency. The first comparable contract and player that comes to mind is what Andrej Sekera got in Edmonton this past offseason. Sekera snagged a six-year deal that came with a cap hit of $5.5 million per season, courtesy of our friends at CapFriendly.com. Last season, Sekera put up 16 points playing 5-on-5 and posted a CorsiFor% of 54.22. Both are close to Goligoski's numbers this season. Sekera is a touch younger than Goligoski, as Goligoski is 30 this season while Sekera is 29.
Over the course of the past few seasons, Goligoski has been a bit better than Sekera and I think he'll fetch a bit more on the open market. If he doesn't re-sign in Dallas, look for Goligoski to get a five-year deal worth around $6 million per season.
He would be worth that, as well. If the salary cap allows for it, Goligoski would be an excellent addition to a team like the Columbus Blue Jackets, who are in need of some stability on the blue-line. The Oilers also come to mind. Any team looking for a solid option to their blue-line who can provide offense and eat top-three minutes should take a look at Goligoski.
He will easily be one of the more coveted free agents if he does end up hitting the market.