Andong "Misha" Song made headlines over the summer when he was drafted 172nd overall in the 2015 NHL Entry Draft, but almost none of the media attention was about what he could do on the ice.
Misha became the first Chinese-born player to be drafted in the NHL, and had many of the die-hard fans still tuned in late in the sixth round scratching their heads. Without the typical highlight reel to accompany the selection, the majority of hockey fans weren't sure what to make of it.
In an age where highlights of youth hockey players from all around the globe can be pulled up in an instant, it was almost shocking how little information about Song there was. Lawrenceville School, where he played, was not on my radar as a "must watch" despite playing against the nearby Portledge School. It took actually reaching out to kids who had played against him to actually get some information about his game.
Of course, the internet blew up with negativity surrounding this pick. As tends to the be the case, a bunch of people who have never seen a prospect play write him off immediately because, well, they've never seen him play and they're unfamiliar with the development path he's taken. This was one of the few cases where I had absolutely no clue about a drafted player, so I figured I had to make a trip out to Massachusetts to see Song for myself.
Song is playing his post-grad (PG) season at Phillips Academy Andover, where he faces some of the top Prep Hockey talent in the country. At the start of the holiday break, Andover played at the prestigious Flood Marr Tournament.
The marquee matchup for Phillips Andover was against the powerhouse Noble and Greenough School at Milton Academy, starring Yale commit/Carolina Hurricanes fifth round pick, Luke Stevens.  This one didn't disappoint, as Andover gave Nobles fits throughout and forced overtime in a game they probably didn't have much business being in.
Song was an absolute stud for Phillips Academy. At 6 feet 1 inch and 180 pounds, he's certainly not the most physically imposing figure on the ice. What he lacks in stature he makes up for with his skating and hockey IQ, two attributes in the upper-echelon of players at the Prep level. There wasn't a player in this game that got around the ice as fluidly as Misha did, and on the single occasion he was beat on the rush, his wheels were good enough to bail him out.
He's certainly not afraid to take the body either. The aforementioned Stevens has 2 inches and at least 20 pounds on Song, who was often tasked with shadowing the Nobles star. Stevens does his best work in front of the net, and Song did a great job clearing him out and neutralizing his game.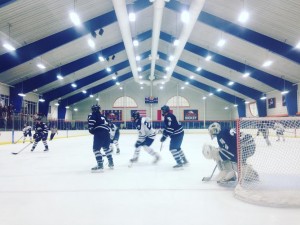 Usually at this stage in a player's development, especially with defensemen, mental errors are to be expected. Misha doesn't make those. In fact, in this entire game, he turned the puck over exactly one time. For a two-way defenseman that handles the puck a lot, that's certainly a positive takeaway.
Another scout I spoke to before the game started admitted that Song wasn't on his radar last year either.
"It's raw, it's incomplete, but there's undeniable upside" is how the scout described him. After watching him against Noble, and briefly against other schools over the weekend, I'd definitely agree with that assessment.
https://www.youtube.com/watch?v=SBmnRK1rSBk
Song has publicly expressed interest in college hockey, but is currently without a commitment. It seems likely he'll get one in the near future.
As for whether or not he'll ever be able to make the jump to the NHL? That remains to be seen. In today's game, the most important qualities in a player are skating and intelligence, and Song excels in both areas. The rest of his game is extremely raw, not up to par with prospects you'd discuss making an NHL appearance soon. He'll need to take his time, and the Islanders certainly won't rush development on a long-shot sixth-round pick anyway. My guess is that general manager Garth Snow & Co. have already precisely mapped out the next few years of his hockey career.
If nothing else, this is a great story of the spread of hockey around the globe. Though Misha and his family moved to North America many years ago, it doesn't change the fact that his childhood hockey games were played on small rinks in Beijing. Hopefully Song's story helps open doors for other young hockey players in Asia and shows that they too can play at the highest level.
Bantam, Midget, Junior, Pro hockey scout at International Scouting Services. Hofstra University alum.