Last Saturday, Jimmy Hayes netted a hat trick along with two assists to complete his five point night. Then on the following Wednesday, he was called up over Jeremy Morin to fill left wing slot on the second line due to Patrick Sharp's absence. Did Stan Bowman and the Chicago Blackhawks make the right choice here?
I'm not going to beat around the bush, the answer is simply no.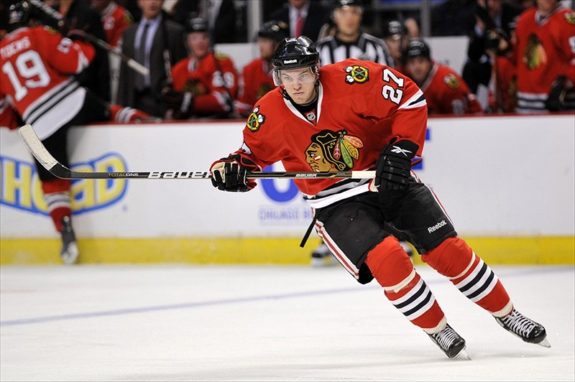 I did not come to this conclusion solely based on Hayes performance against the Columbus Blue Jackets on Thursday night, or the Dallas Stars on Saturday night. Although many fans certainly acknowledged his slothy and top heavy performance lined up alongside Dave Bolland and Patrick Kane. He didn't fit, and although I am a believer of second and sometimes third chances, I don't think that this is a slot that fits for Jimmy Hayes in the NHL at this time. I also do not believe that one game defines a career, nor does it define the future of a player in the NHL.
That said, while Hayes was stumbling around Thursday night trying to keep up with the big boys, I had a chance to catch Jeremy Morin live against the Chicago Wolves on Friday night. Morin scored two goals, including a shorthanded game winning goal, and was clearly the best player on the ice for both teams.
His first goal came off an excellent pass from Martin St. Pierre, where Morin found a soft spot behind the Chicago defense after Ben Smith drew two defenders towards the net. Later in the game, Morin received an excellent chance in the slot, he fired a heavy puck and beat Joe Cannata but just missed the top left corner. Minutes later Morin received another excellent chance on a breakaway, but couldn't stuff the puck past Cannata after pulling the puck on his backhand. Finally, Brandon Pirri and Jeremy Morin created a 2-on-1 break while shorthanded with Pirri eventually finding Morin to end the game 4-3 in Rockford's favor.
Talking to many IceHogs fans, this is not an uncommon theme with Morin. In his last five games, he has scored seven goals in similar fashion and continues to be a top contributor on the IceHogs.
What makes Morin a special offensive player isn't just the fact that he can score goals, but it's the way he scores goals that has a high chance of translating to the NHL level. Morin may not be a speed demon but he can certainly skate well and find the soft areas on the ice to receive a pass and ultimately get a great look at the net. Folks, this is how Patrick Sharp has made a career out of playing with Patrick Kane. Re-read those scoring sequences against the Wolves and you will find that Morin sounds eerily similar to Sharp.
Ultimately, if there is anyone in the system that can emulate what Sharp brought to the team, it's Jeremy Morin. Much like Sharp early in his career, Morin also brings a physical edge to the rink and doesn't shy away from contact, at the same time he's smart enough to hide in open areas on the ice in the right situations. Lest we forget, Sharp had a huge chip on his shoulder pre-Toews and Kane, until he was able to fully take advantage of his sniper ability with Patrick Kane's vision and dropped the grit down a few notches.
Moving on, I also had a chance to see Steve Montador in action. Montador is required to wear a visor for the first time in his career due to American Hockey League rules, so that was interesting to see. I will admit, Montador was noticeably a step behind the play in the first period and a half, but as the game progressed he did improve. For a player that has missed over a year of game action, it didn't bother me too much, but also reinforced the idea behind the Blackhawks sending him down for a conditioning stint. If I had to bet on his return to Chicago, he still may be a week or two away depending on how fast he can get back to game speed.
Another player I kept my eye on was Klas Dahlbeck. The prototypical Swedish shot blocker lived up to all of my expectations, he is a very effective stay at home defenseman, but is still a few years away from making an NHL impact. On the flipside of the defensive spectrum, Adam Clendening lived up to my expectations as an effective offensive defenseman and was a calming influence who made the right choices with the puck, as well as effectively carrying the play from the back-end. Somewhere in between these two players is Ryan Stanton, by far coming away as the best all around IceHogs defenseman.
As far as I'm concerned, there is very little in Rockford in terms of NHL-ready defenseman, other than Montador, which is clearly the reason that Stan Bowman looked for one year band-aids in Michal Rozsival and Sheldon Brookbank.
On the flip side, the forward depth in the organization dives deep into Rockford. Jimmy Hayes may have, or may not have been the right choice at this time to fill Sharp's slot, but it's not as if he is the only choice with Jeremy Morin, Brandon Pirri, and Ben Smith leading the charge in NHL-ready talent on the farm.
It makes me wonder, will the Blackhawks eventually look to the trade market to translate some of this depth into someone that can help Chicago win now? With prospects such as Mark McNeill, Phillip Danault, Kevin Hayes, and Garrett Ross ready to make the jump into the American Hockey League, perhaps at some point the numbers will force them to make a deal.