One of the areas the Bruins will be focusing on is the future of their defense corps. Five defensemen with three seasons or less of experience played on the back-end for the Bruins this year so the team is going through a transitional phase. Kevan Miller has made enough of an impact to stick around while rookie Colin Miller impressed at times but also spent time with their American Hockey League affiliate in Providence.
General manager Don Sweeney took a step in the right direction by signing college defensemen Matt Grzelcyk and Rob O'Gara to two year entry level contracts. O'Gara was signed on March 29th along with forward Sean Kuraly and Grzelcyk received news of his signing on April 1st. Both players joined the AHL's Providence Bruins for the remainder of the 2015-16 season. What makes these two so special? Let's take a look at what each player brings to the table.
Grzelcyk: The Pride of Charlestown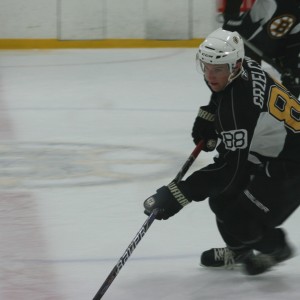 The Bruins drafted Matt Grzelcyk in the third round of the 2012 NHL Entry Draft with the 85th selection overall. Grzelcyk, a native of Charlestown, Massachusetts, has spent the last four years as a key member of the Boston University Terriers team, recording 26 goals and 69 assists for 95 points over 124 games played. His time this season was cut down due to a procedure on his knee in the summer but he still managed to score 10 goals and put up 13 assists for a 23 point season in his senior year. He led all Terriers defensemen in plus/minus with a +17 rating in 27 games. Grzelcyk ended up 4th in the nation with power play goals among defensemen with four.
He made a name for himself during the 2014-15 campaign when he was named captain and provided the Terriers with a boost from the point, recording 10 goals and 28 assists for 38 points and a +32 rating in 41 games. Boston University was one of the NCAA's top teams all season long until they ultimately lost in the finals to Providence in a nail biter. His impressive junior season earned him the honor of being selected a Hockey East First Team All-Star, which he would receive in his senior year as well. One of his best moments that season was scoring the game winning goal in the Beanpot, securing Boston University's 30th title in the tournament's 63rd year.
Grzelcyk spent two seasons with the U.S. National Developmental Program prior to his tenure at Boston University and has represented the United States twice in international play. He won a gold medal at the 2012 U18 World Juniors and placed second in team scoring with 6 points at the 2014 World Junior Championships.
Grzelcyk is an offensively minded defenseman with great puckhandling skills and a strong shot. His ability to start a rush is uncanny and he is considered a power play specialist. He is highly competitive and doesn't back down from larger, tougher opponents. He can read the ice well and picks apart defensive coverage when he is in the offensive zone. The only downside to his game really is his size. Standing at 5'10 and weighing 176 lbs, Grzelcyk is undersized compared to most NHL defenders. For a nice comparison, he has similar attributes to fellow Bruins rearguard Torey Krug.
O'Gara: Ivy League Defender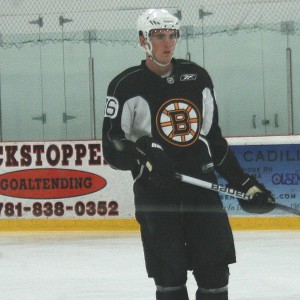 O'Gara was a 5th round draft pick (151st overall) by the Boston Bruins during the 2011 NHL Entry Draft. The Massapequa, New York native comes off a four year career at Yale University where he scored 14 goals and recorded 37 assists for 51 points in 133 games. His best season at Yale was 2014-15 when he posted 6 goals and a team leading 15 assists for 21 points.
O'Gara was a member of Yale's first National Championship in 2013, playing on the top defense pair and adding 7 assists as a freshman. He earned the honor of All-Ivy League Second Team status during his sophomore year. His size and strength proved to be great indicators of what would come for the rest of his college career.
O'Gara became the Bulldogs go to defender, being utilized in every situation and logged more minutes than everyone else on the squad. He uses his 6'4, 205 lbs frame to his advantage, laying out opponents and taking up space in the defensive zone. His defensive play was so heralded that he earned the Eastern College Athletic Conference's award for best defensive defenseman in 2014-15. He also was selected to the All-Ivy League First Team twice (2014-15 and 2015-16), was an NCAA East First All-American Team member and an All-ECAC Hockey First Team All-Star in 2014-15.
Unlike most of the Bruins defensemen, O'Gara is a two-way player and is one that the Bruins could really use about now. While he gets accustomed to the pro level, O'Gara chipped in during his short stint with the Providence Bruins, picking up a goal in five games played.
The intimidating two-way presence of O'Gara and the speedy offensively gifted style of Grzelcyk give the Bruins great options on the back-end for the future. Look for both players to make a push during training camp to join the team next season.
I started my hockey writing experience with Metro Hockey, covering the New Jersey Devils from 2008-10. I co-created the Atlantic Division Hockey blog which ran from March 2010 to July 2011. I hosted a radio show for 90.3 WESS at East Stroudsburg University called Get The Puck Out from August to December 2014. I also played for ESU's Division III hockey team from 2009-2011.