Drafting players has always involved an element of luck. Some players are drafted in the top five, but can never amount to the expectations placed upon them. Other players are relatively unknown, causing them to be picked in a later round than they ultimately should have been. But most of it comes down to hindsight when we look back on past draft years and wonder how a depth player could've been picked ahead of an eventual star player in the NHL. Hindsight is currently working in favor of the Toronto Maple Leafs drafting Andrew Nielsen.
Andrew Nielsen faced doubters when he was drafted by the Toronto Maple Leafs in the 3rd round of the 2015 NHL draft. He wasn't even on many top 100 draft rankings, so it was already difficult for many to put much faith in the Leafs' 65th overall pick. Now almost a year after being drafted it looks like Nielsen was a steal of a pick in the third round.
A Great Year For Andrew Nielsen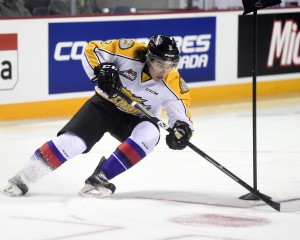 To understand how great of year Andrew Nielsen had we first need to look at his draft year. Last season Nielsen finished with 24 points in 59 games as a defenseman with the Lethbridge Hurricanes in the WHL. At 6'3 and 207 lbs it looked like he would play more of a shutdown defensive role as opposed to an offensive one. This made it seem to be a waste of a pick since many defensemen that fit that role can be picked in later rounds. So with that in mind it makes this year a total surprise for many people after Nielsen finished the season with 70 points in 71 games. Nielsen was third in scoring for defensemen in the WHL, which was only two points behind Ivan Provorov who was picked 7th overall by the Philadelphia Flyers in the 2015 draft.
So what caused there to be such a difference in his production between the two years? The first noticeable difference is the Lethbridge Hurricanes. Lethbridge was the second worst team in the WHL with only 20 wins and 48 points in the 2014/15 season. The team's leading scorer was Tyler Wong who finished the season with 56 points in 64 games. Playing on one of the worst teams can absolutely affect how well a defenseman plays, which can then lower a scout's opinion.
This year has been a different story for Lethbridge after finishing second in the WHL Eastern Conference with 46 wins and 94 points. Their leading scorer was Brayden Burke who finished the season with 109 points in 72 games and the team had six players who finished with more points than the team's 2014/15 leading scorer. Nielsen was a big part of Lethbridge's great year with his effectiveness on the power play contributing 28 points, which was second on Lethbridge behind Burke's 40 points. So not only does this show that Nielsen is a defenseman with offensive capabilities, but also that he can be a solid anchor for a power play.
What This Means For The Leafs
So not only does Andrew Nielsen look like a great pick at 65th overall, but he also looks like he can become a core member of the Leafs defense. At only 19 years old Nielsen is already 6'3 and 207 lbs, which would give the Leafs much-needed size on defense. If he can have a repeat of this 70 point year then it would show that it wasn't a fluke and would make him a fantastic fit for the Leafs power play. It's unlikely that he would make the Leafs roster next season considering most defensemen take longer to develop compared to forwards. So he will probably join the Toronto Marlies next year before hopefully making the Leafs the year after.
Toronto Maple Leafs contributor for The Hockey Writers.
I've been a fan of the Toronto Maple Leafs since I was a kid and have always had an interest in writing. At The Hockey Writers, I get to enjoy both of my passions as well as writing about small convoluted details in player contracts and stats.