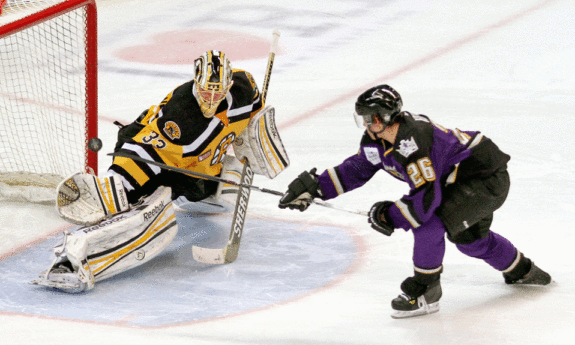 Friday night, Providence Bruins goaltender Michael Hutchinson took home his fourth 'L' of the season in the Baby B's 3-2 loss to the Worcester Sharks at the Dunk.
With the seventeen-save performance, Hutch's abysmal early-season numbers improved ever-so-slightly: Raising his save percentage to .838 and lowering his goals-against-average to 3.75. The P-Bruins' de facto starter entering the season has seen his grip on the role loosen… significantly.
After the loss, Providence Bruins Head Coach Bruce Cassidy spoke at length on his stumbling starter: "I'm not hanging anything on Hutch. [Still,] Goalies are judged like coaches – you win or you lose, nobody cares how… so he needs to win."
And Hutch hasn't won… at all. Cassidy continued, "… coming into the year he was our number-one goalie and he's basically 0 and 5… he lost the exhibition game. So he's got to find it within himself to win."
Cassidy understands fully how the team's successes (or lack thereof) don't rest squarely on Hutchinson's shoulders – but he needs to do a better job giving the B's a chance: "I think there's been game where we've played well enough to win in front of him, [and] I think he needs more 'run-support' for lack of a better term…  We went through a little bit of this with Anton [Khudobin] at the start of last year: [Khudobin] found it, he went out and won a 2-to-1 game and got himself going."
While adamantly affirming his belief in Hutchinson's ability, Cassidy acknowledged that there's a limit on the team's patience with his current level of production:
"He got pulled last Saturday and we told him … he's going back-in [for their Friday game against Worcester] – so we're certainly not abandoning our faith in him" said Cassidy. "At the same token, he's a third-year pro, if he wants the number-one job, he's like everyone else in that room, at some point it's about production, he's gotta earn it."
Hutchinson's letdowns aren't happening in a vacuum. When juxtaposed against the solid play of his netminding counterpart, Niklas Svedberg, Cassidy's decision becomes that much more difficult. "It's a long year," he said.  "The other kid [Svedberg] has won our only two games; we have to look at that option as well without just going to the guy that's just been here longer."
Svedberg's .915 save percentage and 2.59 goals-against-average dwarf Hutchinson's production but his tally in the 'W' column – two wins to only a single loss – may be tougher to ignore.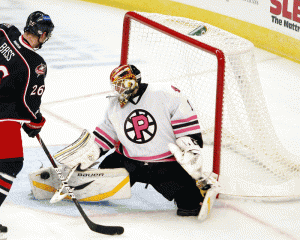 Cassidy cautioned, "We're here to develop, but we've put more of an onus on winning this year – and that hasn't happened to this point." Reflecting the organization's commitment to winning at every level: "We've gotta get our guys to feel comfortable about our game but produce at the same time."
It's a classic catch-22 for the organization: If they chose to ride-out Hutch's struggles, other prospects' development may be hurt by "winning hockey's" absence from the DDC. On the other hand, if they hand the reins to Svedberg, Hutchinson's development could be stalled – or worse.
Like many of the P-Bruins, Hutch's early-season issues can be traced in no small part to a string of unlucky events. Friday, he was on the receiving-end of two net-front deflection-goals. Earlier, it was tailor-made rebounds. A few fortunate bounces here or there and the tale of his 2012-13 season would be going much better.
Excuses notwithstanding, Hutchinson has nowhere to go but up. As his 2011-12 numbers clearly displayed, this kid has talent and should be more than capable of handling starting duties for an AHL club. The only question is when.
Follow Bob Mand on Twitter at @HockeyMand