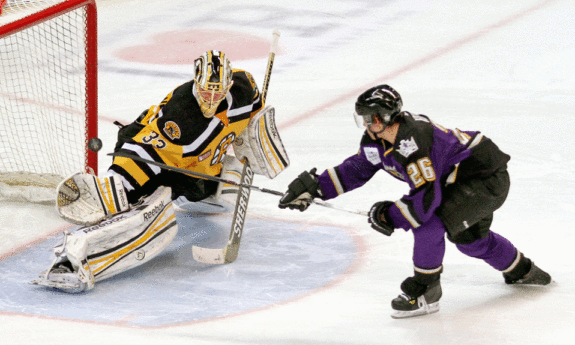 One month into the 2012-13 AHL season, the Providence Bruins are struggling to gain traction in a league filled with talent-laden rosters from the locked-out NHL.
Commencing the 2012-13 season with four losses in six games, the Bruins have dug themselves an early-season hole, currently sitting in last place in the league. During October, the P-Bruins gave up more than a goal more against than they scored (3.3 vs. 2.2). Neither number is astonishingly poor by any standard, but it points to trouble at both ends of the ice.
While the season's opening finds the P-Bruins down on their luck, the team's inability to score has bordered on the comical. They're shooting at a 'robust' 7.2 percent and only produced 13 goals in October. Still, the Bruins out-shot their opponents by a significant margin – by an average of over three shots per game. As opportunities go – they've had their fair share, but they've also been held to the perimeter of the offensive zone far too much.
Still – they're bound to find some luck shooting down the road. Seven-percent isn't something that'll last for long.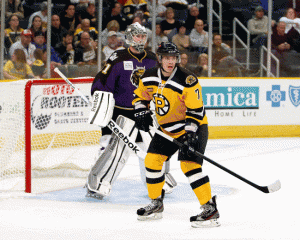 Paced by Max Sauve (3-2-5 in 6 games) and Jordan Caron (4-0-4 in 6 games) … and guys like Chris Bourque, Ryan Spooner and Carter Camper, the P-Bruins scoring-by-committee should pave the way for better numbers in November.
Similarly, the goaltending (specifically, Michael Hutchinson) will improve… it has to, right? The kid owned a .916 Sv% in AHL action coming into the season. His .833 mark this season is just a blip… an untimely blip for a kid many expected to hit the ground running as starter.
Providence's defensive turnover from last year – when the team was average in goal-prevention – has been minimal. Only Andrew Bodnarchuk and Nathan McIver exited during the offseason – replaced by Garnet Exelby and Torey Krug (among others). It's not exactly a massive step down.
In addition to playing four games on the road, the Baby B's opponents have a combined record of 17-7-1-1. The League wasn't doing Providence any favors when they cooked-up this schedule for them to open the season.
In their six games, the P-Bruins faced-off against two of the Eastern Conference's top teams (the Falcons and the Monarchs) four total times. In fact, they've handed the top two teams their only two regulation losses to date.
Surprisingly, Providence has carried a solid powerplay this past month – sitting just outside the top-ten with a 20.7% success rate following what was a horrific man-advantage last season. That success may be misleading; half of their advantage goals came in one game – the rest of the time sporting an anemic 12%. Additionally, their three shorthanded goals against further diminishes the aura of PP competency.
At the other end of the rink, their penalty-kill has been nothing short of cringe-worthy. While the P-Bruins continue to limit their trips to the sin-bin, they've allowed six goals against while shorthanded – enough for a 75% rate of "success". It's something that must improve and should improve as the season progresses.
Beyond the numbers, the P-Bruins clear the zone very well thanks to the significant puck-moving talent on their blueline. It's a major factor that's aided in their success limiting shots this season. However, the same can't be said for their zone-entries. Whether skating, dumping or passing the puck into the offensive zone, Providence's inconsistencies come to a head when they try to acquire the opponent's blue line. Their forecheck hasn't done its job.
At both ends, the team's presence… and success at the net-front has been lacking. With a half-dozen 'undersized' players at both forward and defense, Providence frequently finds themselves out-muscled in the dirty areas of the ice. It's just a fact of life that they'll have to deal with.
Individual Observations:
Torey Krug: One of four B's defenseman to play in every game – and while he's last on the team (and sixth-worst in the AHL) in plus-minus, I believe he's acquitted himself well in his first extended pro action. Love the grit, skill and skating. The numbers will come.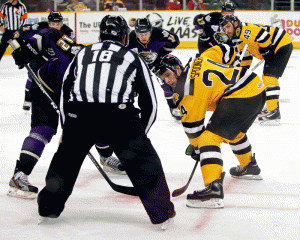 Ryan Spooner: Tallied a point in each of their first four games before being shut-out of the last two. Really a major player in driving the P-Bruins' chances with his creativity and skill. He's not getting the minutes commensurate with his capabilities at this point, it seems. Bruce Cassidy may be slow-balling him a bit and hoping the veterans on the first PP unit get the job done. He's had some excellent chemistry with Sauve so far.
Bobby Robins: Energy incarnate. Robins' four fights and plenty of hard-nosed hockey all over the ice in October's action were fun to watch. His upbeat attitude and leadership are evident in the locker-room. He takes some bad penalties – but he's no 'negative' player and his physical pressure produces offensive chances on occasion.
Jared Knight: Knight missed four games (soon to be more) with a lingering hamstring injury. While he looked good in limited action, it's disappointing to see his first month as a pro finish like this.
David Warsofsky: He's getting tons of ice-time in all situations, and I've liked what his shown: Decent defense, great distribution and smart plays. This isn't the consensus, however. Inconsistencies are expected from a young guy but he's certainly not 'the problem' at the Dunk.
Michael Hutchinson: Coming off offseason surgery and expected to take the starting reins, Hutch has struggled. He's moving well – I haven't noticed any hitches in his mobility. Expect a turnaround sooner rather than later… but if Niklas Svedberg continues to perform well, the starting job might not be there for him when it happens.
Jordan Caron: The winger's performance below the dots has been fantastic – playing the power-game and possessing the puck like Bruins' fans saw from him last spring in Boston. Unfortunately – he's still dealing with inconsistency issues and finishing his opportunities.
Follow Bob Mand on Twitter at @HockeyMand