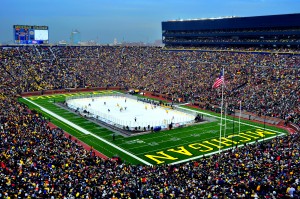 written by Ian C McLaren
Well, it's official.
The NHL has canceled the 2013 Winter Classic, a game that was to take place at the Big House in Ann Arbor, Michigan on January 1, 2013.
The goal was to pit the Detroit Red Wings against the Toronto Maple Leafs at the 115,000-seat stadium, thereby setting a world record for attendance at a hockey game. With other hockey-related events also scheduled for downtown Detroit, the whole deal was meant to draw upwards of 400,00 people.
But as of today and due to the lingering NHL lockout, that has been shelved.
For now.
In an attempt to actualize what should be quite a spectacle, the league has already announced that the 2014 Classic will take place at the same venue, sending out this message to all those who had purchased tickets to the intended 2013 edition.
Those who have purchased tickets for the 2012-13 events can either receive refunds or maintain their tickets for the future events. (via NHL.com)
If I were in that position, I would not hesitate to choose the former.
Yes, hopefully at that point bygones will be bygones and the game will be back and better than ever. Or at least that's what Bettman and Co. are expecting.
Remember when the commissioner was so famously quoted as having said the following?
We recovered last time because we have the world's greatest fans. (via the Globe & Mail)
Part of that expected recovery this time around will be the financial windfall that this event creates year in and year out. As such, what better way for hockey to express their displeasure in regards to lost seasons and recurring lockouts than to present the league with an empty Big House on January 1st, 2014?
Like I said, if I had tickets to the game, I would collect my refund and kindly pass on next year's attempt, especially if this entire season is wiped out. If fans truly want to express their displeasure and avoid such a situation in another 6-7 years, an empty Big House would send the message that, despite a great love for all things hockey, NHL fans will not be toyed around with on a semi-regular basis, nor will they all too readily jump back into the league's open arms and feed the notion that recovery is imminent and seamless.
Enough is enough. It's time for hockey fans to show some restraint, put their wallets away, and have the NHL host a game at an empty football stadium.
Idealistic? Unrealistic? Maybe. Probably.
But follow @emptybighouse if you support the notion.