Welcome everyone!
I am Nathan Fournier and I will be covering Hockey East for The Hockey Writers. For those who don't know who I am, I am a writer for the Maine Hockey Journal where I have covered the University of Maine Black Bears for two seasons (2008-2009; 2009-2010) and the Lewiston Maineiacs of the Quebec Major Junior Hockey League for four years before they were folded by the league in May. I also have my own site called The World of Junior Hockey League.
Alright enough about me and more about this past weekend's action
Pressing the rewind button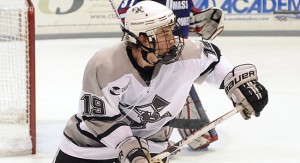 1.Providence College Friars (2-0-0 Hockey East; 2-0-0 overall)
I know it's early in the season, but who had the Friars 2-0 to start the season? They got the weekend off to a great start with a 5-3 win against the Boston University Terriers at home. On Saturday they defeated the University of Massachusetts 6-4 also in Providence. The scoring was spread out with eight goal scorers. If they can get Alex Beaudry to steal a game here and there in net, Nate Leaman will have a solid season as his first year as Providences coach

2.Northeastern Huskies (1-1-1 Hockey East; 1-1-1 overall)
The Huskies only played in one game this weekend and they shutout the University of New Hampshire 4-0 on Friday. This game is a great momentum booster for a team that had a rough off-season losing their head coach Greg Cronin to the Toronto Maple Leafs, defenseman Jamie Oleksiak to the Saginaw Spirit of the OHL, and highly recruited incoming freshman John Gaudreau who decided to join Boston College. One person they didn't lose was goaltender Chris Rawlings who is probably a top five goalie in Hockey East.

3.Boston College Eagles (1-0-0 Hockey East; 3-1-0 overall)
The Eagles probably have had the toughest four game stretch to start the year. After winning the Ice Breakers tournament in Grand Forks, North Dakota last weekend, they hosted Denver University on Friday where they fell 4-2. On Saturday, they defeated New Hampshire 5-1 in Durham, New Hampshire. Barry Almeida had a solid weekend with two goals and two assists and Parker Milner is coming up big in net after the Eagles lost four year starter John Muse to graduation.
4.Merrimack College Warriors (1-0-0 Hockey East; 2-0-0 overall)
Merrimack had the weekend off from Hockey East play, but they welcomed Army and came away with the 3-2 victory. Vancouver Canucks prospect Joe Cannata stopped 19 shots in the victory. With the loss to Stephen Da Costa to the Ottawa Senators, they will be relying on the senior netminder. They had three different goal scorers on the evening.
5.Boston University Terriers (1-1-0 Hockey East; 2-1-0 overall)
As mentioned earlier they dropped a 5-3 decision to Providence College on Friday, but they bounced back Saturday night against Denver with a 4-3 victory. It was an interesting weekend as they were down 3-0 to Providence and were able to tie it up before the Friars went on and potted two more goals to seal the victory. On Saturday they got out to a 4-0 lead before letting the Pioneers back into the game. I don't think Jack Parker will fix this inconsistency issue.

6.University of Maine Black Bears (1-1-0 Hockey East; 1-2-1 overall)
Maine traveled to North Dakota to face the Fighting Sioux in a weekend series. Friday night they fell 3-1. Martin Ouellette made 18 saves on Friday night. Head Coach Tim Whitehead benched Joey Diamond for Saturday's game after he took a boarding penalty that led to the game winning goal during Friday's game. Saturday, the top line was a force as Spence Abbott and Bryan Flynn each had multiple point game. Dan Sullivan was the backstopper Saturday and he made 24 saves.
7.University of Massachusetts Minutemen (0-1-1 Hockey East; 1-1-1 overall)
The Minutemen got their first win of the season with a 5-3 decision over Bentley on Friday night where sophomore forward Michael Pereira recorded a hat trick and assist. The next night against Providence he added an assist. Senior Daniel Hobbs had two goals against Providence College in the 6-4 loss. Against Bentley he had a goal and two assist.
8. University of Massachusetts-Lowell RiverHawks (0-0-0 Hockey East; 2-0-0 overall)
The Riverhawks opened the season up in Minnesota against the Minnesota State Bulls. They came away with four points after winning 4-2 on Friday and 4-1 on Saturday. Junior forward Riley Wetmore had two goals on Friday and added two assists on Saturday. Freshman forward Terrence Wallin had a goal and two assists Friday. Derek Arnold had two goals and an assist Saturday night.
9.University of Vermont Catamounts (0-0-0 Hockey East; 0-0-0 overall)
The Catamounts still haven't officially started their season yet but they hosted the USA National Team Development Program Under-18 team where they fell 2-1.  Drew MacKenzie picked up the lone goal for the Catamounts. They travel to Minnesota to face the Golden Gophers this upcoming weekend.
10.University of New Hampshire (0-3-0 Hockey East; 0-3-0 overall)
It's not the start Dick Umile was expecting from his club especially losing three in conference games. It would be one thing if they were non conference games, but they have put themselves behind the eight ball. Many expected Matt Di Girolamo to be a top goalie this year but he has a 4.65 goals against average and a .835 save percentage after three games. It's not all   Di Girolamo fault, the offense has only scored one goal all season.

Four Stars of the Week
Freshman of the Week: John Gaudreau (Boston College) 1 goal and 1 assist
Sophomore of the Week: Michael Pereira F ( Massachusetts) 3 goals and 2 assists
Junior of the Week: Myles Harvey  D (Providence) 3 goals
Senior of the Week: Danny Hobbs F( Massachusetts) 3 goals and 2 assists