With Ryan Nugent-Hopkins immaculate debut in the NHL (4 goals in his first two games), the decision of whether or not to send him back to the WHL has suddenly become much less clear than it was before training camps opened. The question now may not be whether or not Nugent-Hopkins is good enough for the NHL (although there are still seven games for him to make his case), but if there is any room for him on the current Edmonton Oilers roster.
The Oilers are one of the few teams in the N.H.L. with too many top-6 forwards (pay attention Calgary Flames). Currently, the team has eight true top-six forwards (players whose game, or in Shawn Horcoff's case contract, is suited to play scoring minutes). Those players are Taylor Hall, Ryan Smyth, Horcoff, Nugent-Hopkins, Ales Hemsky, Jordan Eberle, Linus Omark and Magnus Paajarvi. Add to the fact that Sam Gagner is set to come back from injury, and that creates nine players vying for six spots worth of quality ice time (the status of Ales Hemsky is still unclear at this time).
Horcoff's contract and status as team captain warrants top-6 minutes alone, and Hall and Eberle aren't moving from that spot any time soon. Also, with the signing of faceoff wizard Eric Belanger to play the defensive 3rd line role, by sheer numbers Horcoff needs to play on the top-two lines (his other option is to center the fourth line). Smyth has never played a shutdown role on a regular basis (which is what most third line players are asked to do), and Linus Omark has enough offensive potential to warrant consideration to play 15 mins/night, while Paajarvi is in a similar position. All of this adds up to a wonderful problem Steve Tambellini has.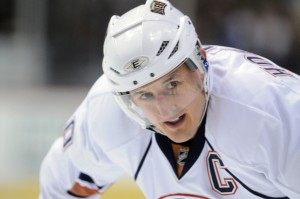 One thing the Oilers could do is play three scoring lines, but with a defensive group that hasn't yet proven itself consistently and a conservative coach in Tom Renney, that seems unlikely. It's a great problem to have surplus top-six forwards, and perhaps the Oilers can swing a deal for a defenceman. But how this will affect Ryan Nugent-Hopkins short term future in Edmonton is anyones guess.
Follow Salim Valji on Twitter
Like him on FaceBook