Every hockey player has his or her unique story, the path they took to get to where they are, no matter how far or successful they are and Carter Ashton of the Syracuse Crunch is no different. The son of former NHLer Brent Ashton (more on him later), the younger Ashton is still finding his way in the pro game, but now is back with the team that drafted him — a team with a very excellent track record of developing young players since Steve Yzerman took over the reigns of the Tampa Bay Lightning.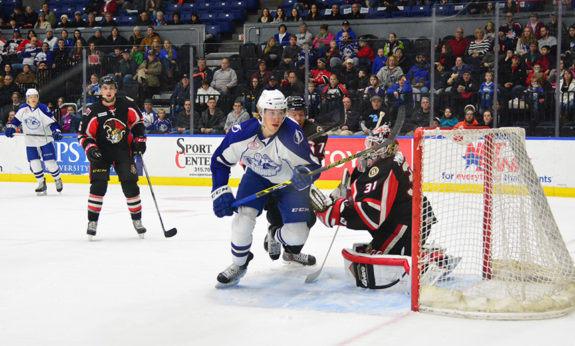 Ashton is a physical specimen, standing 6'3" tall and weighing in at about 215 lbs, and fits in perfectly with what the Lightning have been doing as far as acquiring and developing some of the tallest players in the league — see: Brian Boyle (6'7"), Alex Kilorn (6'2"), Victor Hedman (6'6"), Braydon Coburn (6'5") Andrej Sustr (6'8") along with a handful of other giants in Syracuse. Recently The Hockey Writers spoke to Carter Ashton about finding that elusive first NHL goal, joining the AHL's best team and his father's influence on his career among other things.
The Hockey Writers: Currently you're with the Syracuse Crunch, a team with the best record in the AHL right now. How much fun are you having and has the newness of the change worn off yet?
Carter Ashton: It's exciting. This is a great team, there's something special here; we're a tight group of guys in that locker room and I was accepted from day one. It's a good core group of guys and to be a part of a team that definitely has a chance to go for a long run in the playoffs — I'm looking to just come in and do the little things right, chip in when I can and obviously do my best to make the team better.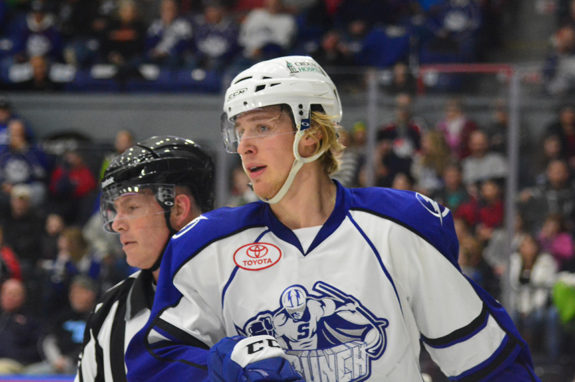 THW: You were a first round pick in the 2009 NHL Draft — what are your memories of that day?
CA: It was an exciting process; I was fortunate enough to bring a lot of my family to the draft in Montréal. It was definitely a nerve-racking four hours of sitting there in the stands. I ended up getting drafted 29th overall, second to last in the first round — which is a long day. Getting the opportunity to be drafted by Tampa and now obviously being back in this organization is exciting.
Carter Ashton buries a one-timer while playing with the Toronto Marlies:
THW: Your career started with Tampa, then you get traded to Toronto and now you're back with the Tampa Bay Lightning organization; what's your assessment of your pro career so far?
CA: I've definitely gone through a lot of learning processes. I got a great opportunity my first year pro when I was with Norfolk; I get to play with a few familiar faces here actually: (Mike) Angelidis, (J.P.) Cote, (Eric) Neilson and (back then) had a chance to be coached under (current Tampa head coach John) Cooper. That first year was definitely great and then I got a chance to go to Toronto and play some NHL games; from there it was kind of up-and-down throughout the last two years.
THW: You've played in over 50 NHL games so far and you haven't got that first NHL goal yet; how hungry are you to get back in the league and get that marker?
CA: It's been a monkey on my back for a while now. I've had a lot of opportunities to score and it's just one of those things where it hasn't quite happened yet. I'm definitely looking forward to the future with the Tampa organization, looking forward to getting that (NHL) opportunity again, and definitely get that first one (chuckles); it's something I'm looking to do.
Question from a fan via Twitter:
https://twitter.com/MarchHockey/status/569645333397020672
CA: He's been a huge influence on my career, he coached me growing up and I was born when he was playing; I was born in Winnipeg and moved to Boston and a couple of other cities. To have him there and have him coach me and (for us to) still share a relationship about the game is pretty special. In terms of the trades, I don't think it's… something that… it's a part of the game; he was traded nine times by nine different teams. He's got a lot of stories about a lot of different cities, but its definitely just part of the game. I've been traded three times in Juniors, twice in pro now, so we've kind of had a laugh about that.
Thanks again to our buddy Kristen Denick (Sponsorship Services Intern for the Syracuse Crunch) for helping to put this together for THW.
Dan Rice can be reached via Twitter: @DRdiabloTHW or via Email: drdiablo321@yahoo.com
Dan Rice is in his 9th year of reporting for THW & has covered NJ Devils home games for 15+ years at various websites. He began his journey working for legendary broadcaster/writer Stan Fischler from 2002-04 & completed an internship at the ECHL; he also has been writing features for the NWHL (nwhl.zone) website since 2016.