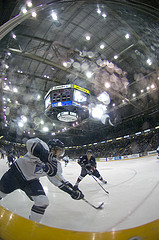 When Toronto Maple Leafs general manager Brian Burke acquired forward Carter Ashton from the Tampa Bay Lightning in return for rugged defenseman Keith Aulie the feeling was Ashton would be a project for the Blue and White.
With injuries piling up the Maple Leafs recalled Ashton from the Toronto Marlies (AHL) on an emergency basis. Ashton would get into 15 games with the Maple Leafs, registering no points and a plus/minus rating of minus-10 while firing 22 shots on opposing goaltenders.
Ashton played in seven regular season games with the Marlies, registering two goals and one assist for a total of three points. Ashton followed that up with a three point effort through six playoff games before succumbing to a concussion injury.
Combined, Ashton registered 21 goals and 17 assists at the AHL level last season, splitting his time with Norfolk and Toronto.
Through 239 career games with Lethbridge, Regina and Tri-City of the Western Hockey League, Ashton registered 92 goals and 89 assists for a total of 181 points. Ashton's best season came in 2010-11 when he scored 33 goals and added 38 assists splitting his time with Regina and Tri-City.
Originally drafted in the first round (29th overall) of the 2009 NHL Entry Draft, Ashton was deemed expendable by the Lightning due to their need for defense. At 6'3" and 215 pounds, Ashton has excellent size, but he is still a very raw talent who needs to work on his defensive play and add a measure of truculence to his game.
While there has been a lot of buzz about Nazem Kadri cracking the Maple Leafs lineup next season and of Matt Frattin playing an increased role with the big club, nobody is talking about Ashton.
Like many young players, Ashton could benefit from a season with the AHL Marlies, but with roster spots up for grabs with the Maple Leafs it is odd that there is little buzz surrounding Ashton.
Given his struggles with the big club last season it is not really a shocker that Ashton's name is not coming up more when potential lineups are bandied about, but when you consider his pedigree (his father Brent Ashton played in 998 career NHL games), size and skill level, you'd think he would at least be in the conversation.
Both Burke and head coach Randy Carlyle have longed for a power forward to fill the void on the Maple Leafs. If Ashton can find his way defensively, he could fill that void while also adding some additional scoring prowess to the lineup.
Known as a power forward who can play both left and right wing, Ashton's versatility should serve him well in the future where he is expected to be a top-six forward for the Maple Leafs.
Little has been written about Ashton's concussion injury since the Calder Cup Playoffs ended, but with an entire summer off to recuperate, there is reason to believe Ashton will be ready to go once training camp rolls around.
A quick look at Toronto's prospect rankings from The Hockey News Yearbook suggests that Ashton remains behind Joe Colborne at number two on the list, just ahead of forwards Tyler Biggs (fourth), Greg McKegg (Fifth) and Brad Ross, who was eighth on their list.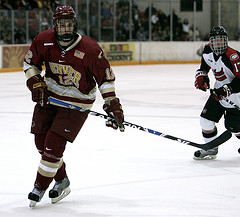 Given the time Colborne has put in at the AHL level and the numbers he has produced I would suggest that he is more NHL-ready. That said, Colborne has plenty of holes in his game as well, including his inconsistent play at the AHL level last season and inability take be a player of substance in his short stint (ten games) with the Maple Leafs last season.
To be fair, a wrist injury took it's toll on Colborne last season, which may be why he struggled so much with his consistency.
Both Ashton and Colborne could get called up by the Maple Leafs next season, both are big-body players, with Ashton being the more physical of the two.
Should Ashton's name be coming up more? Given the facts, probably not, but when you consider the price Burke paid and the tools Ashton has, it is odd the organization is not going out of their way to pump his tires more often.
Known as an honest, opinionated and trusted writer, Mark Ritter brings a unique view on the Maple Leafs and the NHL in general. Mark has been writing about hockey for almost ten years and is known for bringing an honest view on the Maple Leafs. You can view more of Mark's work at www.theslapshot.com
Please follow Mark on Twitter: @theslapshot