This is part 6 of 6: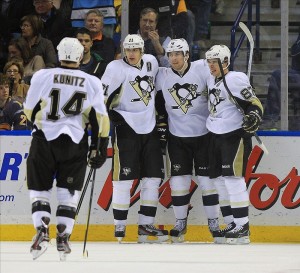 After all was said and done in the 2011-2012 NHL season, four teams from the Eastern Conference's Atlantic Division had secured a playoff berth. The New York Rangers, New Jersey Devils, Philadelphia Flyers, and Pittsburgh Penguins all made the post-season, but it would be the Devils who would wind up representing the Eastern Conference in the Stanley Cup Final. Over the course of the summer, the New York Rangers made a huge splash in the trade market by acquiring the services of forward Rick Nash. On the other hand, the Devils lost the services of one of their top forwards when Zach Parise chose to sign a lengthy deal with the Minnesota Wild. The Pittsburgh Penguins and Philadelphia Flyers were relatively quiet during the off-season, contrasting their potential for the noise they'll make once they start competing for a playoff berth in 2012-13
While four of the Atlantic Division teams are expected to perform at a high level for next season, the New York Islanders are still questionable. After finishing in the division's cellar, the Islanders added Brad Boyes, Matt Carkner, and Eric Boulton through free agency, but wound up a bit handicapped when Lubomir Visnovsky (trade acquisition) filed a grievance for his trade to the Island. When it comes to the Islanders, the question beckons, will they prove to be a fifth wheel?
The Atlantic Division enjoys a wealth of marquee names: Crosby, Malkin, Lundqvist, Gaborik, and Nash are just the start of the list. Contention in this division is predicated on how well each team can adapt to shutting down the other team's play-makers. Even the most casual of observers would not be at a loss when looking for offensive talent to draft from the Atlantic Division, especially since each of the five teams in this division have at least one bona-fide scoring talent on their respective roster.
Here's a look at some of the key contributors in one of hockey's most competitive divisions:
Top Ten Forwards:
Claude Giroux (PHI): 32-70-103, 40, 5, 21:00, 275, Down

Evgeni Malkin (PIT): 40-60-100, 30, 5, 20:00, 300, Down

Sidney Crosby (PIT): 40-55-95, 33, 5, 20:00, 270, Up
Rick Nash (NYR): 40-50-90, 25, 6, 20:00, 300, Up
Marian Gaborik (NYR): 45-43-88, 22, 7, 19:30, 275, Down
John Tavares (NYI): 35-53-88, 25, 5, 20:00, 300, Up
James Neal (PIT): 40-45-85, 20, 3, 19:00, 325, Up
Ilya Kovalchuk (NJD): 35-45-80, 25, 6, 22:30, 280, Down
Matt Moulson (NYI): 35-40-75, 20, 5, 19:00, 200, Up
Scott Hartnell (PHI): 35-35-70, 15, 4, 17:00, 225, Down

* – (The categories above are represented as follows: Goals, Assists, Points, PP points, GWG, ATOI, SOG, Up [Player has potential to go above and beyond predicted numbers/Down [Player might not reach expectations predicted])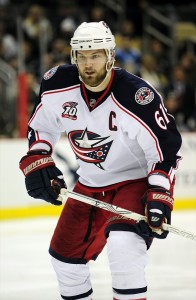 The Atlantic Division is filled with quality offensive talent as each team has their own go-to star player(s). Claude Giroux enjoyed a 93-point campaign in 2011-2012 and should continue to blossom in Philadelphia as he can now be considered a legitimate point per game player. Scott Hartnell, falls in at number ten on the list. The Flyers' forward enjoyed a 67-point campaign in 2011-2012 and should hover around the same numbers as he continues his tenure in a Philadelphia sweater.
Sid "The Kid" Crosby has always been a force on the ice and fans should expect the Penguins' captain to enjoy a rebound season after signing a lengthy contract extension. After scoring a combined 103 points over the last two seasons (63 games), Crosby's point totals should see a revival in the next NHL season. On the other hand, Evgeni Malkin and James Neal will also be gunning for points in Pittsburgh as the pair of forwards used the 2011-2012 NHL season to show the offensive depth that makes the Penguins such a dangerous and difficult team to match up against.
Similarly, the New York Rangers and their crosstown rivals, the New York Islanders, have a pair of offensive studs of their own. Rick Nash and Marian Gaborik will be key contributors for the Rangers. Both should be around the 90 point range as New York will likely be the team to beat in the Atlantic Division after finishing first overall in the Eastern Conference during the last season. On the other side, John Tavares and Matt Moulson will continue to build upon their already fantastic chemistry, even if the Isles' opposition concentrates on shutting down the team's first and most potent scoring line. Tavares and Moulson should see an uptick in points as both of the forwards will feed off of each other and thrive on New York's top line.
All in all, the Atlantic Division will have more than its fair share of offensive juggernauts to help fantasy managers rack up the points against their opponents. While the top ten forwards in the Atlantic Division will likely be coveted by most fantasy managers in any draft, a selection of any of the aforementioned players will merit their owner a very respectable return.
Additional Atlantic Division Forwards of Note: Ryan Callahan, Danny Briere, and Chris Kunitz
Top Ten Defensemen:
Kris Letang (PIT): 12-45-57, 23, 3, 24:30, 230, Up

Kimmo Timonen (PHI): 5-40-45, 18, 1, 22:00, 125, Down

Chris Pronger (PHI): 10-35-45, 21, 1, 22:00, 175, Down

Mark Streit (NYI): 8-35-43, 20, 1, 22:30, 150, Down

Michael Del Zotto (NYR): 10-30-40, 13, 22:00, 100, Up

Lubomir Visnovsky (NYI): 8-28-36, 15, 2, 21:00, 125, Up

Ryan McDonagh (NYR): 8-27-35, 2, 0, 24:00, 120, Down

Dan Girardi (NYR): 5-28-33, 10, 1, 25:00, 120, Down

Travis Hamonic (NYI): 4-24-28, 5, 0, 23:00, 125, Up

Marc Staal (NYR): 6-20-26, 8, 0, 22:30, 110, Up

* – (The categories above are represented as follows: Goals, Assists, Points, PP points, GWG, ATOI, SOG, Up [Player has potential to go above and beyond predicted numbers/Down [Player might not reach expectations predicted])
The Atlantic Division may be packed with a multitude of scorers, but the blueline runs a bit thin in this division. Aside from Kris Letang, Kimmo Timonen, and Chris Pronger, there aren't many attractive defensive options from the Atlantic Division. As previously mentioned, Letang, Timonen, and Pronger should dominate the scoring among defensemen in the Atlantic Division, but there are still a few interesting options out there that managers could wait on until the later rounds of their respective fantasy draft.
Mark Streit is a good source of points and should register 40 or more points as he heads into his fifth year on Long Island. Streit
might not offer much in the +/- category, but he can be a cheap source of points and will likely go in the later stages of a draft. Much the same can be said about the quartet of d-men from the Rangers as Michael Del Zotto, Ryan McDonagh, Marc Staal and Dan Girardi form a very formidable defense for New York. The collection of New York defensemen may not bring in points by the boatload, but it's safe to say that these options won't be coveted as highly by managers in fantasy drafts. If managers are looking for some steady d-men that can bring in around 30-40 points in a season, they should look no further than the New York Rangers as the four aforementioned defenders can merit quite a return for managers that are looking for a late-round blueline steal.
On the other hand, Lubomir Visnovsky and Travis Hamonic are two defenders that might improve statistically for the New York Islanders. Visnovsky has always been known for his offensive-minded game and a change of scenery could help the veteran finish off his career on a high note, especially if he is paired with another scoring veteran in Mark Streit. In contrast, Travis Hamonic's stock is increasing as he continues his maturation on Long Island. Hamonic is a key part of the future of the Isles' defensive core and has the skill-set necessary to become a great all around d-man. While the defender might not score goals in droves, he has a very respectable shot and will likely see an increased role on the Isles' defense as the team continues its rebuild.
Top Five Goalies:
Henrik Lundqvist (NYR): 64, 41-18-5, 7, 2.15, .925, Up

Marc-Andre Fleury (PIT): 62, 38-20-4, 3, 2.40, .915, Up

Ilya Bryzgalov (PHI): 60, 35-20-5, 4, 2.50, .910, Up
Martin Brodeur (NJD): 55, 30-20-5, 3, 2.45, .910, Down
Evgeni Nabokov (NYI): 50, 23-20-7, 2, 2.50, .912, Up
* – (The categories above are represented as follows: GP, Wins, Losses, OTL, Shutouts, GAA, Save Percentage, and Up [Player has potential to go above and beyond predicted numbers/Down [Player might not reach expectations predicted])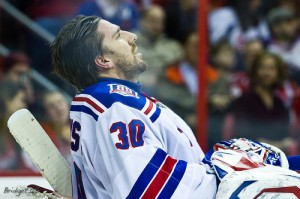 Reigning Vezina Trophy winner Henrik Lundqvist is arguably the best goalie in the Atlantic Division, and possibly in the Eastern Conference as well. Lundqvist had to fend off Jonathan Quick and Pekka Rinne to win the 2011-2012 Vezina honors and the Swedish goalie will continue to dominate opponents throughout the NHL. King Henrik is good for about 60-70 starts and will put up great numbers in the GAA and Save Percentage categories. While the New York offense stands to gain the most from the acquisition of Rick Nash, Lundqvist might see some of those benefits as well as his win total might increase with the addition of an extremely dangerous offensive weapon.
Marc-Andre Fleury might've been the victim of terrible defensive play during the 2011-2012 Stanley Cup Playoffs, but fans should expect the goalie to continue his stellar regular season play. Fleury is the established number one goalie in Pittsburgh and is a very dependable option for fantasy managers as he can reel in close to 40 wins and keep his GAA and Save Percentage at a manageable level.
On the other hand, Ilya Bryzgalov will have to prove that he was worth the money that the Flyers signed him to during the 2011 off-season. Bryzgalov didn't put up horrific numbers by any stretch during the 2011-2012 NHL season, but the goalie will need to firmly establish the reigns to the starting job in Philadelphia after appearing in the least amount of games since becoming a number one starting goalie in the NHL. Fantasy managers might be a bit iffy on Bryzgalov and the goalie might fall some spots in fantasy drafts as a result. Managers that are willing to take the possible risk on Bryzgalov could receive a pleasant surprise if the goaltender settles into his new home and rediscovers the form that made him an elite goalie in Phoenix.
While Martin Brodeur signed a contract extension with the New Jersey Devils, his partner in crime, Johan Hedberg, also received an extension from the Devils. After making a run to the Stanley Cup Finals, it is likely that New Jersey will try to give Brodeur as many resting days as possible so that the veteran can be kept fresh for the duration of the NHL season. Without the services of Zach Parise, Brodeur will probably have to keep New Jersey in the thick of things as much of the offensive burden will fall on Ilya Kovalchuk and the rest of the Devils' offense.
Lastly, Evgeni Nabokov enjoyed his 2011-2012 campaign with the New York Islanders and will probably assume the majority of goaltending duties on Long Island. Rick DiPietro, Kevin Poulin, and Anders Nilsson might challenge Nabokov for some playing time, but the veteran netminder's play in 2011-2012 illustrated that he still had something left to contribute to a young team fighting to get into the playoffs. Nabokov might be a bit of a gamble as one cannot forecast how the Isles' next season will turn out, but the goalie can offer steady numbers to a fantasy manager looking for goaltending help during the late rounds of a draft.
* – Statistics were calculated with a full 82 game schedule in mind. Players' injury histories and probability of games lost to a potential lockout were also left out.
In his third year with The Hockey Writers, Toli covers all things related to the New York Islanders. Focusing on the Islanders, the NHL Draft & draft-eligible prospect goalies, and hockey history, Toli can be contacted on Facebook by searching/messaging Toli Metter and on twitter by searching @ToliMetterTHW.