Cory Schneider has put up some great statistics in his first season with the New Jersey Devils, but often has been the hard luck loser with little-to-no goal support in the 22 games he has started. His record currently stands at 7-9-6 with 3 shutouts (tied for 3rd in the NHL), a .921 save percentage (14th in NHL) and a 1.96 goals-against average (4th in the NHL); he has stopped 513 of the 557 shots he has faced — surrendering only 44 goals over the 22 games. The 27-year-old was stellar in the preseason (one goal allowed in 80 shots faced) and that play has basically carried over to the regular season, but as his coach Peter DeBoer has mentioned many times following games, Schneider hasn't gotten any 'run support.'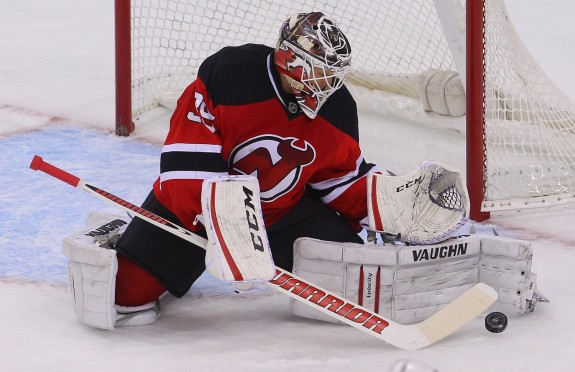 We wrote about Cory Schneider after his stellar first impression with New Jersey:
"We don't give him a lot of run support, I think he's starting to get used to that," DeBoer said after Schneider's 1-0 shutout vs. the Dallas Stars. Then he added with a smirk, "He's figured it out that he just has to pitch a shutout."
Recently the Hockey Writers caught up with Cory Schneider to discuss when he thought he had a chance to make the NHL, which goalies he looked up to as a kid and he gives some advice to readers who have the dream of one day doing what he does.
The Hockey Writers: You won 2-1 tonight when Marek Zidlicky scored with 2.1 seconds left in overtime; what were you thinking when you saw the GWG go in?
Cory Schneider: I was just excited. I usually don't get too fired up or too rowdy on the ice, but I think I put my arms up or something and screamed (laughs). I think we were all pretty stunned by it; that was a fun game. It was a fun game to play in; I think the third period was a fun hockey game to watch for everybody. It's always nice to come out on the winning end of those.
THW: Were you preparing for the shootout before that last face-off with 3.8 seconds left?
CS: (laughs) Yeah, I was going over in my head who they might use or how I am going to play them but I'm pretty happy we didn't have to go to the shootout.
This late goal gave Cory Schneider back-to-back wins at the Rock for the first time:
THW: You've seemed very calm and compact with not a lot of movement in the crease during these past two wins, is that the way you are feeling now?
CS: I feel pretty good, and I felt pretty good in the third period tonight. They had a couple of chances in tight and I just trusted my positioning, didn't try to overplay things and the pucks were hitting me tonight. Generally when things are going well you are feeling good that's when they hit you; it's when you're not feeling so good or things aren't going so well, they find a way in. Hopefully I can keep this up.
THW: After tonight's win you have now won three of your last four starts, is this more how you envisioned things going in New Jersey.
CS: Absolutely, I mean I didn't come in here expecting to lose a lot (laughs). Again, it's just a couple of games here, I wish I could have played this well or things could have gone this well for the first half of the year but sometimes it takes a little while to get into or find that rhythm and feel good. I felt there were times that I did play well and didn't get rewarded and there were times were you do get rewarded. So for me I just have to stick with it. I take pride in playing games like this, and this is how I want to play more often.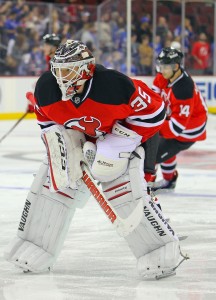 THW: Might that have been your best game this season?
CS: Yeah, it's up there; it's not as if I have two-dozen to pick from (chuckles). These games are fun when you are seeing shots, when you are relied on to make key saves, your in the game; you get into it with the crowd and the intensity. It felt sort of like a playoff-atmosphere and those are the fun ones to play in. I think sometimes it makes you play better, it forces you to play better and it's not usually what we do — going up and down the ice in the third period trading chances — but sometimes that's how you have to win a game.
THW: When the fans here at the Prudential Center are cheering your name do you hear that when you are on the ice in the midst of the game?
CS: Yeah you sort of hear it. When the play is continuing you kind of tune it out but you hear it in the background and it's great. You make a stick save and they start chanting your name; we have great fans and they're always supporting us.
Cory Schneider makes some great saves against his ex-teammates in his first trip back to Vancouver:
http://www.youtube.com/watch?v=QG60ZrnxUJA
THW: What advice would you give to young goalies out there who dream of being the next Cory Schneider?
CS: The most important thing is obviously to have fun. It's easier said than done, but if you're not enjoying what you are doing and putting the hours in then it makes it a lot harder. I think that's part of it and other than that all I can say is you get out of it what you put into it. If you make the sacrifices and work hard, do what it takes to train and then you probably have to have a little luck. You have to play well at the right times or be seen by the right person and you never know who's watching; so you just have to always try to be sharp.
THW: What was the point in your life where you realized the NHL was a real possibility?
CS: I was excited to even go to a Division I college, and that idea didn't enter my thought process until my junior year of high school when I committed to Boston College. Even when you get drafted, I was a late-first round pick; at the time I was probably a little naïve — I just thought it was cool to get drafted to the NHL. I didn't really envision or know what to think, I was more worried about going to college and doing well and then all of a sudden my junior year I left and turned pro. Then I was like 'Wow, this is really happening'. It all happens really fast, you can't think that far ahead though; you have to take it one step at a time and just work your way up.
THW: Was there a goalie you looked up to or patterned your game after when you were growing up?
CS: Yeah there were a lot of great ones that I grew up watching. I've said to others before that I was a fan of Mike Richter, the stuff he did with the USA Team, more so than what he did with the New York Rangers. I watched Marty (Brodeur), and Roberto (Luongo) who I played with in Vancouver; he was kind of breaking into the league when I was still in high school. It's incredible to see how great those guys are and how they have been able to do it for so long.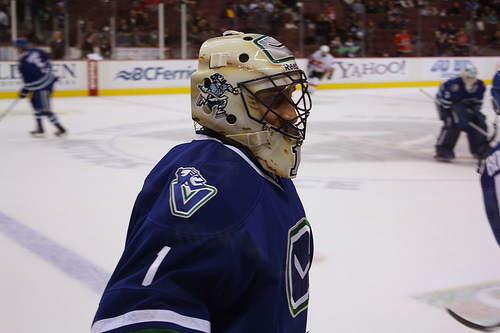 THW: Is Richter the reason why you have worn the no. 35 throughout your NHL career?
CS: Yeah it is actually; I used to wear no. 1 and I got to Vancouver and I couldn't (laughs).
Dan Rice can be reached via Twitter: @DRdiabloTHW or via Email: drdiablo321@yahoo.com