The NHL is a business and often times fans and we in the media maybe overlook that a little bit. It's as much of a business for the players as it is the owners and things can change quickly in the hockey world. In the summer of 2009 Johnny Oduya signed a three-year contract extension with the New Jersey Devils. In February of 2010 the Devils traded him as part of a three-player package that landed them Ilya Kovalchuk from the Atlanta Thrashers. Most players always say the silver lining in a trade is that even though one team doesn't want you, another team does. But hockey in Atlanta was a lot different than hockey in New Jersey in 2010; and there is no NHL team in Atlanta anymore.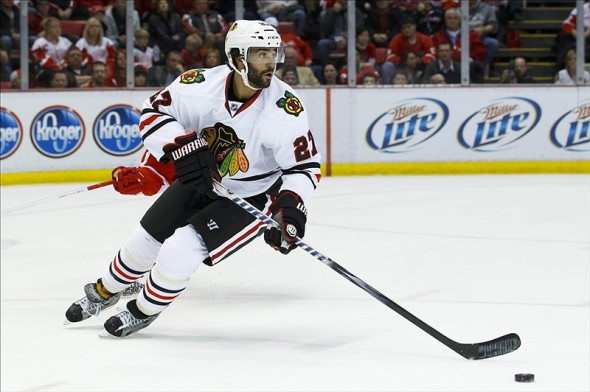 A 2001 Draft pick of the Washington Capitals who never played a game with the team, New Jersey found him while scouting another player in Europe and prior to the 2006-07 season they signed him, expecting him to be an AHL player. Injuries arose and Oduya found himself a job on the New Jersey blueline and he never relinquished it. He became one of their most reliable defenders before the trade to Atlanta, who then moved to Winnipeg, who in turn traded him to Chicago near the trade deadline in 2012. The rest as they say, is history, as Oduya now has his name etched on the Stanley Cup (2013) and has himself a nice, fat, shiny championship ring.
After the Blackhawks defeated the Devils in a shootout in New Jersey in early December The Hockey Writers talked to Johnny Oduya about a variety of subjects — including what goes through a players mind after he is traded. (This was the first time I had gotten to talk to Oduya since the trade, after talking to him after almost every home game in New Jersey from 2006-2010).
The Hockey Writers: Are there good memories for you when you come back to New Jersey? Obviously some of the faces have changed, but still the first franchise to give you a real chance to be an NHL player.
Johnny Oduya: It's always fun to come back to somewhere that you played (in) before; some of the guys (I know) are hurt or have the mumps or whatever of the guys that I know. Gomer (Scott Gomez) is back too now though; any time you come back to an arena you spent some of your youth in it's fun. I'm happy we got a win (tonight). It doesn't feel like I've won too often here (as a visitor) but we'll take the two points tonight.
Is that Johnny Oduya or Bobby Orr on that coast-to-coast goal?
THW: We know you and Andy Greene were partners on the blueline during your time here; do you still keep in contact with him or some of the other remaining ex-teammates?
JO: Yeah I usually keep in touch with Greener; I try to see him away from the rink whenever they are in Chicago or me being here in the NYC Metro area. The Devils played yesterday on the road so we didn't have a chance to do anything, but usually we try to have dinner or something, like old times. We exchange a few texts here and there sometimes.
THW: You a part of the big trade that brought Kovalchuk to the New Jersey Devils, and the summer prior to that season you had just signed an extension. That had to sting just a little bit, no?
JO: Yeah, that was very painful. You know, you sign a contract for a couple of years — I know we had talks of maybe signing a longer deal, for five years — so…when you sign something like that you…I had been there three years and you start to settle in. You think you are going to be there; for sure. I think that's the mindset of everybody; the first trade, is always tough. You think its, it's the end of the world almost. You try to recuperate and then go to a new place and start playing there. It's tough, yeah; for me it was tough. But in hindsight now I think I probably never would have left here (NJ) unless I was traded away.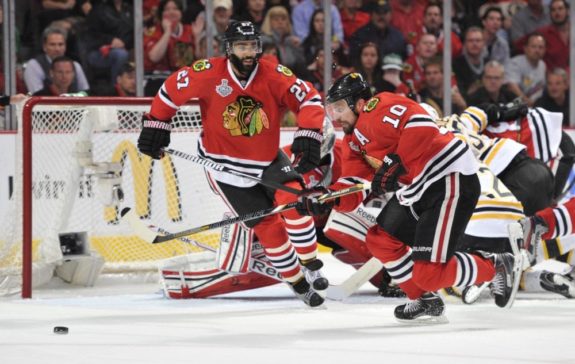 Coming to Chicago, I liked Winnipeg, Atlanta too, for different reasons; but hockey-wise obviously this (playing for the Blackhawks, a perennial winner) is tough to compare to anything else really. The type of team we have, hockey now is really going in Chicago and it's just been a lot of fun. It was a turn of events that turned into something…a lot more positive than I could have ever imagined at the time (of the first trade). You never really know until things play out how it's going to be; obviously you can and have to try to stay positive and keep working. At the time, it was not something that I really wanted; not at all.
THW: It did work out pretty well; you won a Stanley Cup with the Blackhawks. As someone who knows you from your first years in the NHL I was genuinely happy for you. You took the long path, but it was all worth it right?
JO: It's something you work at for a very long time, at times, especially when I was in Atlanta, it feels like….even though you are in the NHL you are very, very far away from it. That was the thing being with the Devils; every year you almost knew at that time you were going to the playoffs, you had a chance to compete for the Cup. When you go to Atlanta that all changes right away; that's something that I wasn't used to either. It's nice to be with a franchise now where the mindset is to win every game, and down the road (in the postseason) be a competitive team. It's a lot of fun being in a place like that; I'm happy the way things worked out.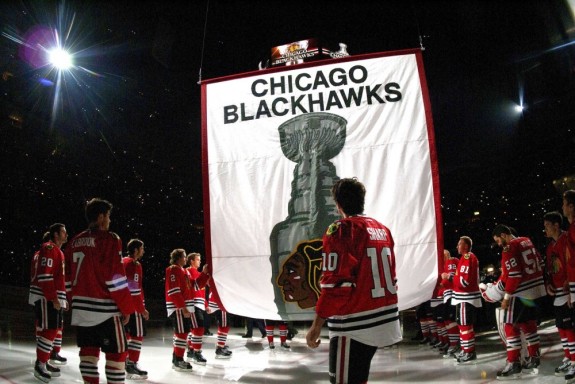 THW: How excited are you to play in another outdoor hockey game on January 1?
JO: Yeah it's going to be fun; we played outdoors last year in the Stadium Series game at Soldier Field (vs. the Pittsburgh Penguins). It was (smiles) maybe a little too cold and maybe a little too snowy, but if the weather conditions are good it will be a pretty cool thing (to be a part of). There's a little more hype around this one obviously because it's the Winter Classic; it'll be fun. It'll be one of those things you remember a little bit more extra once you are done with your career). I'll try to bring some of my family out there too to watch that game.
Dan Rice can be reached via Twitter: @DRdiabloTHW or via Email: drdiablo321@yahoo.com
Dan Rice is in his 9th year of reporting for THW & has covered NJ Devils home games for 15+ years at various websites. He began his journey working for legendary broadcaster/writer Stan Fischler from 2002-04 & completed an internship at the ECHL; he also has been writing features for the NWHL (nwhl.zone) website since 2016.